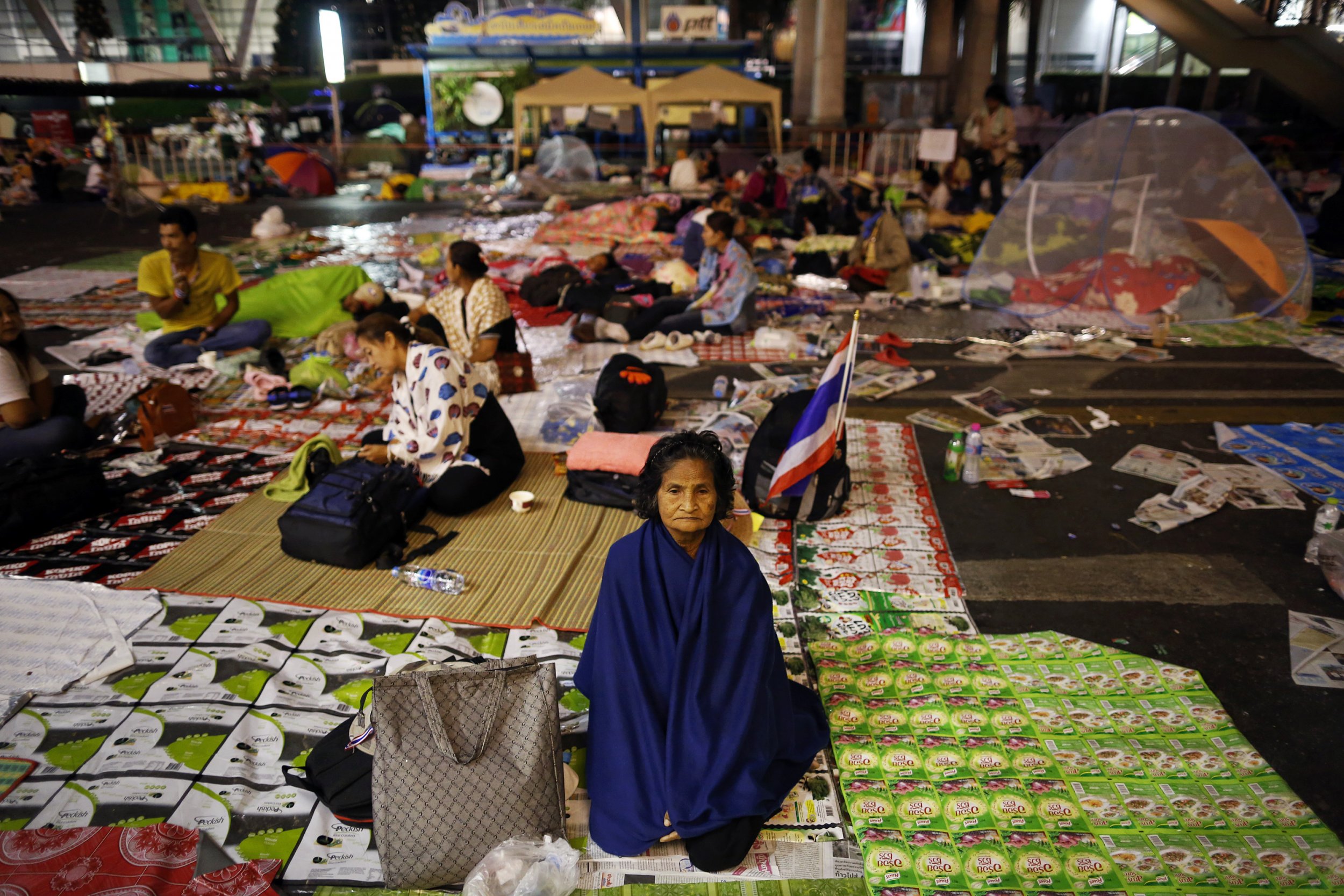 BANGKOK (Reuters) - The Thai government declared a 60-day state of emergency to start on Wednesday, saying it wanted to prevent any escalation of more than two months of protests aimed at forcing Prime Minister Yingluck Shinawatra from power.
The decree, which covers Bangkok and surrounding provinces, allows security agencies to impose curfews, detain suspects without charge, censor media, ban political gatherings of more than five people and declare areas off-limits.
Yingluck said her government has no intention of confronting the protesters, who have been allowed to close off several government buildings, including her own. The military, involved in several previous coups, has so far stayed neutral.
"We will use peaceful negotiations with the protesters in line with international standards ... We have told the police to stick with international standards, to be patient with the protesters," she told reporters on Tuesday.
She said police, not the military, would mainly be used to maintain control.
"We need it because the protesters have closed government buildings, banks and escalated the situation, which has caused injuries and deaths. The government sees the need to announce the emergency decree to keep the situation under control," Labor Minister Chalerm Yoobamrung told a news conference following a cabinet meeting.
Yingluck has called an election for February 2, which she will almost certainly win and which the opposition plans to boycott.
However, the Election Commission said it would seek a Constitutional Court ruling on Wednesday on whether it can delay the vote. It says that the protests have prevented some candidates from registering which means that there would not be a quorum to open parliament after the election.
The protests, now in their third month, have closed off parts of the capital in the latest installment of an eight-year political conflict that has seen sporadic outbreaks of violence.
They pit the middle class and royalist establishment against the mainly poorer supporters of Yingluck and her brother, ex-premier Thaksin Shinawatra, who was toppled by the military in 2006.
FARMERS THREATEN TO JOIN PROTEST
Led by 64-year-old anti-government firebrand Suthep Thaugsuban, the protests were triggered by Yingluck's moves last year to grant amnesty to her brother, the self-exiled former premier Thaksin Shinawatra whom Suthep accuses of nepotism and corruption.
Nine people have died since they began in November, the worst violence since 2010. It was Suthep, at that time a deputy prime minister, who sent in troops to end mass protests by pro-Thaksin supporters. More than 90 people died in that unrest.
He is demanding Yingluck step down and a "people's council" be appointed in place. He has given only vague details on the reforms he wants but analysts say his chief aim is to eradicate Thaksin's political influence.
The protesters want to suspend what they say is a democracy commandeered by the self-exiled billionaire Thaksin and alter electoral arrangements so that his allies are unable to return to power.
In a potentially worrying development for Yingluck, whose power base depends heavily on rural support, some farmers have threatened to join the protesters if they do not get paid for the rice they have sold to the state.
A scheme under which farmers are guaranteed an above-market price for their rice has been a centerpiece of the government's program but, as financing strains mount, some are complaining they have been waiting three or four months to be paid.
The protests are also beginning to undermine Southeast Asia's second-biggest economy.
On Monday, the Thai subsidiary of auto giant Toyota Motor Corp, one of Thailand's biggest foreign investors, said it might reconsider a $600 million spending plan and even cut production if the unrest drags on.
And some economists expect the central bank will be forced to further cut interest rates when it meets on Wednesday to give a lift to the economy.
(Additional reporting by Apornrath Phoonphongphiphat, Panarat Thepgumpanat and Pairat Temphairojana, Writing by Alan Raybould and Jonathan Thatcher; Editing by Nick Macfie)