Thai Police Believe That Man Is Serial Killer After Search Uncovers Over 300 Bones on His Property
After searching the property of a man believed to have murdered his girlfriend, Thai police have announced the discovery of bones they think belong to other victims, raising the possibility of him being a serial killer.
According to the Thai Examiner, 40-year-old Apichai Ongwisit was arrested last week for the August 2019 murder of Warinthorn Chaiyachet. Ongwisit was involved in a sexual relationship with Chaiyachet, and the woman had made a report to police earlier in the year.
When officers tried to schedule an interview with her to follow up, they could not locate her. They began to investigate and met an informant who claimed to know that Chaiyachet had been murdered by her boyfriend.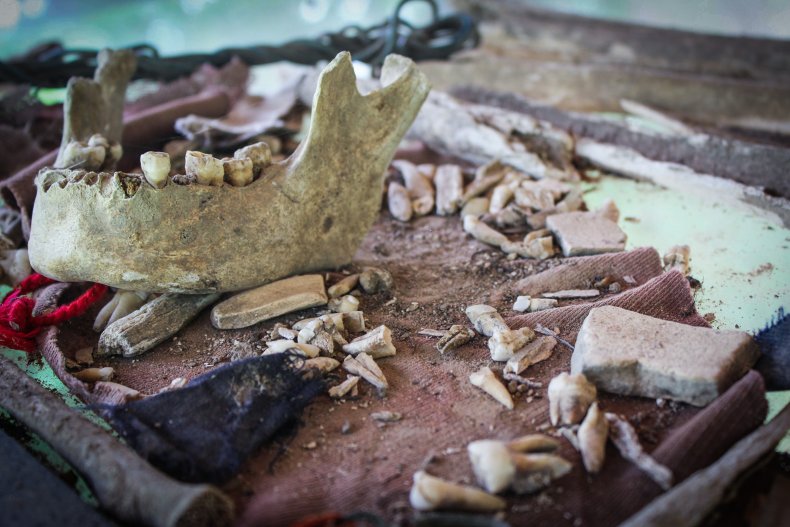 After that conversation, police obtained a warrant from Thonburi Criminal Court to search Ongwisit's estate in Bang Khae. They discovered a body buried in the ground beneath a metal gate and a steel box. Examination of the corpse revealed a back tattoo that matched Warinthorn Chaiyachet's.
Ongwisit told police that he was incredibly jealous of his girlfriend and would become nervous that she would leave him at night. One evening in August, this obsession drove him to lock the woman inside a steel container before he went to bed. The next morning, he opened the metal casket to find that Chaiyachet had suffocated. Her body was wrapped in plastic and buried on the property.
Local media has dubbed the accused killer "Ice Heep Lek," which translates to "Ice Metal Casket."
After his arrest, neighbors came forward to tell police that they did not believe he had killed only one person. Several claimed that the man had stocked the pond on the property with carnivorous fish in order to dispose of bodies. With that information, they were able to obtain a warrant for divers to examine the water.
While no man-eating fish were found, a team of divers did extract 288 human bones and fragments from the pond, which are believed to come from multiple victims. The search was suspended over the weekend but investigators plan to continue turning over the property in hopes of coming to a credible total of dead bodies that may be hidden there.
Ongwisit's father was arrested for murder in 1983. In that case, police accused him of killing and dismembering a 15-year-old girl. He was shot and killed before the case went to trial.
According to the Post, Ongwisit's mother was the mastermind of that crime, and she fled the country with his sister after the arrest.