Thai Soccer Team: What Happens Now That They've Been Rescued From Cave?
Now that the entire Wild Boars soccer team has been rescued from the Tham Luang cave in Thailand and brought to the safety of a nearby hospital, new questions have arise about the boys' future and the best ways to help them get back to normalcy.
In an interview with Newsweek, Richard Angle, an adjunct assistant professor of psychology at Columbia University, cautioned against the boys becoming "celebrities" after being thrust into the global spotlight. Angle warned that if the boys continue to be defined as the kids who were rescued from the cave, it could become the singular characteristic of their identities.
The soccer team—which went from missing, to found, to trapped, to partially rescued, to mission accomplished—captivated a global audience throughout every step. With their physical health in good hands, the focus now turns to their mental health in the wake of a harrowing ordeal.
Dr. Ken Dunham, a psychiatrist with Novant Health Psychiatric Medicine in Winston-Salem, North Carolina, told Newsweek that the boys should be monitored for symptoms of post-traumatic stress disorder, depression and alcohol abuse, which are the three most common problems affecting people who survive a disaster.
He added that it's important for the boys to stay connected throughout life because they're each one of only 13 people who went through a unique nightmare.
"The presence and support of someone who has had a shared experience of an extreme event will help them deal with the 'normal' life waiting for them," Dunham explained.
The hope that the boys will stay out of the spotlight for some time was one shared by former mine foreman Luis Urzua, who was trapped in a mine in Chile for 69 days following a collapse. He told Reuters it would likely be difficult for the boys to deal with the influx of attention from the media, politicians and people looking to financially profit off the ordeal. However, he urged the boys to tell their stories in time, when they're ready.
"I hope one day, in a few years, they will be able to tell their story, because, like ours, it's a story of faith and hope," Urzua told Reuters.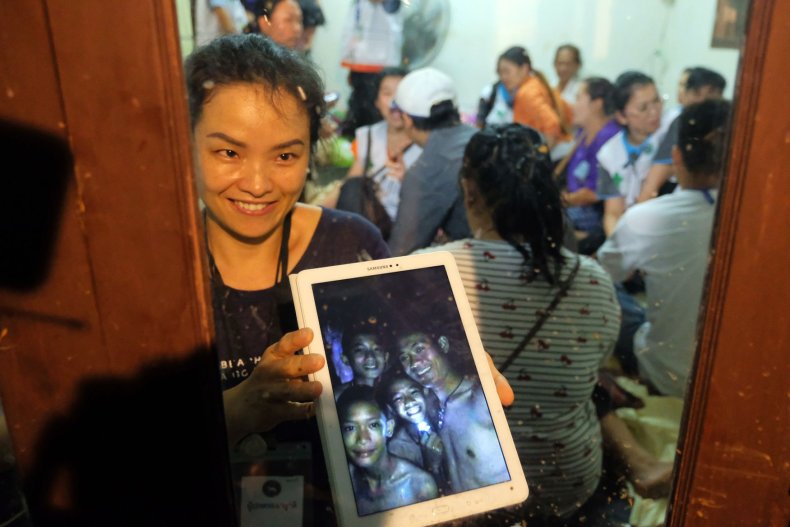 For three of the boys and the 25-year-old coach, the days after the rescue could become the start of an entirely new life. Coach Ekaphol Chantawong and players Pornchai Kamluang, Adul Sam-on and Mongkol Boonpiam are from northern Thailand, near the border of Myanmar and are considered stateless under Thai law, according to The Guardian.
While only a little information is known about the players' backgrounds, The New York Times reported that Sam-on, the teen who served as an interpreter for British rescue divers who found the team, was brought to Thailand at 6 years old to escape the danger in Myanmar.
His parents dropped him off at a Baptist church in the border town of Mae Sai. and the principal of Wiang Phan School, which Sam-on attends, told the Times that he is "the best of the best" and that stateless children often have a "fighting spirit that makes them want to excel."
Along with being athletic, Sam-on speaks five languages—English, Thai, Burmese, Mandarin and Wa—and his academic standing earned him free tuition and lunch.
Matcha Phoru-in, an activist who works with undocumented refugees in northern Thailand, told Reuters that people who are stateless aren't recognized as citizens of any country, are usually poor, and have restricted travel, work and benefits rights.
However, good news may be coming for these Wild Boars. Venus Sirsuk, director of the Bureau of Registration at the Thai interior ministry, told The Guardian there was a possibility they'd be granted citizenship.
"Right now, the officials in Mae Sai district office are looking into their birth evidence," Sirsuk explained. "We have to see whether they were born in Thailand and whether they have either a Thai father or mother."
The story of their rescue was one filled with hope, at times despair and finally a happy ending. Although there's certainly a long road ahead, the worst is hopefully behind the young, resilient team members.