Thailand Adds Nightly Curfew for Large Swath of Nation as Additional COVID Restriction
Thailand is adding a nightly curfew for a large swath of the Southeast Asian nation as an additional COVID-19 restriction to curb rising rates of infections and deaths.
The curfew takes effect on Monday for residents in the capital of Bangkok and five surrounding provinces as well as four southern provinces, the Associated Press reported. People will be ordered to stay inside from 9 p.m. to 4 a.m. Other restrictions include a ban on gatherings of more than five people and unnecessary travel.
Deputy Health Minister Satit Pitutacha said the restrictions will be reviewed after two weeks as health officials announced 9,276 new COVID-19 cases Friday and 72 new deaths.
Residents in the greater Bangkok area have already seen restaurant restrictions since June 28 and can only order takeout. Public transportation will be shut down between 9 p.m. to 4 a.m., the same time as the curfew. Shopping centers will be shut down except for some essential businesses.
For more reporting from the Associated Press, see below: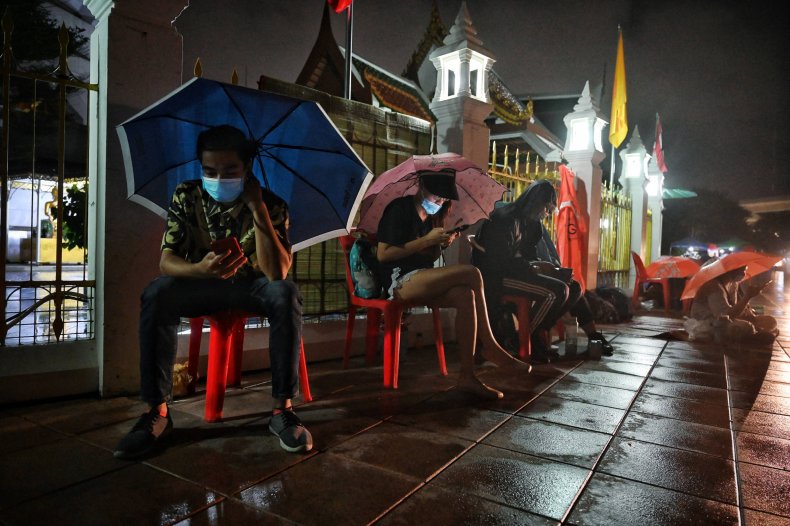 Officials in Thailand on Friday announced restrictions for the capital and nine other provinces to try to slow a growing number of cases and deaths in a coronavirus surge that began in early April.
In the greater Bangkok area, shopping centers will be closed except for businesses such as supermarkets, banks, pharmacies, takeout food, cellphone sales and repair and vaccination centers, all of which must close by 8 p.m., which is also the closing time for public parks.
Convenience stores must close from 8 p.m. to 4 a.m., and beauty salons and massage parlors must shut entirely. Working from home is strongly encouraged. Schools will be closed, with only online learning allowed.
The restrictions were announced as the number of new COVID-19 cases and deaths have soared to record levels, spurred by the spread of the more contagious Delta variant and a slow vaccination drive, widely blamed on poor planning by Prime Minister Prayuth Chan-ocha's government.
Health authorities on Friday announced a total of 317,506 cases since the pandemic began last year. Deaths rose a total of 2,534. More than 90 percent of the cases and deaths have occurred since the beginning of April.
Prayuth said Friday he will forgo his official monthly salary of 125,590 baht ($3,860) for three months as a gesture to help the government budget, which has been strained by the pandemic.