Thailand Allegedly Considering Moving Capital Due to Overcrowding, Smog
Following in the footsteps of Indonesia and Burma, Prime Minister Prayut Chan-o-cha has said shifting the capital city of Thailand away from Bangkok is a "possibility" under his government, according to The Guardian.
"The first is to find a city that's neither too far nor too expensive to move to," he said during an address at the Connecting Thailand With the World Conference on September 18, "The second is to move to outer Bangkok to reduce crowding."
Bangkok currently suffers from multiple infrastructural issues. Heavy smog that occasionally covers the entire city is a major concern for the health and wellbeing of the population. On September 30, the smog was so bad in the city that Chan-o-cha warned its inhabitants to wear masks due to unhealthy levels of particles called PM 2.5, which can enter the bloodstream, in the air, according to Bloomberg.
Chan-o-cha also requested that factories and building sites cooperate to reduce activities that cause pollutants. He urged government agencies to expedite anti-pollution measures, while smog was expected to remain at high levels for the next few days.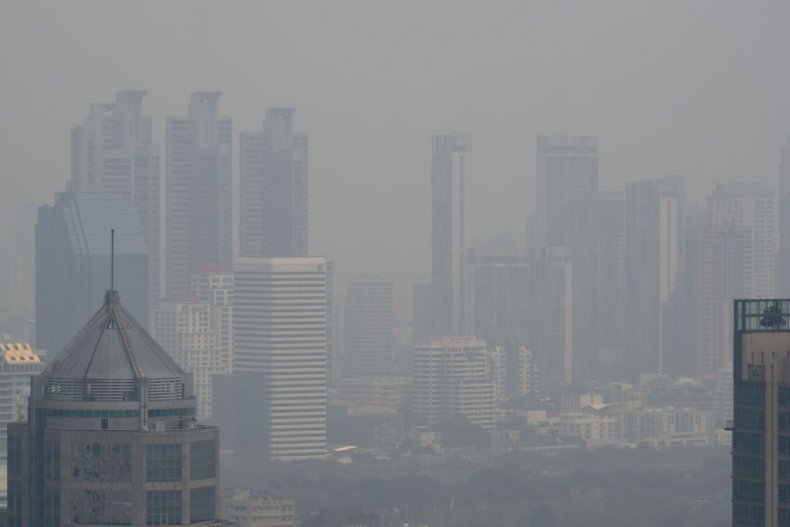 Congested traffic—ranked eighth worst in the world in 2018—is also a severe problem in Bangkok. The city maintains a population of roughly 8.3 million people, which has spurred overcrowding concerns. And then there's the rising sea level, which threatens the city's very existence, having been built on what was once marshland. Rising sea levels raised concerns last year that Bangkok might sink.
This isn't the first time that moving the country's capital has been suggested. Thaksin Shinawatra, the country's former Prime Minister, also suggested the capital be shifted elsewhere. He proposed a move to Nakhon Nayok, about 63 miles from Bangkok. There have also been studies conducted to see whether a movie to Chachoengsao, a nearby agricultural hub, was feasible.
There is some opposition to the notion of this move, and some even think that the Prime Minister was simply throwing out ideas. Thosaporn Sirisamphand, from Thailand's National Economic and Social Development Council, told the Bangkok Post, "Capital relocation is a big issue and needs serious cooperation from various agencies. I think General Prayut just threw an idea out to the public on how to tackle traffic congestion in Bangkok."
Thailand would not be the first country to move its capital city in recent years. Indonesian president Joko Widodo announced the administrative government is planning on shifting its capital city from Jakarta to Kalimantan or Indonesian Borneo. And in 2005, Burma moved its capital to Naypyidaw from Myanmar.