Thailand Constitution Rejected, Prolonging Military Rule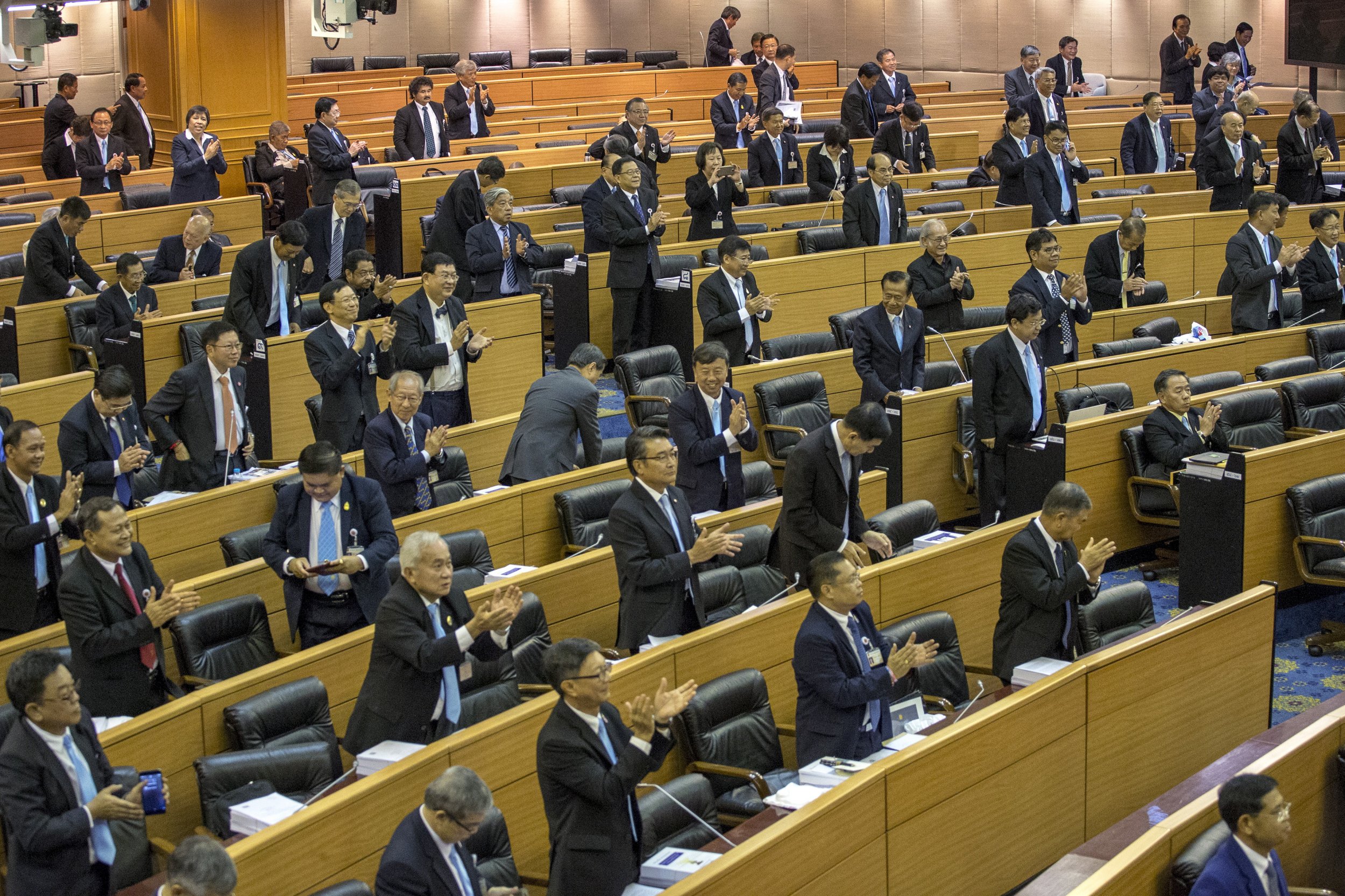 BANGKOK (Reuters) - Thailand's junta-appointed reform council on Sunday voted to reject a controversial new constitution, a result that will prolong military rule and push back an election to April 2017 at the earliest.
Political parties, nevertheless, cheered the decision by National Reform Council (NRC) to dismiss the draft charter, having seen it as an affront to democracy on various grounds, including a provision that potentially allowed generals to intervene in a "crisis."
If it had been passed it stood to become Thailand's 20th constitution in 83 years.
The whole process of writing a constitution must now start from scratch and the earliest an election could be held would be April 2017, delaying a return to the junta's long promised "true democracy."
The military staged a coup in May last year and has always denied it was clinging to power.
The charter was given a thumbs-down by 135 NRC members and approved by 105, short of the 124 needed to pass and go to a referendum in early January. The election had been slated for the second half of next year.
The constitution was expected to sail through the NRC vote but hit a snag when internal discord emerged recently, according to several members who said there had been much behind the scenes lobbying. Those against it said it was too problematic.
"They're worried about political problems in the future," council member Paiboon Nititawan told reporters.
"There may still be conflicts and economic problems that need this government to continue to manage for a while."
A bone of contention was a late addition to the draft, the creation of a National Committee on Reform and Reconciliation Strategy. That committee would be dominated by military, allowing it to exercise power over the executive and legislative branches in a vaguely defined "crisis" situation.
The government now has a month to appoint a committee that would have 180 days to draft a new constitution, followed by a referendum some three months after.
The draft charter drew a torrent of criticism. Politicians called it a blueprint for a managed democracy that weakens elected parliaments and governments.
Experts have said it effectively gave the establishment and military the means to intervene in politics either directly, or by proxy through lawmakers and panels appointed by the junta.
In a televised address on Friday, Prime Minister Prayuth Chan-ocha said a rejection of the constitution for being undemocratic would be "unfair to the people."
NRC member Seri Suwanpanon said passing it would have created more uncertainty.
"We see in front of us an abyss," he told reporters. "So are we going to jump in?"