Thailand: Country Singer Gets Seven Year Jail Sentence For Royal Insult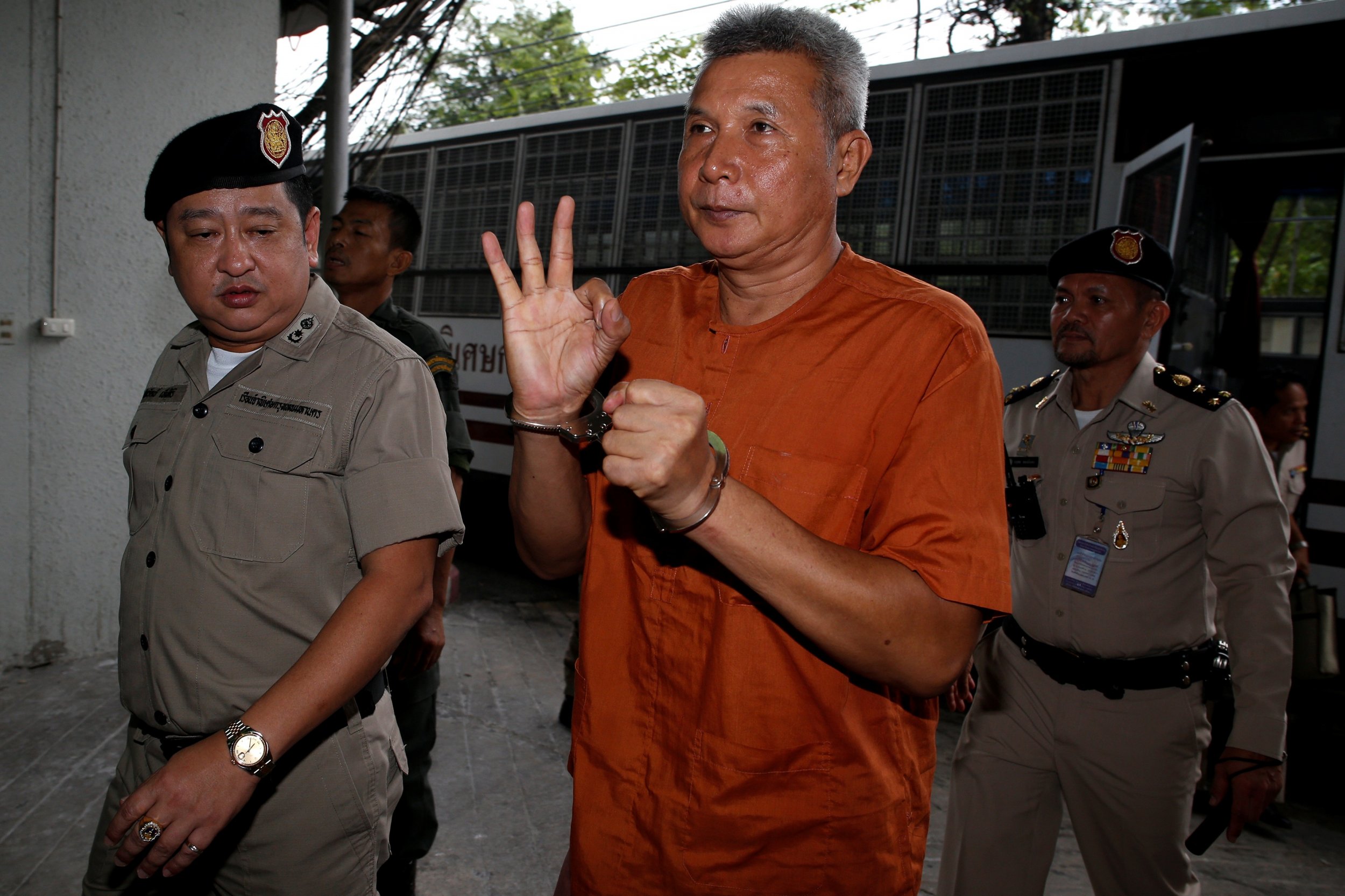 BANGKOK (Reuters)—Thailand on Wednesday jailed a country singer and political activist for seven-and-a-half years, on grounds of insulting the monarchy in a public speech made three years ago.
The conviction swells a list of prosecutions pushed by Thailand's military—the self-designated protectors of the monarchy-after it seized power in a coup two years ago.
The junta has a zero-tolerance approach to criticism of the monarchy, making use of a draconian lese-majeste law that prescribes a prison term of up to 15 years for each offense.
Thanat Thanawatcharanon, known by his stage name of Tom Dundee, gave waiting media the thumbs-up as he arrived at court on Wednesday, wearing an orange prison uniform.
"The sentence is much longer than we expected," said his lawyer, Saovalux Po-Ngam. "We can lodge an appeal within a month but have to discuss first whether we will. In my personal view, the law should be scrapped, because the sentences are too long."
Sentences for royal insults have become increasingly harsh under the junta, and one offender was jailed for a record 30 years in 2015.
Thanat, who has been in prison since his arrest in 2014, had previously denied the charges but confessed in a sudden about-face in court on Monday.
Confessing to a lese-majeste crime is routine practice in Thailand, where the accused often plead guilty in hopes of a more lenient sentence.
Prosecutors said Thanat made defamatory comments against the monarchy during a 2013 speech to 'red shirt' activists at a political rally in the capital, Bangkok.
He was arrested and charged in July 2014, following pressure by an ultra royalist group on Thailand's Department of Special Investigation to prosecute Thanat.
For much of the past decade, Thailand has been divided along political lines between the mostly rural-based red shirt movement and the royalist-military establishment in the capital and south.
Ailing King Bhumibol Adulyadej, 88, is revered by Thais who see him as a keystone of Thailand's identity.
(Editing by Simon Webb and Clarence Fernandez)