Protesters in Thailand Drench Police Headquarters With Paint
Thousands of pro-democracy protesters in Thailand gathered outside the police headquarters in Bangkok where they drenched the building in paint to protest police violence.
The country has seen largescale student protests for months, with demands to reform the monarchy and curb its powers as well as an end to the use of harsh defamation laws used to protect it. Protesters have also demanded the removal of Prime Minister Prayuth Chan-ocha, a former general who seized power in a 2014 coup.
Angered by their demands not being met and at the use of chemical-laced water cannon as well as tear gas by the police, protesters chanted slogans such as "slaves of tyranny" outside the police headquarters and threw paint at the building.
Police barricaded themselves inside as protests continued unabated. It came after a number of violent protests on Tuesday, in which over 50 protesters were injured as demonstrators hurled smoke bombs and bags of paint at police who in turn fired water cannon and tear gas. Police denied they had used live ammunition during the clashes.
"We didn't apply measures deemed unnecessary," Maj. Gen. Piya Tawichai, deputy chief of the Metropolitan Police Bureau, said at a news conference. "Measures used were matching with the protesters' behaviors. Metropolitan Police Bureau would like to reiterate that, there were no rubber bullets. Rubber bullets were not used during our operation last night. And live ammunitions were certainly not used during our operation."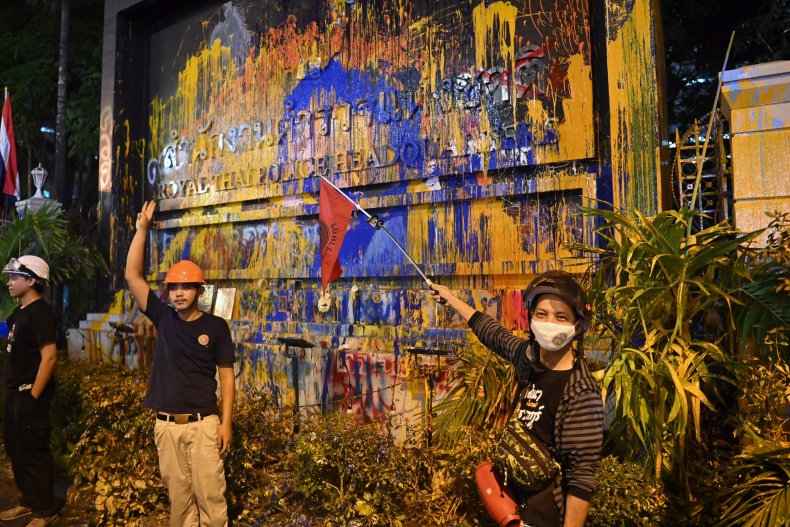 Clashes erupted as protesters attempted to reach parliament where legislators were debating possible changes to the constitution after demonstrators feared their demands would not be met.
Bangkok's Erawan Medical Centre said at least 55 people were hurt and that at least 32 were suffering from teargas and six people had gunshot wounds. It did not say who might have used firearms.
Lawmakers have previously failed to accommodate the demands of protesters and an extraordinary session of parliament failed to address any of the key demands, instead proposing the formation of a national reconciliation committee.
Meanwhile, U.S. relations with Thailand could be set for a change in direction under a Biden presidency, with the president-elect expected to take a tougher line on issues such as human rights, democracy and China.
In recent years Beijing has sought to strengthen ties with Thailand, viewing it as an important ally. Although China is hopeful that Biden will tone down conflicts over trade, technology and security, both Democrats and Republicans have been critical of Beijing's record on the treatment of minorities as well as its actions in Hong Kong and its maritime claims in the South China sea.
Thailand may find itself in a difficult situation trying to deepen ties with both the U.S. and China.