Thailand's King Watches as Sacred Oxen Predict Good Harvest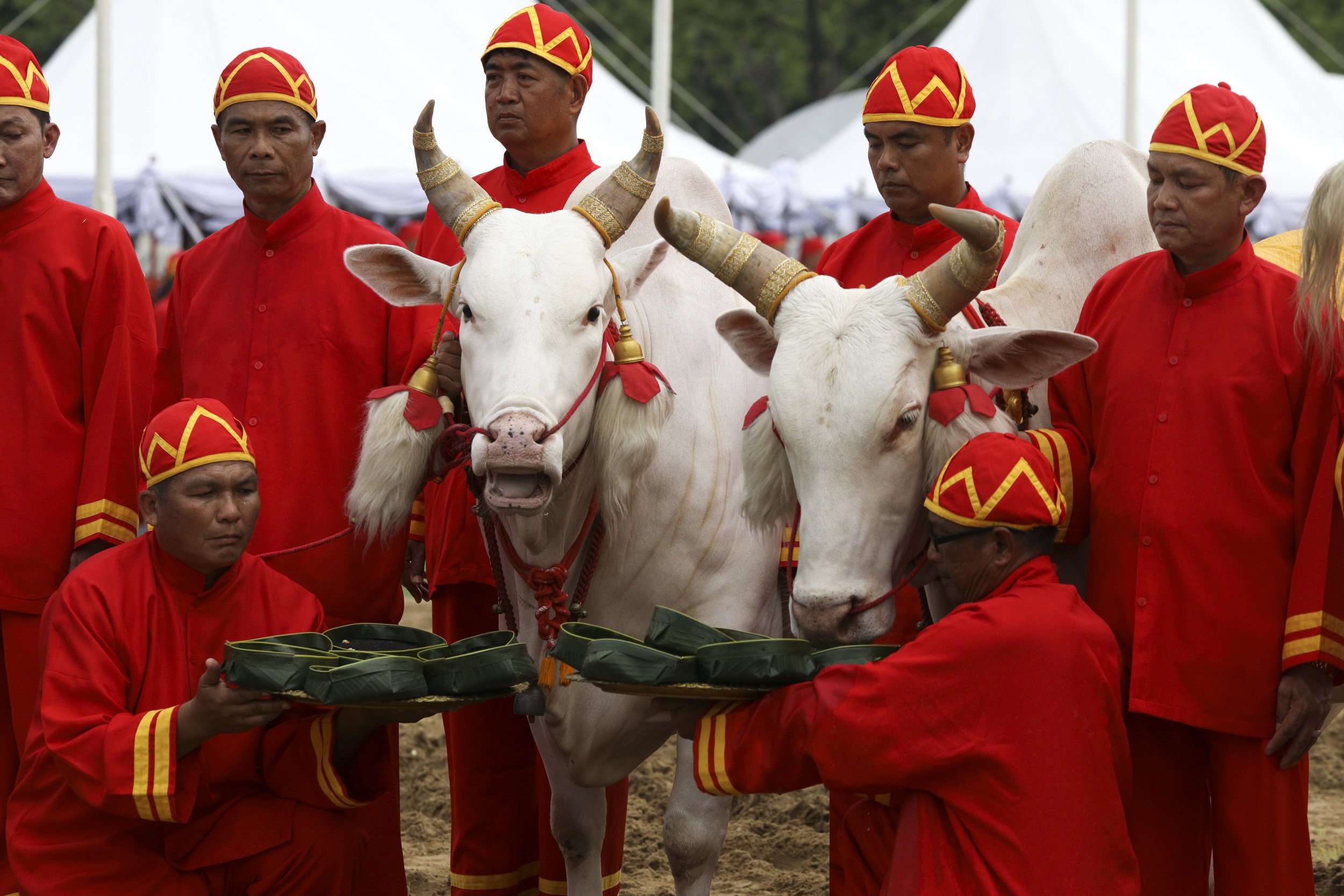 Thailand's new King Maha Vajiralongkorn attended an annual plowing ceremony on Friday where sacred oxen predicted a bountiful harvest, auguring well for the world's second largest rice exporter's hopes of selling more this year.
The royal plowing ceremony is an ancient Brahminical rite that heralds the start of the new rice-growing season.
Broadcast on national television, the rite is celebrated in Thailand as a holiday for state employees. Thailand is the world's second-largest rice exporter and the grain is a staple food in the Southeast Asian country.
King Vajiralongkorn was accompanied by his eldest daughter as he presided over the ceremony, during which oxen draped in red and gold circled a ceremonial ground nine times.
The No. 9 is considered a very lucky number in Thailand where it is pronounced "Gao" which rhymes with a word meaning to move forward or progress.
A similar ceremony was held in neighboring Cambodia watched by King Norodom Sihamoni. There, royal oxen predicted a good harvest this year for rice, bean and corn.
In Thailand, Thanit Anekwit, deputy permanent secretary of the Ministry of Agriculture, read the prediction after the ceremony, which marks the start of the new rice-planting season.
"This year there will be enough water, and grains, fruits, food, meat will be abundant," Thanit said.
"There will be ample rice in the fields."
In the deeply superstitious country, an auspicious start to the harvest season will be seen by some as a good omen for the new king's reign.
Thailand aimed its paddy rice production this year at 25-26 million tonnes for 2017 to 2018, down from 30 million tonnes in the last crop year.
The country also aims to export 10 million tonnes of rice in 2017, a little more than the 9.63 million tonnes it was able to export in 2016. It has exported 3.87 million tonnes so far this year.
Thai benchmark 5-percent broken rice was quoted as high as $387-$392 a ton, free-on-board (FOB) Bangkok, on Thursday, and was being undercut by rice from Vietnam, Thailand's main competitor.
Similar grade rice from Vietnam was trading at $355-360 a ton, FOB Saigon.
Cambodia's rice exports last year were 542,144 tonnes, according to government data. Up until April this year, Cambodia has exported 166,678 tonnes of rice, a 3 percent increase compared to the same period last year.
With sufficient rain, this year harvests could see paddy production increase by 1 million tonnes, said Moul Sarith, Secretary General at Cambodia Rice Federation.