Thank the Progressives, Not the President, for 'Trump's Economy' | Opinion
The top 20 Democratic presidential candidates will take to the debate stage in Miami this week to make their case to the American people that they're the right person to lead the country. One term we're certain to hear looming in the background is "Trump's economy."
President Donald Trump likes taking credit for the "historically great economy," but the stock market is not the economy—the top 10 percent of wealth holders in the U.S. own about 85 to 95 percent of stocks. Meanwhile, the unemployment rate actually fell faster in the years between 2010 and 2016 than it has since Trump took office.
Regardless, these numbers don't tell the stories of millions of our nation's workers of all colors and backgrounds who sit at their kitchen tables week after week, making tough choices about which bills they pay and which they put off.
Despite some modest gains in wages, too many families are struggling to get by, just one paycheck away from a crisis.
That's not a problem for politicians and lobbyists who fight hard for lower taxes and less regulation, not surprisingly, to benefit big corporations. Too often, they blame black people and immigrants for economic challenges to turn working families against one another. That's in part because they know that communities coming together holds the key to raising wages for workers—not just shareholders and corporate executives—and supporting institutions that help families of all walks of life thrive.
The truth is, the "Fight for $15" advocating for the federal minimum wage to be raised to $15 per hour is the kind of grassroots movement that is really taking on our shared economic challenges.
Meanwhile, the Trump administration has chosen policies that, time after time, side with the wealthy and powerful over working people. For example, Americans understand that the president's massive tax cuts weren't aimed at working people, but they haven't yet felt the full impact of efforts to starve federal dollars to states and localities.
The Trump administration also revisited an Obama administration rule that would have significantly expanded overtime coverage for workers who make less than about $51,000 per year in 2020—proposing to lower that threshold to about $35,000. If they complete the rule as-is, it will give workers $1.2 billion less each year than they would have received under the Obama rule.
Worse, the Trump administration is laying the groundwork to make it much harder to hold large corporations accountable if their workers aren't paid what they're owed. The Labor Department has proposed a rule that attempts to make it a lot harder to show who's responsible when workers' rights are violated in cases where companies use contractors or temporary employees.
Despite these attacks, wages have inched up overall, but those at the top continue to reap outsize benefits. The 95th percentile wage grew 2.7 percent from 2017 to 2018 in inflation-adjusted terms. But most working Americans are just making up for gains that they lost in the Great Recession—not to mention what they lost in the decades leading up to it, which were dominated by rising inequality and wage stagnation for working people.
Recent years' gains for working people have their roots in progressive advocacy, not Trump policies. If any presidential candidate wants to prove that they have their ear to the ground, they'll be sure to point this out.
A coalition of worker advocacy groups called the Fed Up! campaign was instrumental in persuading the Federal Reserve to keep interest rates low to let unemployment continue dropping, so long as no inflationary pressures emerged. The resulting tight labor markets have boosted workers' leverage, since employers have to pay better wages to get and keep the workers they need when workers have more job options.
Aside from these policy-induced tight labor markets, there's another force that has directly and firmly raised workers' pay: the movement to raise the minimum wage. Connecticut recently became the seventh state to pass a law that will raise the minimum wage to $15, thanks to the tireless efforts of the Fight for $15 movement. Now, nearly a third of American workers (30.6 percent) live in states that are on a path to $15.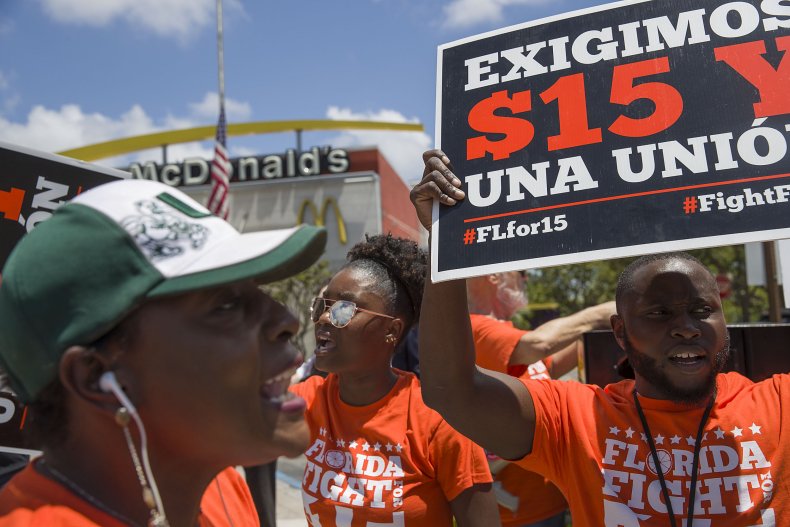 Those raises add up for families. An analysis by the National Employment Law Project suggests that the Fight for $15 won $68 billion in raises for 22 million workers as of late November 2018.
Those raises also add up in overall statistics. The Economic Policy Institute's research shows that between 2013 and 2018, the wages of very low-wage workers rose significantly faster—50 percent faster—if they lived in states with minimum wage increases compared with those who did not.
Plain and simple, it's not "Trump's economy" that's driving modest wage growth as much as it is efforts like the Fight for 15, and that is despite significant federal retrenchment. Just imagine how much farther we as a nation could go if our communities came together and forced the Trump administration to put workers' interests first.
Rajesh D. Nayak is an attorney with NELP Action, and Heidi Shierholz is a senior economist and director of policy with the Economic Policy Institute.
The views expressed in this article are the writers' own.