'Thank U, Next': Here Are All the Pop Hits Given the 'Bridgerton' Treatment
The highly anticipated return of the popular Netflix original drama series Bridgerton is due this month—and to whet fans' appetites, the list of pop songs that will be rearranged into orchestral versions and placed throughout the new season is out.
The newest hits that will receive the Bridgerton treatment are:
"Stay Away" by Nirvana (orchestrated by Vitamin String Quartet)
"Material Girl" by Madonna (orchestrated by Kris Bowers)
"Diamonds" by Rihanna (orchestrated by Hannah and Joel Rodwell)
"Dancing on My Own" by Robyn (orchestrated by Vitamin String Quartet)
"You Oughta Know" by Alanis Morissette (orchestrated by Duomo)
"Sign of the Times" by Harry Styles (orchestrated by Steve Horner)
"What About Us" by Pink (orchestrated by Duomo)
"How Deep Is Your Love," most recently covered by Calvin Harris and Disciples, original by the Bee Gees (orchestrated by Kiris)
"Wrecking Ball" by Miley Cyrus (orchestrated by Midnight String Quartet)
Throughout Season 1, six pop songs were arranged into orchestral masterpieces including songs from Taylor Swift and Ariana Grande.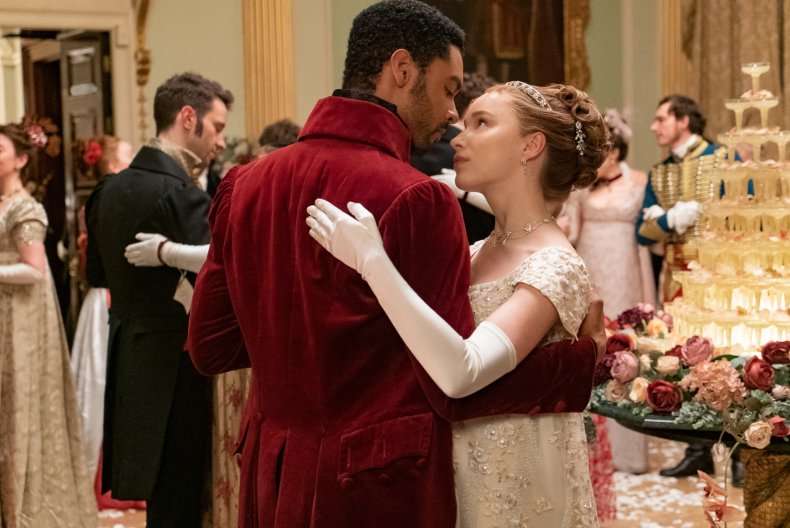 "thank u, next" comes from Grande's fifth studio album of the same name. The chart-topping hit reached No. 1 on the Billboard Hot 100 at the end of 2018 and spent 28 weeks on the chart. Fans can hear the orchestrated version in Episode 1.
"Girls Like You" found its way to the top of the Billboard Hot 100 chart at the end of September 2019. The hit has over 3 billion views on YouTube that features many recognizable celebrities. The song can be heard in Episode 1.
Mendes released the single off his self-titled third album. "In My Blood" reached No. 11 on the Billboard Hot 100. Shawn Mendes took the No. 1 spot on the Billboard 200 Chart in 2018. The pop hit was featured in Episode 2.
"bad guy" comes from Eilish's first full-length album When We All Fall Asleep, Where Do We Go? and took home the No. 1 spot on the Billboard Hot 100 back in 2019. The chart-topping song is played in the third episode.
Celeste has a story to tell in her song "Strange," released in 2019. With over 6 million views on the music video, the lyrics leave listeners emotional. Hear the song in Episode 5.
Taylor Swift currently has eight No. 1 hits and 30 Top 10 hits on the Billboard Hot 100 with "Wildest Dreams" peaking at No. 5. The music video currently has over 800 million views. Swift's hit song can be heard in Episode 6.
Bridgerton season 2 will be available to stream on March 25. Catch up now on Netflix.