Thank you, Amnesty, For Making Some Desperately Needed Noise | Opinion
Ever since news broke that Amnesty International was planning to release a report accusing Israel of committing the crime of apartheid against Palestinians, it feels like all hell broke loose. Israel's government and pro-Israel groups lashed out with a preemptive all-out attack against Amnesty that included leaking the report, accusing it of antisemitism and calling on the organization to withdraw it before its official release.
Of course, Agnes Callamard, the secretary general of Amnesty International, saw this coming. "Our conclusions may shock and disturb, and they should," she said on Tuesday at a press conference in Jerusalem.
I hope she's right—that the report has the power to shock and disturb. Because we who live with the consequences of Israel's actions are running out of words.
When we talk about occupation, blockade, settlement expansion, settler violence, home demolitions and arbitrary arrests, there is a sense that these articulations of Israel's actions toward us have become routine, even dull. Despite the awful nature of what they convey, in their sheer abundance, these actions against Palestinians are so normal that they have been normalized. No matter what happens, we seem to have become incapable of creating a sense of urgency for our cause.
Even footage and stories of cruelty and suffering on the ground barely shock or disturb anymore. Three weeks ago, a 78-year-old Palestinian American was handcuffed by Israeli soldiers, gagged and forced to lie on his stomach in the cold until he died. His gruesome fate wasn't enough to solicit any meaningful remarks from Israeli Prime Minister Naftali Bennett's government or Biden's administration, though two Wisconsin congressmembers have requested an investigation.
A delusion of normalcy and a growing tolerance for routine cruelty have become entrenched in the West and endemic in the rooms where decisions are made. Can you blame those of us living with the daily brutalities of life under occupation or blockade for wanting some noise to be made to put our plight back on the agenda of those in power?
That's what Amnesty International's report signifies for us: a respite from feeling like our cries are falling on deaf ears. So it's dismaying to see Israel and the U.S. government engage with the report at the superficial level of questioning whether or not it's appropriate, polite or professional to use the word "apartheid" when it comes to Israeli conduct.
Many have expressed outrage or ridicule of the report, but there's been little to no attention given to its content: a detailed description of the unlivable conditions on the ground for Palestinians compiled over four years. Instead of policy proposals, legal amendments or roundtable discussions on how to lessen the suffering of Palestinians, we're enmeshed in a debate about nomenclature.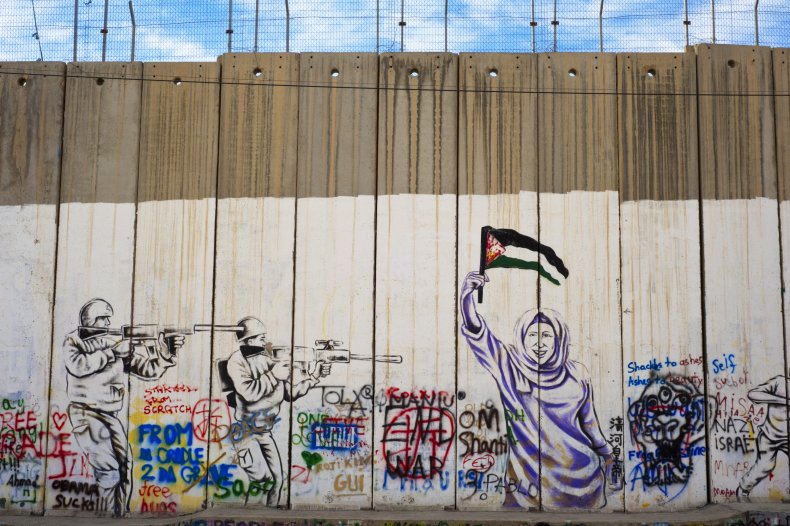 Some might argue that in using the word "apartheid," Amnesty is the one responsible for all this misdirected ire. If it had simply sufficed with chronicling the human rights abuses in the West Bank and Gaza, of which there are many, the conversation would have stayed focused on that. But as I explained above, those stories have lost the ability to make change, to force a reckoning, to make Israel answer for itself.
We're in a situation now where if you use the word "apartheid," that takes over the debate; but if you don't use it, there is no debate.
Yet Amnesty's report didn't come out of a vacuum. Two former Israeli prime ministers, Ehud Olmert and Ehud Barak, warned that closing the door to the two-state solution would open Israel up to the accusation that it is an apartheid state. Countless other public figures rang those same alarms, including some of Israel's own human rights watchdogs.
For those who care about a solution to the Middle East conflict that grants dignity and rights to everyone living there, the meaningful thing to do is to transcend the debate on the appropriateness of the specific word "apartheid" and instead debate ways to end the human rights abuses Palestinians are subject to in a way that also protects the lives of the Jewish people living in the region.
Both sides in this conflict have failed their people. On the Palestinian side, there has been violence—including against civilians—and a failure to hold democratic elections. On the Israeli side,Prime Minister Bennett has consistently ruled out Palestinian statehood, recently calling it a "terrible mistake." He has also refused to even meet with Palestinian Authority President Mahmoud Abbas, and Bennett's defense minister recently blacklisted six Palestinian civil society organizations to hamper their international funding (Israel claims they are fronts for terrorism).
Certainly, the Palestinian leadership is responsible for decisions that have prolonged our immiseration. But if Israel's leaders have foreclosed on the possibility of a diplomatic solution, what is left for Palestinians to do but accept our status as second-class citizens living under occupation in the West Bank, and a blockade in Gaza?
As long as nothing is moving forward on the Palestinian front, the consensus will continue to grow in the international community that Israel stands as a pariah among the nations. The UN Human Rights Council's Commission of Inquiry could be the next to accuse Israel of apartheid (Israel has already marked it a "top priority" to discredit the commission).
Nothing is more depressing for a Palestinian than to see how much more concerned Israel's government is with its reputation than it is with its responsibilities toward the millions of Palestinians under its rule, either directly or indirectly.
If the Bennett-Lapid coalition is genuinely keen to achieve security and "shrink the conflict," as Bennett has claimed he's eager to do, it should listen to Palestinians and sit down with them at the table to develop avenues for change through dialogue. Israelis should see in Amnesty's criticism a constructive call for change rather than delegitimization.
Isn't that what a democracy would do?
Muhammad Shehada is a writer and civil society activist from the Gaza Strip and a student of development studies at Lund University, Sweden. He was the PR officer for the Gaza office of the Euro-Med Monitor for Human Rights. He is a columnist at the Forward.
The views in this article are the writer's own.