#ThankYouPete Trends After Pete Buttigieg Pulls Out of 2020 Race, Voters Await His Endorsement
People took to social media to pay tribute to Pete Buttigieg after he pulled out of the Democratic primary race, having made history as the first openly gay presidential candidate.
The campaign of the former mayor of South Bend, Indiana, had some successes, such as winning the Iowa caucuses, coming second in New Hampshire and raising more than $82 million in funding.
However, the 38-year-old could not regain lost momentum and in the South Carolina primary he was only able to finish fourth.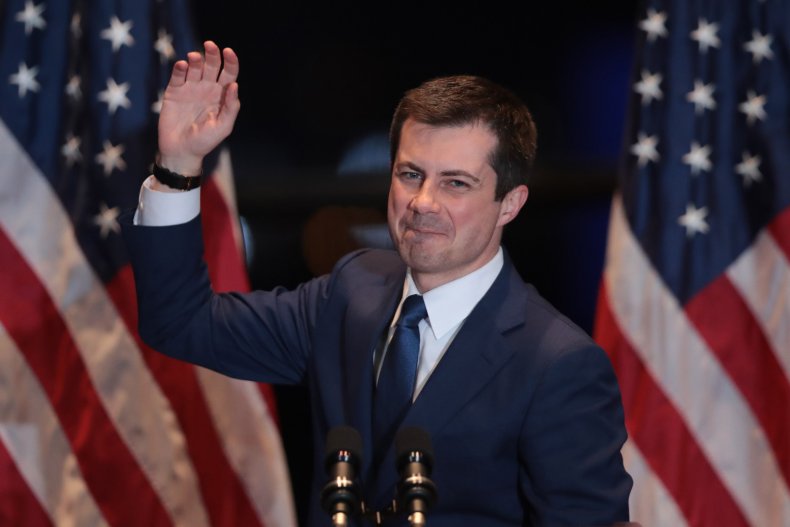 "After a year of going everywhere, meeting everyone, defying every expectation, seeking every vote, the truth is that the path has narrowed to a close for our candidacy, if not for our cause," Buttigieg told his supporters in South Bend on Sunday.
"We sent a message to every kid out there wondering if whatever marks them out as different means they are somehow destined to be less than. [They saw] that someone who once felt that exact same way can become a leading American presidential candidate—with his husband at his side."
The historic nature of his candidacy was noted on Twitter, with #ThankYouPete trending on Sunday night and Monday morning.
Former U.S. ambassador to Denmark, Rufus Gifford, tweeted an image of a Time magazine cover of Buttigieg with his husband Chasten, and added the message: "When I first saw this, I got choked up. And I'm choked up again. Not this time. But soon enough. Thank you so much @PeteButtigieg."
Bryce Tache tweeted to his 189,000 followers: "This Warren supporter is more emotional than I would have expected upon learning Pete is out. As someone who was bullied relentlessly as a kid, and denied most rights as an adult, it means a LOT to have seen a gay man do so much, get so far & inspire so many."
Peter Morley tweeted "#ThankYouPete for representing the LGBTQ community, in which I am a member of & for putting the Democratic party FIRST. History will remember you kindly in your call to UNITY!"
Palmer Report tweeted: "Pete Buttigieg is dropping out. Let's take a moment to acknowledge that he ran for President of the United States as an openly gay person, won the Iowa caucus, and broke huge ground in the fight for LGBTQ equality. Pete clearly has a big future ahead of him."
Speculation is building over who Buttigieg will endorse now with a withdrawal expected to clear the way for a showdown between Bernie Sanders and Joe Biden in the Super Tuesday contests.
Vermont Sen. Bernie Sanders is ahead in the two largest states, according to new CNN polls released on Friday, which show he leads in California with 35 percent compared to Massachusetts Sen. Elizabeth Warren on 14 percent and former Vice President Joe Biden on 13 percent. Meanwhile, in Texas, Sanders is ahead of Biden by 29 percent to 20 percent.