'Thanks for Ruining My Life'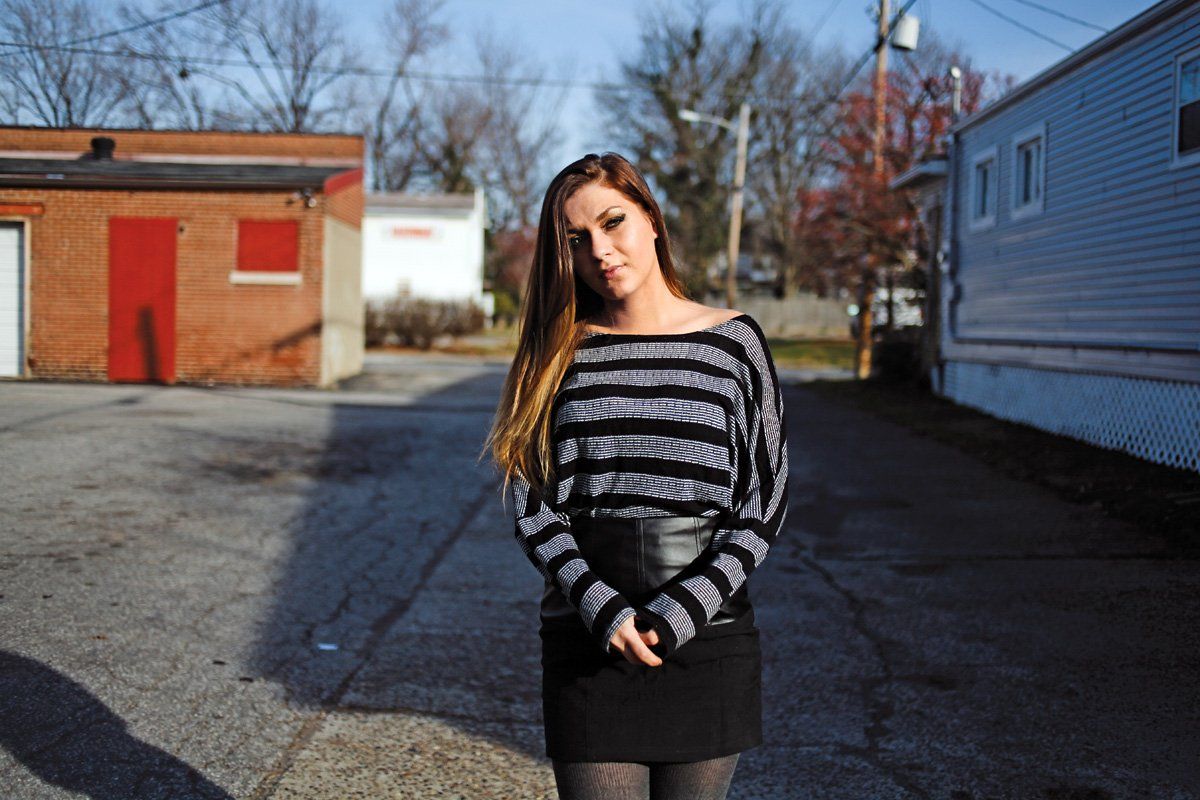 Savannah Dietrich says she was furious when she blasted out a defiant tweet this summer, naming two boys who had sexually assaulted her. "There you go, lock me up. I'm not protecting anyone that made my life a living Hell," the 16-year-old high-school student wrote.
Her green eyes lined with charcoal, hair swept aside into a loose braid, she recounts the June episode on a crisp fall day in her hometown of Louisville, Kentucky, sitting at a neighborhood coffee shop. Normally, an underage victim of sexual assault would not be named in these ­pages. But Dietrich wanted to go public.
Her ordeal began when two 16-year-old boys stripped off her bra and underwear after she had passed out at a party. The boys took turns pushing their fingers into her vagina, documenting their actions with cellphone photos. When Dietrich pressed charges, the boys pleaded guilty in a deal offered by the prosecutor, but she faced a new and unexpected problem: the judge ordered her not to talk about what had happened to her—an apparent infringement of her right to free speech, according to legal experts and to Dietrich herself.
The court was trying to "gag a victim," says her mother, Sharon Dietrich, to "hide a crime."
The teen, already feeling that the boys were getting off easy under their plea agreement, started tweeting. "Everyone thought I was this little girl they could intimidate," she says, with a slight Kentucky lilt.
The tweets flew out, 10 in one day: "Protect rapist is more important than getting justice for the victim in Louisville," read the seventh.
"They said I can't talk about it or I'll be locked up. So I'm waiting for them to read this and lock me up. F--k justice," read the 10th.
The next day, the boys' lawyers filed a motion to hold Dietrich in contempt of court, arguing that she had made "contemptuous remarks at this court" and "false allegations of criminal activity" in using the term "rapist," according to court filings. The contempt charge meant that she could face potential jail time, while the boys, because of their plea agreement, would not.
In some ways, the case exposes age-old hurdles that women and girls face when reporting sexual assault. But it is also a blunt reminder of the transformation of the American teen experience, as technologies make it possible for youthful stupidity to become known far beyond the community where, perhaps less than a generation ago, it might have remained. Photos, texts, and tweets—successors to handwritten notes passed under the desk then discarded in the trash—can be considerably more potent, both for the victim and for the accused.
And they raise a host of legal issues, pushing the boundaries of both privacy and defamation. In a rape trial in Brooklyn last month, four men were charged with criminal contempt for taking cellphone photos of the accuser on the witness stand; one shot reportedly wound up on Twitter. This past spring, when U.K. soccer player Ched Evans was convicted of rape, his friends outed the victim on Facebook and Twitter. They were fined last month, while another person was fined for snapping cellphone photos of the court proceedings.
In her first extended interview on her own legal crisis, Dietrich described to Newsweek what motivated her to fight back against both her attackers and the courts. Lawyers for the two boys said their clients declined to comment for this article. The boys were sentenced in September for sexual abuse in the first degree, which is a felony, and voyeurism, a misdemeanor, in juvenile court. The case became so controversial that the court records were opened and made public at the behest of Dietrich and her lawyers, despite opposition from the lawyers for the boys.
For Dietrich, it all began in August 2011. One evening, she and a couple friends invited some people over to her father's house while he was away for work. (Her parents are divorced.) Two of the guests that night were students from a prestigious all-boys Catholic academy, Trinity High School. Dietrich, a rising junior, had met them before, she says, but didn't know them well. Both boys were good students and avid lacrosse players. Neither had been in any major trouble, beyond things like "being in possession of gum outside of the cafeteria," according to court documents.
The boys came over that evening and the group began drinking—beer, vodka, whiskey—purchased by an older friend, according to court documents. After downing a number of shots, Dietrich says, she passed out. The next morning she woke up in bed with an ominous feeling. "My bra was shifted," she says. "My underwear were off." She wondered if something bad had happened, but pushed the thought away. "It was like part of me didn't want to know," she says.
Dietrich didn't learn about the photos until months later, in late November, when a guy friend told her there were rumors that the boys had taken seminude shots of her. Unsure of precisely what the photos showed or who had seen them, she confronted the boys on Nov. 28. The conversation happened by text.
"Thanks for ruining my life," she texted one of them, according to court records.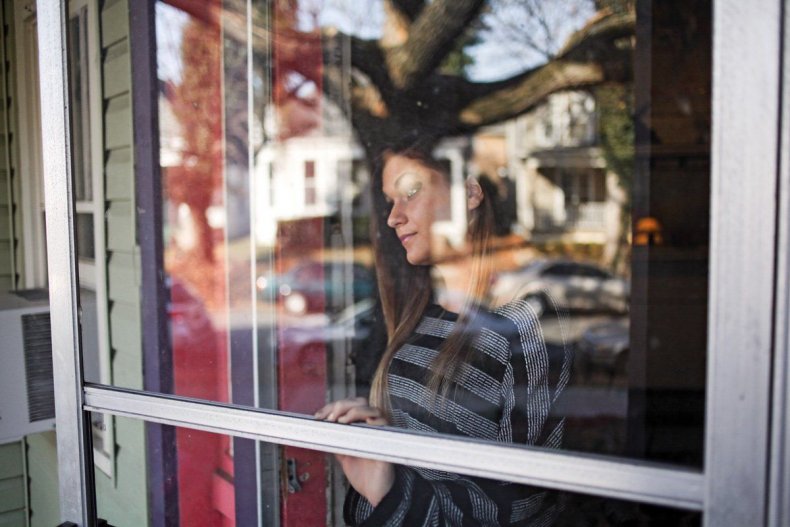 "What," he said. "How'd I ruin your life."
"You know what I'm talking about ... Don't play that bulls--t."
After a flurry of back-and-forths, he acknowledged that he had taken a photo of her, without specifying what it showed, but said he had deleted it. When she texted the second boy, he implied that she had taken off her own clothing.
"You were drunk as s--t and you did take it off yourself I promise," he said.
"I don't do that ... I know myself I never take off my bra, never," she said.
Feeling that both boys were lying, she zapped one of them a text saying she could put him on "the sex offenders list for child pornography." Then she started texting other people, asking if they had seen the photos.
Only then, she says, did the full extent of the problem become clear to her—both the nudity and sexual abuse. Several people said they had seen the images on one of the boy's phones. Dietrich began to panic. "I'm sure their whole lacrosse team saw them," she says. "I was so stressed out, I would just burst into tears at the most normal things." She knew rumors were escalating. "Some people said, 'Are you sure you didn't consent?' " At her lowest point, she says, she thought about suicide.
It's a problem Jennifer Gentile Long, director of the women's legal advocacy group AEquitas, says she increasingly sees in her work, as new technologies get "used as a weapon to harass and humiliate the victim," creating "an invasion of privacy beyond what we've seen before." At the same time, she notes that technology can give the victim a voice: Apps such as Hollaback allow users to report and map street harassment on the spot. And cellphone texts allowed Dietrich to offer concrete evidence to the police.
On Dec. 14, as she wrapped up her investigation, Dietrich texted one of the boys: "You lied." He begged her not to go to the authorities, "jeopardizing our lives forever." He said, "I'm not a bad person just a dumb one I guess."
Just before Christmas, Dietrich told her mom to call the police. Her mother, Sharon, says she was "speechless" when her daughter told her the story. "She's like, 'I'm ready to act,' " Sharon says. "I'm thinking, I've got to absorb this a moment." She walks through her Louis­ville neighborhood at dusk, the streets covered with fallen leaves. Her expression is worried. She was not pleased to hear about her daughter's booze-filled party, she says, but was glad her daughter had the confidence to speak up.
The police report was filed the day after Christmas. In early February of this year, the boys sat down for interviews with a police detective. Both confessed to the crime. "We lifted up her shirt and took a picture of her boobs ... we just pulled down her pants ... we put our fingers in her vagina 'cause we thought it would be funny but it wasn't and took a picture," one said, according to a police transcript.
The detective asked, "Was she just laying there the whole time when you all were taking the pictures?"
"Yes, when we were taking the pictures, yeah," the boy said. After the incident, he said, the boys carried Dietrich upstairs to her room, accidentally dropping her at one point on the floor.
When the detective asked, "She didn't ask you to put your fingers in her vagina, did she?" the boy said, "No."
The second boy told a similar story, according to the transcript, describing ­Die­trich as looking "really tired" with "low eyelids" at the time of the incident. The police took the boys' cellphones for forensic testing.
In March, the boys were arraigned, charged with sexual abuse and voyeurism. The prosecutor offered the boys a deal, and they entered guilty pleas in late June. Under the agreement, the boys would get 50 hours of community service, along with sex-offender counseling. At age 19 and a half, they could move to have the guilty plea withdrawn, the case dismissed, and their records expunged. (­Dietrich says the prosecutor didn't tell her in advance that he was offering the plea deal, a claim the prosecutor denies.)
At that hearing, the boys' lawyers asked Judge Deana McDonald to explain the rules of confidentiality in juvenile court. She obliged, saying the court proceedings should not be discussed outside the courtroom. She also went a step further, indicating that the crime itself could not be discussed. No one should "speak about the incident to anyone for any reason," the judge said, according to court documents filed by Dietrich's legal team. "No one is to talk or type anything."
That's the day Dietrich turned to Twitter. "I felt silenced," she says. "I felt challenged." The contempt motion came from the boys' lawyers the next day.
Dietrich's family got a pair of public defenders and prepared for battle. "I was boiling in my blood," says Dietrich's mother. She sits with her daughter over a lunch of Greek chicken kebabs and fries. Dietrich shoots her mom an impatient look—she wants to tell her own story.
Dietrich appeared in court that week with a motion to dismiss the contempt charge. Her legal team argued that the court had been wrong in silencing the victim of a crime. It's a matter of free speech, her team argued.
Aden Fine, senior staff attorney at the American Civil Liberties Union, agrees with that assessment, noting, "Broad orders issued by courts prohibiting speech raise First Amendment questions. She could never tell her mother what happened?" As for Dietrich's decision to tweet, he says, "Speech on social-media tools is entitled to exactly the same protections as other speech. The Supreme Court has made that clear."
The motion to dismiss was overruled by another judge and a contempt hearing was scheduled for July. This second judge, like Judge McDonald, advised Dietrich not to talk about the court proceedings or the crime, according to court documents filed by Dietrich's team.
Thomas Clay, a private attorney Dietrich hired as the case heated up, describes the situation as "downright topsy-turvy upside down." He also says it was a matter of "the victim being revictimized."
Dietrich's team went after both judges and the prosecutor, requesting that all three be disqualified from the case. The prosecutor, they charged, was not objective. Turned out, he had attended the same high school as the boys—Trinity—and remained an active supporter, serving on a reunion committee and in an alumni society, according to court filings. The judges and prosecutor declined to comment for this story, as did Trinity.
As news of the battle leaked out, headlines shot around the city and across the country, screaming that a sexual-assault victim could go to jail for tweeting about the attack. The lawyers for the boys dropped the contempt motion.
In the end, no one was disqualified. The court records were unsealed at the request of Dietrich's team, despite objections from the boys' lawyers, who argued that it would spur media attention and hinder the boys' rehabilitation. The boys were not invited back to a senior year at Trinity and had to find new schools. They also got a stiffer sentence. Under their final plea deal, issued in September, the felony crime can't be completely expunged, as per the original deal, but can be downgraded to a misdemeanor after three years if they stay out of trouble.
Dietrich says the events of the year have changed her. It's late afternoon on a weekday, and she's heading home from the coffee shop to get ready for her shift as a hostess at a restaurant. Socially, she says, she has been "affected a lot" by what happened to her. "It became hard to go out and socialize—I felt like I was walking into a room naked," she says. She has a boyfriend she is comfortable with, as she has known him for a long time, she says, but she doesn't like it when other boys put an arm around her or touch her casually.
The photos still haunt her. "I'm still really anxious to see the photos, to see who they showed them to," she says. She may never see them herself. A police-department spokeswoman says the pictures had been deleted by the time the police got the phones, and the crime lab could not determine whether the images had been sent out to anyone. Still, ­Dietrich says she's glad she fought. "I just wanted to stand up for myself," she says. "I'll never take those tweets down."