Thanksgiving 2018 Easy Dessert Recipes: How to Make Pumpkin Pie, No-Bake Sweets in 1 Hour or Less
Everyone's—OK, many people's—favorite part of Thanksgiving dinner is the dessert. And the most popular dishes aren't always the fanciest, but the ones that are homemade. Here are five recipes for Thanksgiving desserts that can be made in an hour or less, that will earn more brownie points than store-bought sweets.
Simple pumpkin pie
Time: One hour including 10 minutes of prep time and 50 minutes of baking, via Allrecipes.com.
Ingredients:
1 (16 ounce) can of pumpkin puree
1 teaspoon of pumpkin pie spice
2 eggs
1 (14 ounce) can sweetened condensed milk
1 (9 inch) unbaked pie crust
Directions:
Preheat the oven to 425 degrees Fahrenheit. Mix the pumpkin puree, pumpkin pie spice, eggs and sweet condensed milk in a large bowl until it is well combined. Fit the pie crust into a 9-inch pie dish and pour the mixture until nearly the top of the crust. Put the pie on a baking sheet and into the oven for 15 minutes. Reduce the oven heat to 350 degrees and bake for another 35 to 40 minutes until the filling is set.
Cranberry cobbler
In 55 minutes, with 10 minutes of prep time, courtesy Martha Stewart.
Ingredients:
1 1/4 cups cranberries, partially thawed if they were frozen
6 tablespoons of unsalted butter, melted, and extra for the pan
1/2 cup whole milk
1 large egg
3/4 cup and 2 tablespoons of sugar, separate
1 cup all-purpose flour (spooned and leveled)
1 1/4 teaspoons baking powder
1/2 teaspoon fine salt
Directions:
Preheat the oven to 350 degrees. Spread butter over a 10-inch cast-iron skillet. Gently mix the cranberries and 2 tablespoons sugar together. Whisk the flour, baking powder, salt and 3/4 cup sugar remaining in a large bowl. Whisk the milk and egg, then the butter, in a small bowl. Whisk the two mixtures together. Pour the batter into the skillet and sprinkle the cranberries on top. Bake it for 25 to 30 minutes, until the center springs back up when touched. Cool before serving.
Pecan pie rugelach
Forty-five minutes including 15 minutes of prep, via Pillsbury.
Ingredients:
1 Pillsbury refrigerated pie crust, softened as directed on box
1/2 cup of chopped, toasted pecans
1/2 teaspoon of ground cinnamon
4 ounces of cream cheese, softened
2 tablespoons of packed brown sugar
1 tablespoon of granulated sugar
1 egg, slightly beaten
Directions:
Preheat the oven to 350 degrees. Cover a big cookie sheet with cooking parchment paper. Unroll the pie crust onto a surface. Mix the cream cheese, cinnamon and brown sugar in a medium bowl. Spread the mixture over the crust leaving 1/4 inch around the edges. Drop pecans on top and press them slightly into the pie crust. Cut the dough into 16 wedges and roll them up, beginning with the widest sides. Put them on the cookie sheet and brush the egg wash over the pastries. Dust them with the granulated sugar. Bake the pastries for 25 to 30 minutes until they are golden brown. Take them off the cookie sheet immediately to cool.
No-bake pumpkin cheesecake
Less than an hour, via Magnolia.com.
Ingredients:
1 cup of pure pumpkin puree
1 teaspoons of pumpkin pie spice
10 graham crackers, crushed into crumbs
8 ounces cream cheese, softened
1 tablespoon of unsalted butter, melted
1 teaspoon of pure vanilla extract
1/2 cup of sugar
1 large tub (12 ounces) of Cool Whip
Directions:
Crush the graham crackers and mix them with the butter, then press it onto the bottom of jars or serving glasses. Use a mixer to blend the cream cheese until it is smooth, then add the pure pumpkin puree, pumpkin pie spice, vanilla extract and sugar, until it is creamy. Add half of the Cool Whip and gently stir. Use a spoon to place a layer of the pumpkin cheesecake mixture into each jar or serving glass, and top them off with whipped cream.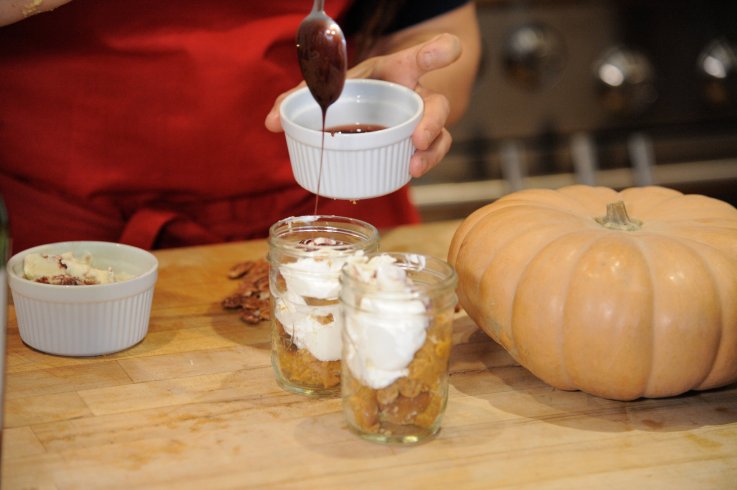 No-bake Oreo turkeys
In 20 minutes including 5 minutes of prep time, via Delish.
Ingredients:
20 Oreos
40 candy eyes
20 butterscotch chips
1 cup of candy corns
1 tablespoon of coconut oil
1/2 cup of white chocolate chips
Red food coloring
Directions:
Put the white chocolate, coconut oil and a few drops of the red food coloring in a bowl and microwave it 30 seconds at a time until it is melted. Pour the melted chocolate into a small zip-lock bag and cut a small hole on the edge. Squeeze dabs of the melted chocolate to the back of the candy eyes and put two on each Oreo. Repeat with the butterscotch chips, placing one on each Oreo as a beak. Make a red line next to the beak as a gobbler. Stick four candy corns into the filling of each Oreo, pointed side in, to create the turkey feathers.
Thanksgiving 2018 Easy Dessert Recipes: How to Make Pumpkin Pie, No-Bake Sweets in 1 Hour or Less | U.S.