Thanksgiving Music Playlists: Perfect Songs For Friends and Family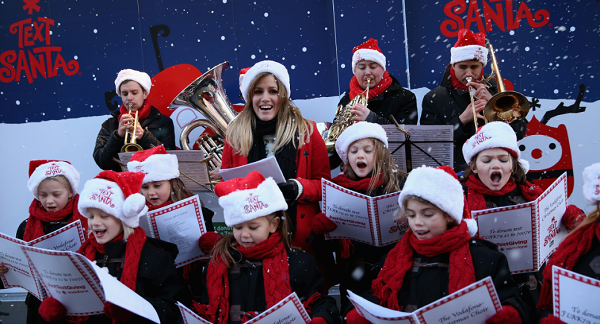 It's the most wonderful time of the year. Thanksgiving marks the start of the festive season, which means you can finally press play on that holiday playlist you've been curating since last Christmas.
Plenty of artists released new music ahead of the holidays to help you curate the perfect playlist for Thanksgiving Dinner.
John Legend dropped his first-ever holiday album, A Legendary Christmas in October. The 14-track project, which includes a Stevie Wonder feature on the opening song, is filled with tunes to get folks in the Christmas spirit.
JD McPherson also released his debut Christmas album, Socks, last month. It's perfect for folks looking celebrate Thanksgiving with some rocking and rolling holiday cheer.
Meanwhile Tyler, The Creator officially took over Christmas with the release of his latest EP, Music Inspired by Illumination & Dr. Seuss' The Grinch. Just weeks before Tyler unveiled his new project the rapper dropped his remake of "You're a Mean One, Mr. Grinch," made for the updated movie The Grinch, which debuted on November 9.
If you aren't prepared to play music maestro during family dinner on Thanksgiving—or the rest of the holiday season for that matter—you don't have to search hard for holly jolly tunes. You could always just play one of the many holiday-specific playlists available on music streaming outlets like Spotify and Apple Music.
Music lovers with Spotify have dozens of options for holiday streaming. The platform has an entire section dedicated to keeping your holidays happy, with a detailed playlist like Christmas Jazz, Peaceful Piano and Christmas Classics, which features the traditional jams like Bebby Helms' "Jingle Bell Rock" and Bing Crosby's rendition of "White Christmas." The streaming giant also released its annual Spotify Singles: Christmas Collection, equipped with all the latest and greatest holiday music by artist like Miley Cyrus, Anderson .Paak, Demi Lovato, Fifth Harmony and several others.
Apple Music similarly has a number of holiday-themed playlists, including one dubbed Thanksgiving Dinner, comprised of songs that are sure to make you count your blessings on the day of thanks. There is also a collection of R&B holiday tunes, Hanukkah Classics and even a Celtic Christmas playlist.