Thanksgiving Travel 2018: TSA Predicts Holiday Could Be One of the Busiest Days Ever
Before carving the turkey, millions of Americans will leave their homes and travel to their holiday destinations. But, just how packed will travel be this Thanksgiving season? Possibly one of the busiest on record.
Weeks before Thanksgiving, the Transportation Security Administration (TSA) gave travelers a heads up about the influx in plane traffic. In a press release on Tuesday, the TSA said the number of travelers being screened at checkpoints across the country is forecasted to be "extremely high."
From Friday, November 16, about a week before Thanksgiving, until Monday, November 26, more than 25 million people are expected to be screened at airport checkpoints. The TSA called it "one of the busiest Thanksgivings on record" and noted that it's would be a seven percent increase from 2017's Thanksgiving travel.
Beginning with Thanksgiving last year, the TSA noticed a change in travel patterns for the November holiday. People no longer waited until the day before the holiday to get moving and TSA saw an increase in passenger volume beginning with the Friday before Thanksgiving. The high passenger volume seen during the 2017 holiday season is expected to extend through November 21, the day before Thanksgiving.
For example, at John F. Kennedy International Airport in Queens, New York, over 100,000 passengers per day are expected to pass through security checkpoints in the days leading up to Thanksgiving. TSA agents at Newark Liberty International Airport in Newark, New Jersey, could screen up to 70,000 individuals daily and at LaGuardia Airport in Queens, about 48,000 people are expected to go through TSA checkpoints.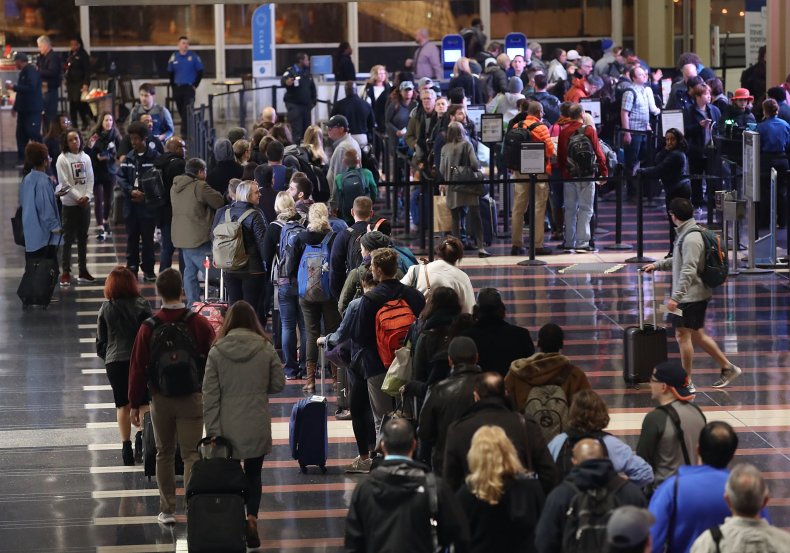 Although the number of packed travel days has extended past the day before the holiday, TSA noted that the Tuesday and Wednesday before Thanksgiving and the Sunday after will still be the busiest days to travel. TSA even expects Sunday this year to break into the TSA's top 10 busiest days ever. The current record holders of the top 10 spots for passengers screened include:
November 28, 2004, Sunday after Thanksgiving: 2,713,864
November 19, 2004, Friday before Thanksgiving: 2,652,347
June 30, 2017, Friday of the Fourth of July Weekend: 2,647,852
November 29, 2004, Monday after Thanksgiving: 2,642,566
November 26, 2017, Sunday after Thanksgiving: 2,609,372
November 5, 2004: 2,569,252
June 29, 2017, Thursday before the Fourth of July Weekend: 2,540,110
July 1, 2005, Friday of the Fourth of July Weekend: 2,534,052
May 26, 2017, Friday of Memorial Day Weekend: 2,530,310
July 21, 2017: 2,527,816
Given the number of people getting on and off flights and venturing through airports, TSA explained that ensuring safe travel for millions of passengers is its top priority. Along with seen measures, TSA noted that there will be many unseen security measures implemented.
"It is well known that terrorists continue to focus on aviation, which is why TSA continues to provide robust security screening," the press release said.
As is expected with an increase in passengers, wait times at security checkpoints are also expected to be lengthy so TSA recommended passengers give themselves extra time at the airport before their flight. The agency also offered tips for helping to keep the line moving, including having an acceptable piece of identification and boarding pass ready to hand to the TSA officer.