Thanksgiving 2019: 10 Must-See Thanksgiving Specials and How to Watch Them This Year
Thanksgiving has been host across the years to hundreds of TV specials, with everyone from the residents of Springfield to the inmates at Litchfield Penitentiary celebrating the holiday on screen. Now, Netflix, Disney+ and other streaming services have made some of the most classic Thanksgiving specials available to stream, including iconic episodes of Friends, The West Wing and, of course, A Charlie Brown Thanksgiving.
A Charlie Brown Thanksgiving
One of the Peanuts gang's most beloved specials, A Charlie Brown Thanksgiving sees the gang settle down for a Thanksgiving meal of toast, pretzels, popcorn, jelly beans, and an ice cream, all served up by Snoopy⁠—but not before Lucy pays tribute to the tradition of Thanksgiving football by fooling Charlie Brown into trying to kick the pigskin.
How to watch it: ABC will air the special followed by educational short This is America, Charlie Brown: The Mayflower Voyagers on Thursday at 8 p.m. ET, after which time both will be streaming on the ABC website and app.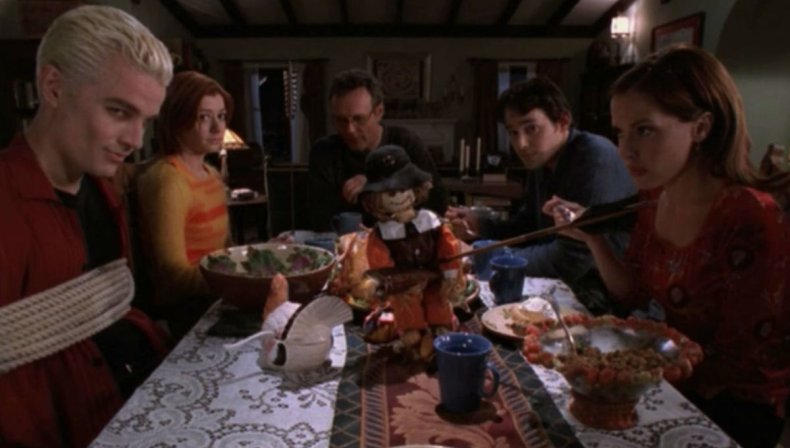 Buffy the Vampire Slayer: "Pangs"
"I just can't take all this namby-pamby boo-hooing about the bloody Indians ... You won. All right? You came in and you killed them and you took their land." This is everyone's favorite vampire psychopath Spike's take on the holiday in Buffy the Vampire Slayer's sole Thanksgiving special, which sees the gang haunted by the spirit of a Native American out for revenge on white settlers.
How to watch it: All seven seasons of Buffy the Vampire Slayer are on Hulu. Pangs is Season 4, Episode 8 of the show.
Will and Grace: "Moveable Feast"
Nothing sums up the stress of having to visit family on Thanksgiving more than Will and Grace Season 4, Episodes 9 and 10, which see all four of the main cast members visiting each of their families in turn for one hour on the day, leading to a lot of laughs, a few tears, and iconic turns from Blythe Danner and the late Debbie Reynolds as the mothers of Will and Grace respectively.
How to watch it: All eight seasons of Will and Grace are on Hulu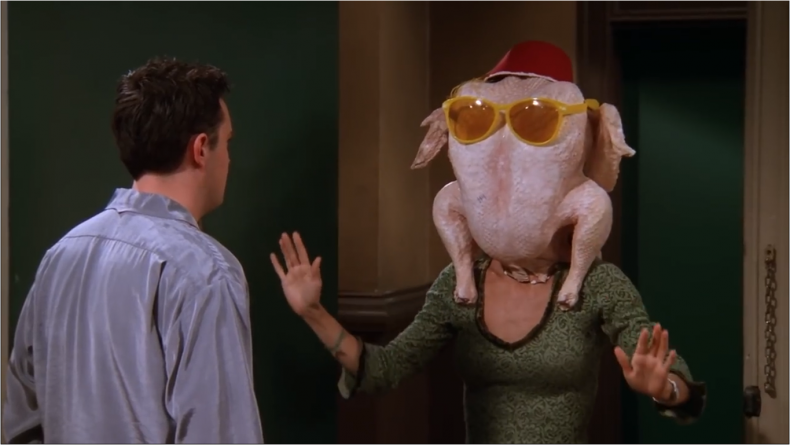 Friends: "The One with All The Thanksgivings"
Friends had 10 Thanksgiving specials over its decade run on NBC, but "The One with All The Thanksgivings" (Season 5, Episode 8) may be the best of them all, with the gang each discussing their worst experiences on the holiday. From losing toes to getting turkeys lodged on their heads, the special includes some of the most defining images of show's entire run.
How to watch it: All of Friends is streaming on Netflix
Master of None: "Thanksgiving"
The episode of Aziz Ansari's Netflix show, which made history by winning Lena Waithe a writing Emmy (making her the first African American woman to do so), is an emotional rollercoaster that takes us through the years as Waithe's character, then her mother Catherine (Angela Bassett) come to terms with her sexuality.
How to watch it: "Thanksgiving" is Season 2, Episode 8 of Master of None, all of which is on Netflix
Orange is the New Black: "Fucksgiving"
Taking the cake (or should that be moldy bologna) for the most depressing Thanksgiving special, "Fucksgiving" sees Piper celebrate her first holiday inside Litchfield, only for her to be sent to solitary after a leaving party for Taystee gets out of hand.
How to watch it: All of Orange is the New Black including "Fucksgiving" (Season 1, Episode 9) is on Netflix.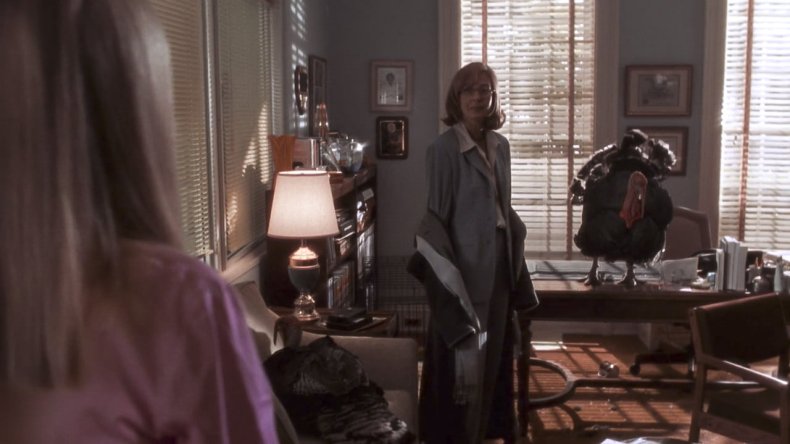 The West Wing: "Shibboleth"
The West Wing was in a unique position to poke fun at some of the stranger White House Thanksgiving rituals, and it did it best in Season 2, Episode 8, which juggled the silly (President Bartlett choosing which turkey to pardon and sending Charlie to find a special carving knife) and the serious (Bartlett deciding what to do about a boat of Chinese Christian immigrants who arrive illegally in California) in typical Aaron Sorkin style.
How to watch it: Netflix has all seven seasons of The West Wing
The Simpsons: "Bart vs Thanksgiving"
Though this year's "Thanksgiving of Horror" was praised by critics for its new take on the holiday special, the best of the show's specials is still Season 2, Episode 7's "Bart Vs. Thanksgiving," which sees Bart fall out with his family after breaking Lisa's centerpiece tribute to iconic women.
How to watch it: The first 30 seasons of The Simpsons are now streaming on Disney+
Frasier: "A Lilith Thanksgiving"
Even Orange is the New Black's prison Thanksgiving would probably be more fun than spending it with Lilith, Frasier's ice-cold ex-wife, who comes to visit for the holidays in Season 4, Episode 7 of the classic Cheers spin-off.
How to watch it: Both Amazon Prime Video and Hulu have all episodes of Frasier
Glee: "Thanksgiving"
Winning the award for sheer WTF moments, this Glee special is like a stuffing made without a recipe where the chef has taken whatever is left in the pantry and thrown together hoping for the best, as Sarah Jessica Parker joins a cast who perform one of the oddest collections of songs from show's history, including "Gangnam Style," "She'll Be Coming Round the Mountain" and a mash-up of Scissor Sisters hit "Let's Have a Kiki" with obscure musical song "Turkey Lurkey Time"
How to watch it: All of Glee is on Netflix