Thanksgiving 2020 CDC Guidelines List Low- and High-Risk Holiday Activities This Year
Thanksgiving falls on Thursday, November 26, this year, and things may look a little different than usual. The coronavirus pandemic means we may need to alter our holiday plans to ensure that we keep ourselves and our loved ones as safe as possible by reducing the risk of spreading COVID-19.
The Centers for Disease Control and Prevention (CDC) has issued advice on how to celebrate Thanksgiving 2020 in a guide that categorizes typical holiday activities as lower risk, moderate risk, and higher risk.
Generally, the CDC is advising families to host dinners within their household, and celebrate virtually with other family members and friends. Classic Thanksgiving activities like parades and Black Friday sales are deemed a higher risk and should be avoided.
Lower risk activities for Thanksgiving 2020
Having a small dinner with your household
Preparing traditional family recipes for family and neighbors, especially those at higher risk of severe illness from COVID-19, and delivering them without contact
Having a virtual dinner and sharing recipes with friends and family
Shopping online rather than in person on the day after Thanksgiving or the following Monday
Watching sports events, parades, and movies from home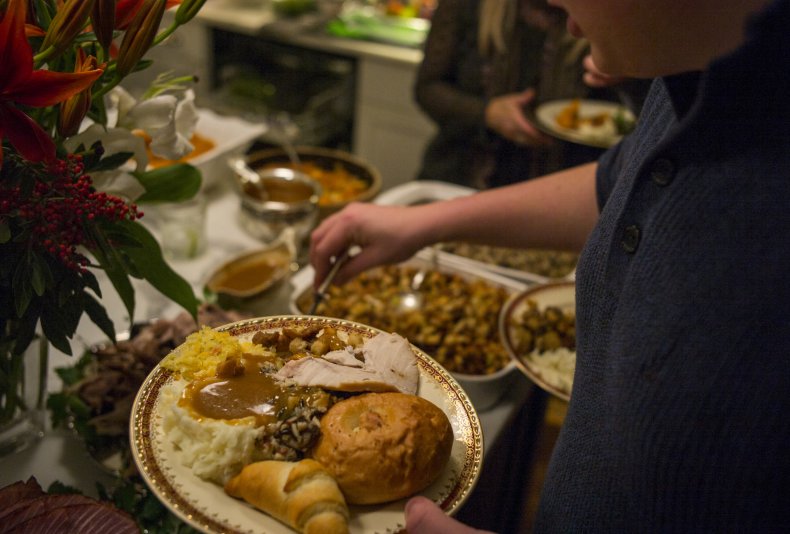 Moderate risk activities for Thanksgiving 2020
Having a small outdoor dinner with family and friends who live in your community
Visiting pumpkin patches or orchards that follow safety guidelines, including using hand sanitizer before touching pumpkins or picking apples, wearing masks and social distancing
Attending a small outdoor sports events with safety precautions in place
Higher risk activities for Thanksgiving 2020
Avoid these higher-risk activities to help prevent the spread of the virus that causes COVID-19:
Going shopping in crowded stores just before, on, or after Thanksgiving
Participating or being a spectator at a crowded race
Attending crowded parades
Using alcohol or drugs, which can cloud judgment and increase risky behaviors
Attending large indoor gatherings with people from outside of your household
As well as Thanksgiving, the CDC has also issued advice for general winter holidays.
While outdoor activities are safer than indoor ones if you do choose to host an indoor event, avoid crowded, poorly ventilated and fully enclosed indoor areas. Additionally, you should increase ventilation by opening windows and doors and limit the number of guests.
Provide or encourage guests to bring supplies like face masks, hand sanitizer containing 60 percent alcohol, and tissues.
If you are planning to meet up with people outside of your household, ask guests to avoid contact with other people for 14 days before the event.
Further advice includes asking guests to bring their own food and drinks, limiting the number of people around food preparation areas, wearing a mask while preparing or serving food and considering having only one person serving food to avoid multiple people using the same utensils.
Consider using single-use options for plates and utensils and avoid self-serve options like buffets or salad bars. If you choose to use reusable options, such as table cloths or linen napkins, wash and disinfect them after the event.
Furthermore, the CDC recommends opting for healthy food and beverage options to maintain good health.