Thanksgiving Live Updates: White House Calms Supply Fears, Huge Crowds Gather for NYC Parade
Millions of people are celebrating Thanksgiving with family and friends today as U.S. airports and the road networks cope with a major jump in passenger numbers, so far at least.
A spokesperson for the Transportation Security Administration (TSA) told Newsweek that travelers should prepare for airports to look like they did before COVID, warning the 20 million people expected to pass through security this holiday season to be mindful of others.
Celebrations come as new virus infections surge across the country, prompting many states to plea with people to have small gatherings and wear masks indoors.
Live updates have now ended
Houston Thanksgiving parade canceled due to stormy weather
The 72nd Annual H-E-B Thanksgiving Day Parade will not go ahead as planned is a huge disappointment for Texans this morning.
Heavy rain and storms are moving toward downtown Houston - where the parade was supposed to take place today.
When are the biggest U.S. stores open today?
Trader Joe's
Trader Joe's stores are open from 8am to 9pm seven days a week, but the chain shuts on most major U.S. holidays - including Thanksgiving.
Whole Foods
Do not expect its 476 stores to be open past 2pm, as most close early on Thanksgiving.
Wegmans
The supermarket chain has confirmed that opening hours will vary at its 106 stores nationwide.
Wegmans told Newsweek: "Locations will close at 4pm on Thursday, November 25, and will reopen on Friday, November 26, at 6am."
Stop & Shop
If you do have a last-minute cooking disaster on Thanksgiving Day, Stop & Shop might be able to help, with its 415 locations open until 5pm.
Kroger
Kroger retail outlets will be open, according to the Kroger Addict website, but "store hours vary from one location to another," so shoppers are advised to check with their local store before going.
Best Buy
The consumer electronics retailer Best Buy said its stores would be closed on Thanksgiving Day, although many of its Black Friday deals are already available online.
Best Buy told Newsweek: "This year, Best Buy stores will once again be closed on Thanksgiving Day but, as always, our customers will be able to shop with us online at BestBuy.com and through the Best Buy app."
Macy's Parade begins in New York City
Thousands of people are lining the streets to watch the floats and marching bands walk through the Upper West Side.
WATCH: What happens when deep-frying a turkey goes wrong
Firefighters have been warning people of the dangers of deep-frying a whole turkey for years, but still many people choose to dunk their thanksgiving bird into a vat of oil.
In many cases, this has led to the oil spilling over and causing serious burns and, in the worst cases, explosive fires.
Pictures show busy last-minute rush on LA's roads
Highways out of the city were rammed late last night as people make a last-minute dash to see family for Thanksgiving, in what's officially the busiest day of the year for travel so far.
Travel experts AAA suggest taking trips early in the morning - before 11am - and late in the evening - after 9pm, which is what many did. But an explosion in traffic compared to last year meant roads were left jammed nonetheless.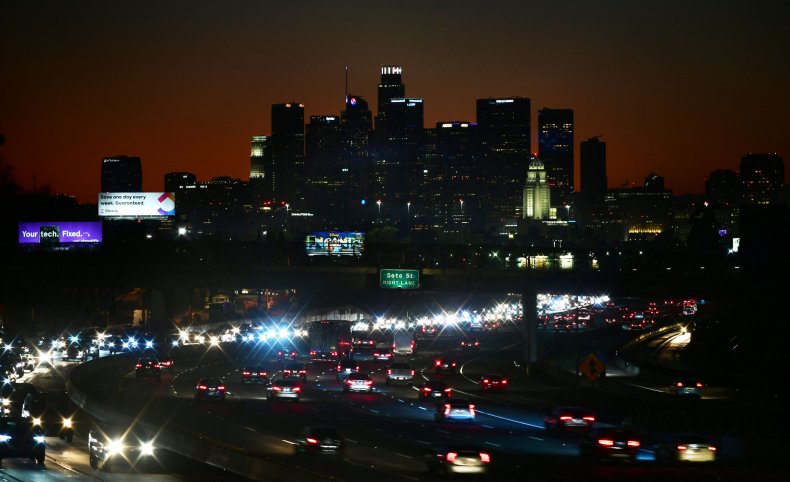 Biden says he is 'grateful to serve as your president' in Thanksgiving message
The president told viewers that he was happy families could enjoy the holiday season together unlike many last year due to COVID.
Online calculator tells you how likely you are to catch COVID at Thanksgiving gathering
An interactive dashboard was created by researchers at the Georgia Institute of Technology with Duke University, Stanford University, and the Applied Bioinformatics Laboratory.
The website offers an interactive map broken down at the county level where users can plug-in details about the event they are considering going to, including the number of people in attendance.
The resulting calculated risk level, which is presented from zero percent to 100 percent, is the estimated chance that at least one individual infected with COVID-19 will be present.
FULL STORY: Online Tool Calculates Risk of COVID Exposure at Thanksgiving Gatherings
Where to watch the Thanksgiving parade
The 95th edition of the NYC parade will feature 15 giant character balloons - including Baby Yoda - as well as 28 floats, 36 novelty and heritage inflatables as well as over 800 clowns, 10 marching bands, nine performance groups, and various musical stars, in addition to Santa Claus.
But where can you watch if you can't make it to the Upper West Side?
The parade will be covered live from 9am to 12pm across all time zones on NBC and Spanish-language broadcaster Telemundo as per the tradition since 1948. The November 25 television special will include a music number by Carrie Underwood from her album My Gift (Special Edition), as well as performances of Broadway's best musicals such as SIX, Moulin Rouge! and Wicked. The show will also feature a sneak preview of NBC's Annie Live!.