At Thanksgiving 33% in U.S. Won't Require Masks, 38% Will Host or Attend Gathering of 10-Plus: Poll
While the U.S. confronts a record-breaking surge in new coronavirus cases, public health agencies and government officials alike are encouraging people to celebrate the upcoming Thanksgiving holiday with safety in mind. However, despite guidance released by the Centers for Disease Control and Prevention (CDC) and public calls from local leaders, recent survey results showed close to 40 percent of Americans plan to spend Thanksgiving with at least 10 other people, and more than one-third will not ask their guests to wear face masks.
The survey, conducted by researchers at Ohio State University's Wexner Medical Center between October 29 and November 2, collected responses from roughly 2,000 U.S. adults. It found that 38 percent of them intend to host or attend a Thanksgiving gathering where more than 10 close family members are present. Additional survey results showed 33 percent of participants do not plan to ask those attending their holiday events to wear face masks, and 27 percent do not plan to practice social distancing before and after Thanksgiving dinner.
Given the recent spike in COVID-19 cases, hospitalizations and deaths recorded across the U.S., the CDC issued a set of recommendations to reduce the risk of transmission during holiday gatherings on Wednesday. The agency acknowledged that maintaining distance from family and friends after an isolating year is difficult, but nonetheless encouraged people to celebrate virtually, limit gatherings to those living in the same household unit, or at least limit celebrations to small groups. Guidelines also noted that mitigation measures, such as physical distancing and use of masks, lowers risks of COVID-19 transmission.
New York City Mayor Bill de Blasio described behavior around forthcoming holiday gatherings as "the big X factor" that could determine how the pandemic progresses in his jurisdiction and nationwide. During an MSNBC interview on Saturday, the mayor told New Yorkers, "This is not the time to travel."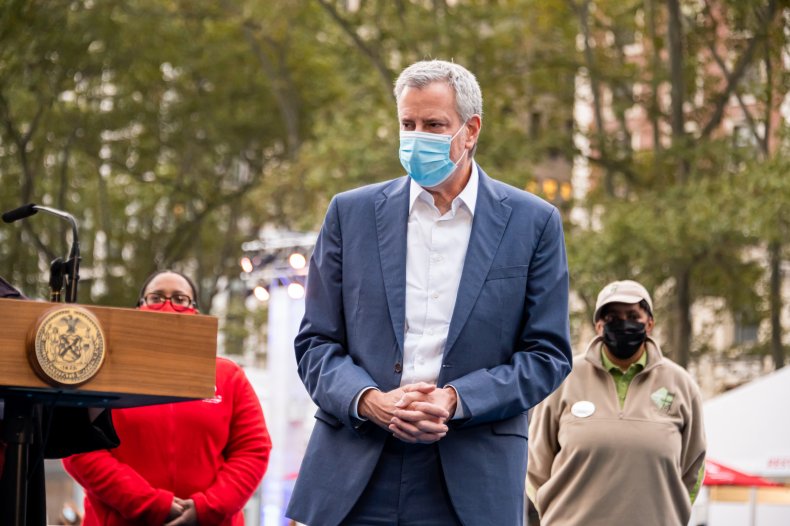 "I'm not going to see some of the most beloved people in my life. I know they can't come to me, I can't go to them. This is a year unlike any other, and next year will be better," said de Blasio.
"The big X-factor for New York City and this country right now is the holidays—will people travel or not? Will there be those big gatherings or not?" he continued. "We have got to err on the side of safety and health. This is not the time to travel."
New York, once the epicenter of the COVID-19 outbreak, has reported new cases and hospitalizations in increasing numbers over the past several weeks. On Friday, the state implemented a 10 p.m. curfew for dine-in services at bars and restaurants, and lowered social gathering restrictions to 10 people, both indoors and outdoors.
Newsweek reached out to de Blasio's office for further comment but did not receive a reply in time for publication.