Thanksgiving Air Travel Down 60 Percent From Last Year, as Officials Tell People to Stay Home
In a sign that many people are heeding officials' request to stay home for Thanksgiving, airplane travel in the days leading up to Thanksgiving is down about 60 percent from the same time last year.
Cases of a new coronavirus in the United States have now surpassed 12 million. With spikes in cases occurring across the country, deaths on Tuesday were higher than they've been in six months. Officials urged people to stay home and imposed quarantine requirements for out-of-state visitors. While more people are traveling than health experts would like, there's been a significant decrease from the usual holiday influx via plane travel.
Historically, more people travel around Thanksgiving than any other time of the year, and the Wednesday before the turkey-centric holiday is the busiest travel day of the year. However, as has been the case since the pandemic started, the outbreak stunted travel around the holiday. About 1.52 million fewer people traveled on Tuesday than on the Tuesday before last year's Thanksgiving.
From Thursday until Tuesday, the biggest drop in travelers was on Friday when 1.53 million fewer people went through TSA checkpoints than the same day of the week last year. Since Friday, about 6.9 million fewer people have passed through TSA checkpoints, a 58 percent decline from 2019, according to data from the agency.
Despite the significant decrease in travelers from last year, the number of people making their way through airports is higher than it's been since the pandemic started.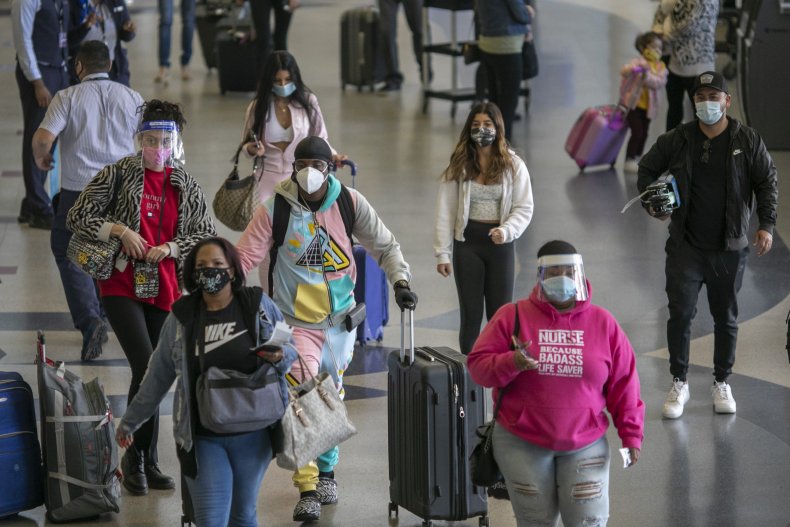 Before mid-March, it was common to have a million people or more passing through TSA checkpoints. But daily travelers dropped below a million on March 17 and hadn't surpassed the benchmark for eight months. That changed on Friday when 1,019,836 people passed through TSA checkpoints.
Dr. Anthony Fauci, director of the National Institute of Allergy and Infectious Diseases (NIAID), acknowledged during a Wednesday interview with Good Morning America that it's difficult not to gather for Thanksgiving because it's filled with beautiful traditions. However, he said sacrificing now would prevent a rise in infections and deaths, a message officials have been touting since the start of the pandemic.
This time around, Fauci said the end is in sight because of the development of three effective vaccines. The first doses of the vaccines could be administered within 24 hours of the drug companies receiving an Emergency Use Authorization from the Food and Drug Administration (FDA)—according to General Gustave Perna, who is heading "Operation Warp Speed," the Trump administration's plan to produce 300 million doses of a vaccine before the end of the year.
Health and Human Services Secretary Alex Azar said he believes Pfizer and Moderna would be the first companies to receive the authorization. A hearing on Pfizer's application was set for December 10.
With the vaccines "on the horizon," Fauci encouraged people to "hang on a bit longer" and continue to wear masks, social distance, and avoid crowds.
"If we do those things we're going to get through it," Fauci said. "So that's my final plea before the holiday."