Turkey may be the centerpiece of a traditional Thanksgiving dinner, but sometimes the appetizers are what steal the show. Appetizers are not only often easier to make than the main course, but frequently more popular and gone quicker.
Stuffed mushrooms
This bite-sized appetizer is almost always a winner and disappears from platters by the end of the night. It is a versatile dish that can be prepared with a variety of fillings and customized to guests' tastes, or better yet, make several options. Here is how to make one of the most popular versions, crab-stuffed mushrooms, courtesy of the Food Network.
Crab-Stuffed Mushrooms
Ingredients:
20 Ritz crackers
8 oz. lump crab meat
4 tablespoons melted butter
4 oz. cream cheese
2 tablespoons mayonnaise
1/2 cup chopped celery
1/2 cup chopped red bell pepper
1 chopped garlic clove
1/2 cup chopped scallions
1/4 cup grated parmesan
1/4 cup cracker crumbs
1/4 cup chopped parsley
1 lemon for juice and zest
Directions: Preheat the oven to 425 degrees. Remove the stems from the mushrooms and clean the caps with a damp paper towel. Season the mushrooms with 2 tablespoons of olive oil and sprinkle salt, then put them on a baking sheet. Crush the Ritz crackers until very fine and add 2 tablespoons of melted butter. On a skillet, put 2 tablespoons of butter and add the chopped celery and red bell pepper until the mix is soft, then add the garlic clove. In a large bowl, mix the cream cheese, mayonnaise, scallions, parmesan, parsley, crushed crackers, celery and bell pepper mix and crab meat. Sprinkle lemon juice and zest. Put the mix on top of the mushroom caps. Bake 12 to 15 minutes until golden brown and let cool for 5 minutes before serving.
Bacon-wrapped water chestnuts
Most Meat-eaters love bacon and this recipe has a holiday flavor to it, courtesy of "All Roads Lead to the Kitchen."
Ingredients:
1 1/2 to 2 pounds regular sliced bacon, non-thick cut
3 8 oz. cans of whole water chestnuts
2 cups light brown sugar
1 14 oz. ketchup
Toothpicks
Directions: Preheat the oven to 350 degrees. Cut the bacon stack in half across the center. Drain the water chestnuts. Place each at the end of a bacon slice, roll and put on a baking sheet. The chestnuts can be lined close together, but should not touch. Bake for 40 minutes and rotate the pan several times throughout the process. Drain the bacon grease, then pour a sugar ketchup paste on top of the chestnuts. Put toothpicks on each one and bake for another 30 to 40 minutes until the glaze is thick and bubbling. Transfer to a serving tray.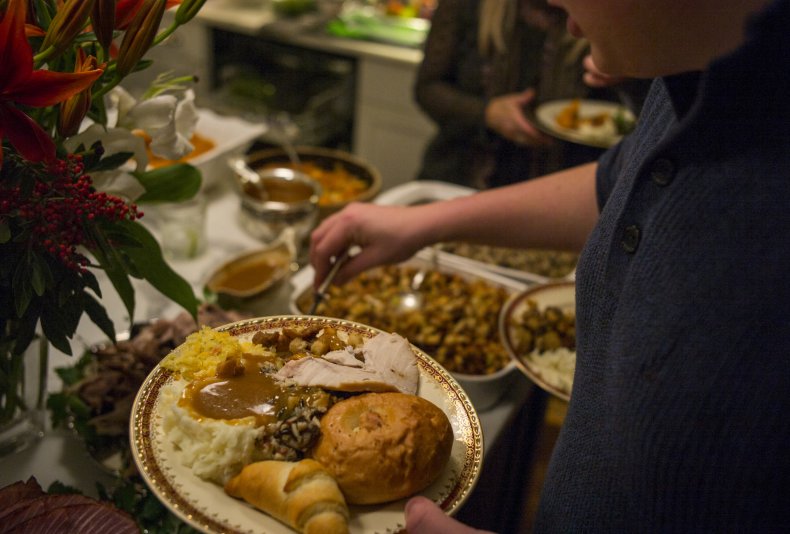 Pumpkin dip
For a hint of dessert during dinner, pumpkin dip is a perfect choice. It can look like hummus and pleasantly surprise sweet-loving guests. Here is a 2-minute recipe.
Ingredients:
1 cup of 100% pure pumpkin
1 8 oz. package of cream cheese
1/2 cup powdered sugar
1/2 teaspoon ground cinnamon or more as preferred
Optional topping of Cool Whip
Directions: Allow the cream cheese outside of the refrigerator for one hour. Put all four ingredients into a mixing bowl and blend them together with an electric mixer until creamy and smooth. Put cool whip on top and put in fridge until ready to eat. Serve with apple or pear slices or graham crackers.
Sweet potato crescent bites
A twist on a favorite Thanksgiving item, the sweet potato, that is both sweet and savory, plus doughy, courtesy Delish.
Ingredients:
3 medium sweet potatoes, cleaned
1 8 oz. Crescent roll
24 whole pecans
1/4 cup brown sugar
2 tablespoons heavy cream
1/2 teaspoon ground cinnamon
1/2 teaspoon pure vanilla extract
1/2 teaspoon kosher salt
3/4 cup mini marshmallows
1 tablespoon maple syrup optional
Directions: Preheat the oven to 375 degrees. Apply cooking spray to a mini muffin tin. Make three to four piercings on each sweet potato with a fork and microwave them for 15 minute until tender. Remove potato skins and put the fillings in a large bowl. Mash the potatoes until smooth and add the heavy cream, brown sugar, cinnamon, vanilla extract and salt and mix together. Add flour to a surface and roll out the crescent dough, then cut it into 24 squares and fit them into the muffin tin holes. Add a spoonful of the sweet potato mixture to each square, as well as a marshmallow, and bake for 15 minutes or until the pastry is golden. Add a pecan to each square and bake for an additional 5 minutes. Brush maple syrup over each square if desired.
And if you're wondering how much the cost of that Thanksgiving dinner will set you back, Statista has prepared this graph showing the rising price of turkey and trimmings over the years.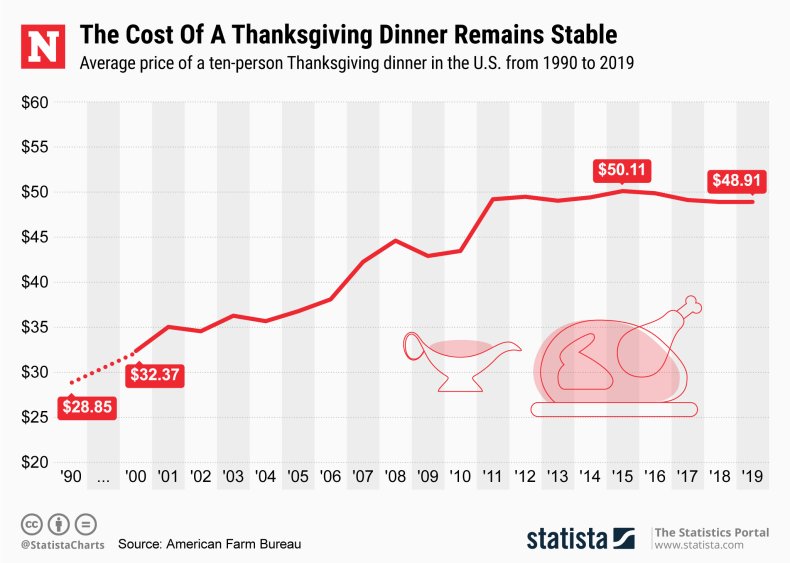 About the writer
A Los Angeles native, Jessica Kwong grew up speaking Spanish, Cantonese and English, in that order. Her journalism career started at the San Francisco Chronicle and she has also been a staff writer at the San Antonio Express-News, La Opinión, Time Warner Cable Sports, San Francisco Examiner, and the Orange County Register. Kwong earned her bachelor's degree in Comparative Literature in Spanish and English and Mass Communications from the University of California, Berkeley.