What To Do if a Turkey Is Still Frozen and Fastest Ways To Cook
If your Thanksgiving plans have been paused by the fact your turkey is still frozen—don't panic. We've got all of the advice on defrosting and cooking from frozen, and the fastest way to cook your bird this holiday.
Plus, if you're looking to save some money this Thanksgiving, we've used an energy calculator for a 10-pound turkey and delved into the cost of appliances, to compare the average price cost of using an oven, air fryer, microwave and a deep fryer.
Average energy costs were calculated using the Energy.gov appliance calculator, based on the average cooking time for a 10-pound turkey and the average wattage of each appliance.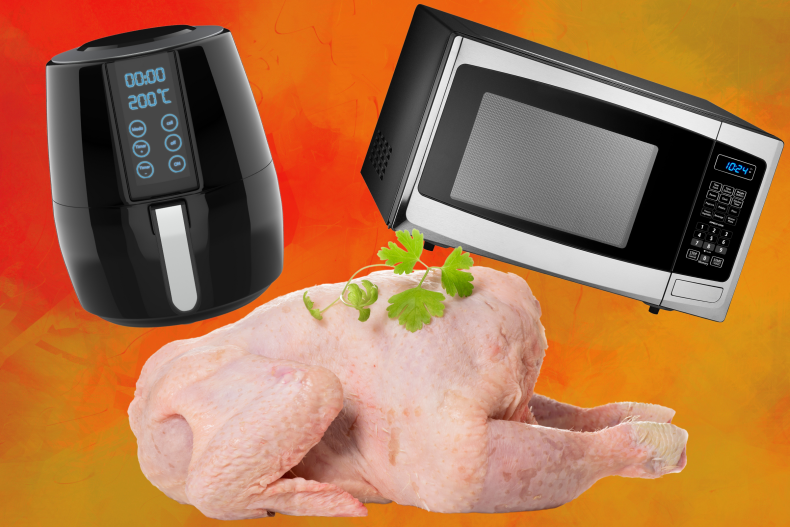 What to do if a turkey is still frozen
If you're cooking a turkey from frozen, it is important to ensure you safely thaw your bird. As soon as your turkey starts to thaw, bacteria that may have been present before freezing will begin to grow again. There are several different ways to thaw your turkey before cooking.
Cooking from frozen
If you've run out of time and your bird is still frozen by Thanksgiving morning, do not panic. The U.S. Department of Agriculture (USDA) says it is perfectly safe to cook a turkey from frozen—it will just take longer.
A solidly frozen turkey will take at least 50 percent longer to cook than a thawed turkey, so, for example, a thawed bird that takes two hours to cook would take three hours to cook if frozen.
Always ensure that your cooked turkey reaches 165 degrees in the innermost part of the thigh, wing and thickest part of the breast before serving.
Refrigerator thawing
The USDA recommends thawing in the refrigerator as the safest method. Allow one day in the refrigerator for each four-five pounds of weight. For example, a 10-pound bird will take about two days to thaw. Once thawed, the turkey is safe to consume for another two days.
Cold water thawing
Leave the turkey in its original wrapping and submerge it in a sink or container full of cold water. It is important that the water be cold so that the turkey stays at a safe temperature.
Change the water every 30 minutes and replace with fresh cold water. Allow 30 minutes of defrosting time per pound, so a 10-pound turkey would defrost in five hours. Once thawed, cook immediately.
Microwave thawing
Before thawing in the microwave ensure your appliance is big enough to fit the turkey in whole.
Remove all of the wrapping and place the turkey on a microwave-safe dish. Use the defrost function on your microwave based on weight, allowing around 6 minutes per pound so a 10-pound turkey should be defrosted in about one hour.
Be sure to rotate several times and flip it to ensure even thawing. Once thawed, cook immediately.
How to cook a turkey
To create the perfect Thanksgiving centerpiece in record time, we've ranked some of the most popular ways to cook a turkey.
How To Deep Fry A Turkey
Perfect for those looking to create a great meal without the fuss, deep frying your turkey this Thanksgiving is simple and only requires a few ingredients.
Set your stockpot or fryer to 350 degrees and ensure it is outdoors or in a safe area. Prepare your bird by cutting away any giblets and season liberally inside and out.
For the perfect deep-fried turkey, Betty Crocker recommends taking extra care to dry inside cavities of the bird because water can cause excessive bubbling. The company also suggests not tying legs together and cutting off the wing tips and tails so they do not get caught in the fryer basket.
Place the turkey neck-down into the oil until it is completely covered and fry for around four minutes per pound.
For a 10-pound turkey, your meat should be ready in just 35 minutes, but make sure to use a meat thermometer and check that the deepest part of the meat reads at least 165 degrees.
"I wouldn't recommend deep frying a turkey, there's a few reasons why," said Jenna Moran, former professional chef and owner of recipe website whimsyandspice.com. "Firstly, the meat can become really dry and overcooked very quickly, so unless you're a deep frying pro, it's not the best route to take.
"If you like plenty of seasoning on and in the turkey, chances are the heat needed for deep frying will burn the seasoning, sometimes creating a really bitter taste. If you aren't a regular deep-fryer, you can also pose a huge fire hazard. With the amount of oil and heat needed for the bird, the chances of spillages are high, so make sure you're doing it in a safe environment."
Average cooking time: 35 minutes
How To Air Fry A Turkey
The humble air fryer has gained huge popularity in recent years, and some chefs are even suggesting that you can make your Thanksgiving dinner with them.
"Personally, I think air frying a turkey is a great way of cooking one of our favorite birds," Moran told Newsweek. "Air fryers aren't just more economical than frying traditionally, they also are a healthier way to make your family favorites. The lack of oil needed for the cooking is clearly a major reason as to why it's healthier."
Preheat your air fryer to 360 degrees and prepare your turkey by removing the giblets and adding any seasoning.
Place your turkey into the air fryer and flip it every 15 minutes until it reaches a core temperature of 165 degrees. Rest the turkey for around 20 minutes before serving.
"The benefit—unlike oven cooking—is you get both a crispy outer but a super-succulent inside too," said Moran.
Maya Feller, a Brooklyn-based registered dietitian, told Newsweek: "The key to a moist piece of meat is using an air fryer with a thermometer. If this is not possible, choosing to air fry smaller drumsticks or wings while following the manufacturer's suggestions will yield a succulent piece of meat."
Average cooking time: 1 hour
How To Microwave A Turkey
The USDA surprisingly says that it is possible to cook a turkey in a microwave—but not recommended.
A 12-14 pound turkey is the maximum size that most microwaves can accommodate, and cooking a bird in parts is likely to be safer. You should allow for seven to nine minutes per pound, rotating the dish every 15 minutes.
Microwaves also cook unevenly, potentially leaving the inside of the turkey uncooked.
Remember that a turkey should always be checked with a thermometer at the innermost part of the thigh and wing as well as the thickest part of the breast to ensure it has reached at least 165 degrees.
Despite the fact that microwaving a turkey turned out to be the cheapest cooking method, Moran is not a fan.
"I wouldn't recommend microwaving a turkey," said Moran. "The bird usually goes very dry and again the seasoning can burn too. You won't get a deep brown crispy skin outer either."
Average cooking time: 90 minutes
How To Cook A Turkey In An Oven
Cooking your turkey in the oven is perhaps the obvious method. Start by ensuring your bird is well-prepared.
Martha Stewart recommends taking the bird out of the refrigerator and allowing it to sit for around an hour before roasting—allowing the meat to get toward room temperature to prevent if from drying out when cooking.
When you're ready to cook, a 3000 watt electric oven should be heated to 374 degrees and your bird should be prepared for cooking.
Remove the giblets, season your turkey and secure the skin with skewers or string.
Weigh your bird and calculate the cooking time at 15 minutes per pound.
After cooking, check that your turkey is ready by putting a skewer into the thickest part of the thigh to make sure that the juices are running clear. If they are pink, cook for another 15 minutes and test again.
When it is ready, allow the bird to rest for 30 minutes before carving, giving the juices time to settle back into the meat.
"The pros of oven cooking a turkey definitely outweigh the negatives," said Moran. "I think it depends what you're looking for in your turkey, but if you're just wanting a super-moist joint then oven cooking is the best method for this."
"Although oven cooking uses a lot more energy—and subsequently costs more money—than, say, air frying, turkey is always moist and juicy," she said.
Average cooking time: 2.5 hours
Fastest and cheapest ways to cook a turkey
The fastest way to cook your Thanksgiving turkey is deep frying, which will only take around 35 minutes for a 10-pound bird, closely followed by air frying which takes just an hour.
If you're looking to save on cost, we used an energy calculator for a 10-pound turkey and compared the average price tag of using each appliance. The microwave was the cheapest way to cook your bird at just 9 cents, followed by deep frying at 12 cents.
"Oven cooking is always a family favorite, and I think half the fun of Thanksgiving day is the smell of the household after a lovely slow oven-roasted turkey," said Moran.
However, Moran was impressed by the idea of an air-fried turkey—and will be trying it herself this year.
"I think with the squeeze on energy costs worldwide though, air frying will absolutely be a more popular option, and with the juicy meat and crispy skin, I'll be giving it a go myself."