Thanksgiving Opens New Front in War Over COVID Restrictions
Coronavirus has driven a deep political and ideological wedge between Americans over how best to respond to the worsening pandemic, with Thanksgiving emerging as the new battlefront pitting the need to prevent more COVID deaths against the desire for unbounded freedoms.
Millions of Americans prepare to celebrate the national holiday next week with conflicting advice over whether to mark the day with traditional gatherings.
The growing partisan split, often characterized as medical experts versus defenders of the constitution, has intensified in recent days after cautionary messages from public health institutions such as the U.S. Centers for Disease Control and Prevention (CDC) were countered by lawmakers insisting celebrations should go ahead as planned.
Across the country, COVID restrictions are being tightened amid a sharp uptick in cases in the last three weeks.
California's Democratic governor, Gavin Newsom, announced this week he was pulling the "emergency brake" on plans to loosen restrictions while New Jersey Governor Phil Murphy, also a Democrat, said he "must again pull back the reins."
Texans have also been urged to "cancel gatherings, large and small, unless you're with your household" as cases and hospitalizations rise rapidly in the state. "We're in a war against this virus. This is not the time to lament that we didn't get a gathering this time around," said Harris County Judge Lina Hidalgo.
Dr. Mark Horne, president of the Mississippi State Medical Association, gave a bleak assessment of the impact of meeting over the November 26 holiday: "It's going to happen. You're going to say 'Hi' at Thanksgiving, 'It was so great to see you,' and you're going to either be visiting by FaceTime in the ICU or planning a small funeral before Christmas."
The CDC said in a release: "Thanksgiving gatherings with family and friends are fun but can increase the chances of getting or spreading COVID-19."
The agency encouraged people to consider a "virtual Thanksgiving meal," adding that "staying home is the best way to protect yourself and others."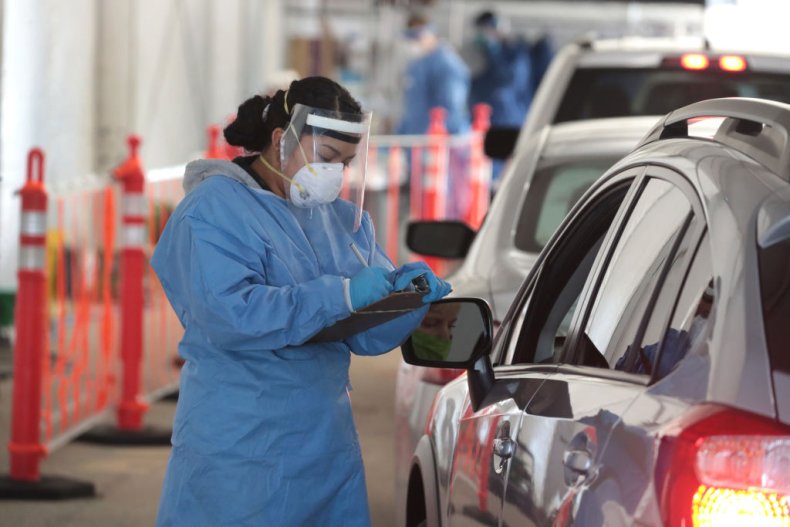 However some lawmakers are pushing back against the restrictions, insisting not only themselves but others should celebrate Thanksgiving despite the risks.
Tootie Smith, an elected official in Clackamas County, Oregon, said she will defy the state governor's recent coronavirus lockdown restrictions for Thanksgiving.
Smith shared a Facebook post to say she would be celebrating the holiday with "as many family and friends as I can find."
Mark Baisely, a Republican lawmaker in the Colorado House of Representatives, wrote to tell his constituents that they had a "constitutionally guaranteed right" to meet their families over Thanksgiving and that, "in spite of their good intentions, neither a governor, a president-elect nor I as your state representative have the constitutional authority to restrict the number of family members who gather in your home."
Despite an executive offer from New York Governor Andrew Cuomo limiting the number of people at Thanksgiving gatherings, several sheriffs and a New York City council member said they planned to ignore the new rules.
Joe Borelli, a GOP council member representing Staten Island, tweeted that he would be inviting "more than 10 people" to his house for Thanksgiving.
"Kids will see their grandparents, cousins will play in the yard, sis in law will bring strawberry rhubarb pie, & a turkey will be overcooked," he added.
Upstate New York's Fulton County Sheriff Richard Giardino said he was protected by the constitution from enforcing Cuomo's order.
"I don't think the constitution allows for the infringement on the number of people in your own home," he said. "He has authority to do a lot but not to tell law enforcement to get into someone's house and count who is there."
Meanwhile, Sheriff Timothy B. Howard of Erie County, which includes the city of Buffalo, said he had "no plans to utilize my office's resources or deputies to break up the great tradition of Thanksgiving dinner."
Donald Trump's coronavirus advisor, Dr. Scott Atlas, has encouraged Americans to invite older family members to their Thanksgiving celebrations.
"This kind of isolation is one of the unspoken tragedies of the elderly, who are now being told 'don't see your family at Thanksgiving,'" Dr. Atlas, a herd immunity advocate, told Fox News.
Tennessee Governor Bill Lee said his family had cancelled their traditional gathering at his mother's home. However he is still holding other public meetings, saying that "every gathering is different."
Explaining his rationale for holding a fundraiser at his farm last week while cancelling Thanksgiving plans, he said: "That gathering was outdoors, and it was spread apart and people were able to socially distance outdoors at that event. It's really different than 45 family members in my mom's house for dinner. That's the kind of common sense decisions we have to make going forward."
A series of legal challenges across the U.S. have also attempted to curb coronavirus shutdowns, including in Michigan, where Governor Gretchen Whitmer's administration has attempted to combat a surge in COVID cases by tightening restrictions including stopping indoor dining at restaurants.
A survey published on Tuesday found that more than a third (37 percent) of U.S. adults planned to spend Thanksgiving with people outside their household.
The survey by Covid Near You, which is made up of epidemiologists from Boston Children's Hospital and Harvard Medical School, suggested that 52 percent of Republicans, 29 percent of Democrats and 28 percent of independents expected to break public health advice for the holiday.
The online poll, carried out by SurveyMonkey, was conducted from November 9-13 of 16,033 U.S. adults. Respondents were selected from the more than 2 million people who take surveys on the SurveyMonkey platform and the modeled error estimate was plus or minus 1.5 percentage points.