Don't Want to Feel Thankful? How to Have a Woke Thanksgiving and Wallow in Darkness This Year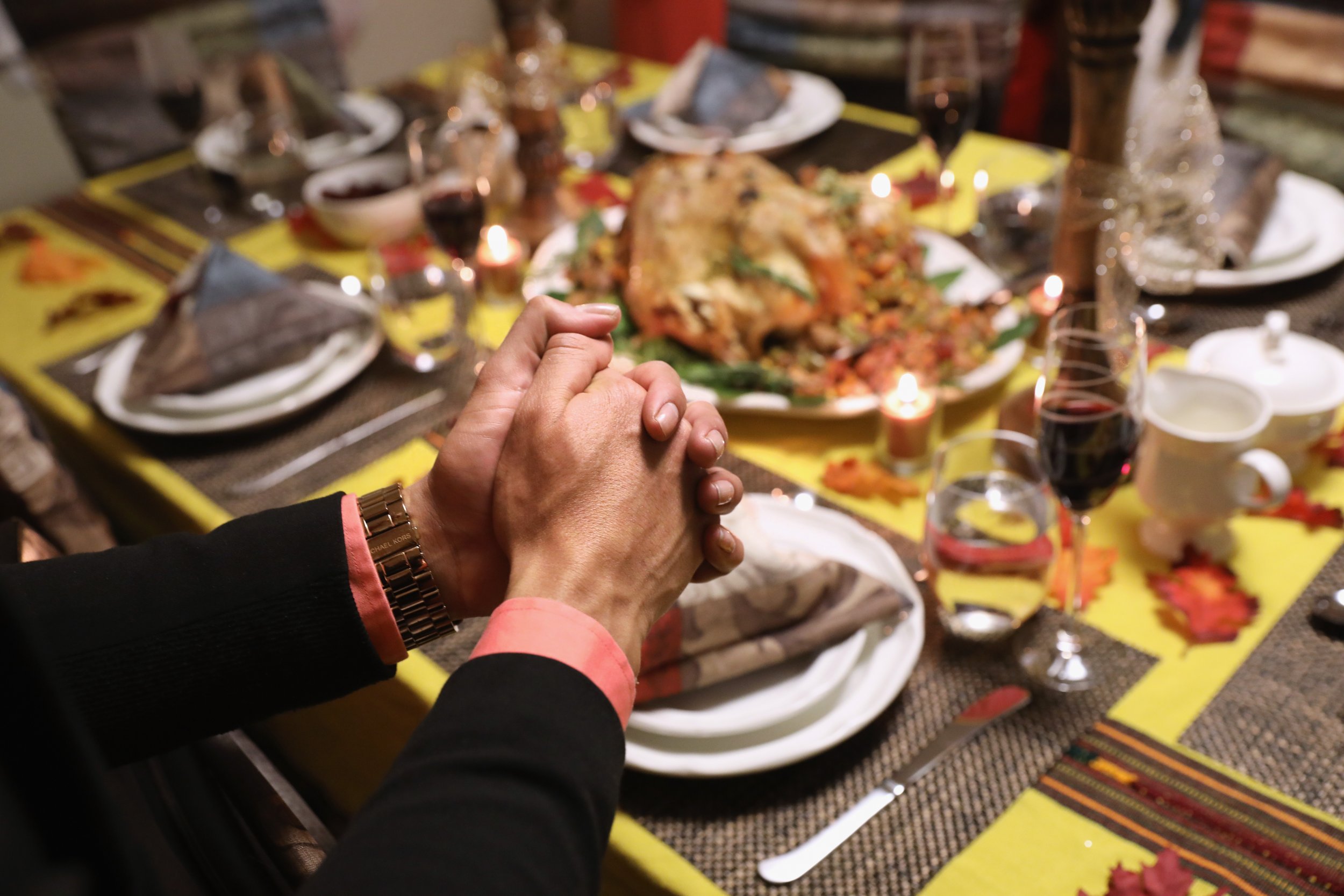 Thanksgiving dinner conversations are notoriously difficult, and President Donald Trump's first year in office hasn't made it any easier: 58 percent of Americans "dread the thought of having to talk about politics at Thanksgiving dinner," a new Marist poll shows, compared to 53 percent last year.
Media outlets have taken notice and are offering quick guidelines on how to best avoid stirring the pot on Turkey Day. But Thanksgiving offers a unique opportunity to civically engage with those closest to us. It's the dirty work all democracies depend on. So, in an effort to promote thoughtful discussion, here's Newsweek's guide to having a conscious, or "woke", Thanksgiving.
1. Center the struggles facing Native American communities.
It's common knowledge that the history behind Thanksgiving dinner that we learn in grade school is a myth: The pilgrims in Massachusetts were far from friendly to the Wampanoag, and the entire premise of a "friendly dinner" between the two stems from President Abraham Lincoln, who after the Civil War offered a lovely—but mostly false—story of comradery among foes.
But our conversations surrounding Native Americans on Thanksgiving shouldn't stop there. Native Americans are facing a litany of issues throughout the country. Recently, the Navajo Nation and other tribes are concerned over the prospect of uranium mining being resumed on public lands near the Grand Canyon under the Trump administration.
It's also worth noting that this time last year, members of the Standing Rock Sioux Tribe and their allies were being hosed down by police in freezing weather for protesting the construction of the Dakota Access oil pipeline. And as you'll probably see once you turn on your television on Thursday, the Washington, D.C.'s football team still has a racist name and broadcasters aren't doing anything about it.
Take the time and make an effort to bring up these conversations throughout the night. (And make sure you read up on the history of settler colonialism in North America!) It's difficult, but it's the least we can do as occupants living on stolen land.
2. Volunteer at a local food drive or soup kitchen—and then keep doing it.
Poverty is pervasive in the United States.
There are around 72,000 chronically homeless people in the United States, defined by the Department of Housing and Urban Development as anyone with a disability who has been homeless for at least a year or anyone who has been homeless four or more times in the past three years. And, according to the United States Department of Agriculture, one in eight Americans—or a little over 40 million people—struggle with hunger.
Many of these folks depend on volunteer services to get through the holidays. Take some time on Thursday morning to help those most in need at a local food bank or food pantry.
But don't limit yourself to just volunteering on Thanksgiving!
"The real need for volunteer support is when the hustle and bustle of the holiday season is over," Meals on Wheels of San Francisco CEO Ashley McCumber told CNN. "I recommend planning to volunteer two weeks prior or two weeks after Thanksgiving."
McCumber also recommends lending your time and professional experience to help food banks get up and running.
3. Climate change is real, so don't waste food.
Thanksgiving is often celebrated as a day to break the deadly sin of gluttony. And while it's nice to gorge out once in a while, it's never a good idea to let good food go to waste just because your holiday spirit was bigger than your stomach—especially when our climate is in dire straits.
In total, it'll take nearly a million barrels of oil to produce and ship all the turkeys Americans eat on Thanksgiving. What's worse is that, in 2016, six million turkeys ended up in the trash, representing a waste of "an estimated 100 billion gallons of water—enough to supply New York City for 100 days," according to the National Resources Defense Council.
So as doing some last minute grocery store runs, make sure you're not overbuying for the sake of looking prepared.
4. The NFL hid the truth about concussion for decades. Don't let them get away with it.
Besides eating more than you probably should, Thanksgiving is also known for watching football on the couch with some potato chips.
But if you're not going to boycott this NFL season, the least you could do is bring up the issue of concussions and head trauma among current and former NFL players. A recent study of 202 football players' brains found that 88 percent of the late NFL players suffered from, a degenerative neurological disease caused by multiple head traumas. Of the 111 brains examined, 110 of them had CTE.
But the NFL wouldn't have known about it since it might have purposefully performed bad research.
According to a 2016 investigation by the New York Times, researchers at the NFL studying the long-term neurological problems associated with playing football between 1996 and 2001 omitted more than 100 concussions in their study.
"If somebody made a human error or somebody assumed the data was absolutely correct and didn't question it, well, we screwed up," Committee member Dr. Joseph Waeckerle told the Times. "If we found it wasn't accurate and still used it, that's not a screw-up; that's a lie."
For the sake of the game and its players, don't allow the NFL to control the narrative. People should know about the dangers of playing football, especially if they have children. The NFL would love it if we kept this under wraps.
5. The problem is much bigger than Donald Trump.
It'll be hard to avoid making the president of the United States the main topic of discussion on Thanksgiving. And for good reason: By many accounts, Trump is the most unpopular president in modern times. But Trump himself is only the tip of the iceberg. The entire Trump Administration, as well as the Republican Party's tax overhaul, should receive equal attention at the dinner table.
Here's a good place to start: The GOP's tax plan will mostly benefit the rich. This should be a good conversation starter given that most Americans believe this to be true, according to an October Associated Press-NORC poll. So you'll likely have some backup at the table.
You should also to try to steer political conversations surrounding Trump towards talking about those most affected by his policies. Most recently, acting Secretary of Homeland Security Elaine Duke announced that the Trump administration will seek to deport nearly 60,000 Haitians and 5,300 Nicaraguans refugees starting in 2019.
Both of these topics should send the conversation into a much deeper political discussion that doesn't center on the president's latest tweet.