Thanksgiving dinner should always end on a sweet note, traditionally with a slice of pumpkin pie.
However, sometimes it's nice to do something a little different, so why not impress and surprise your guests in equal measure with something a little out of the ordinary for dessert on November 25?
Newsweek has some ideas for exciting ways to round off a beautiful feast.
1. Pumpkin Spice Cookies With Creamy Brown Butter Icing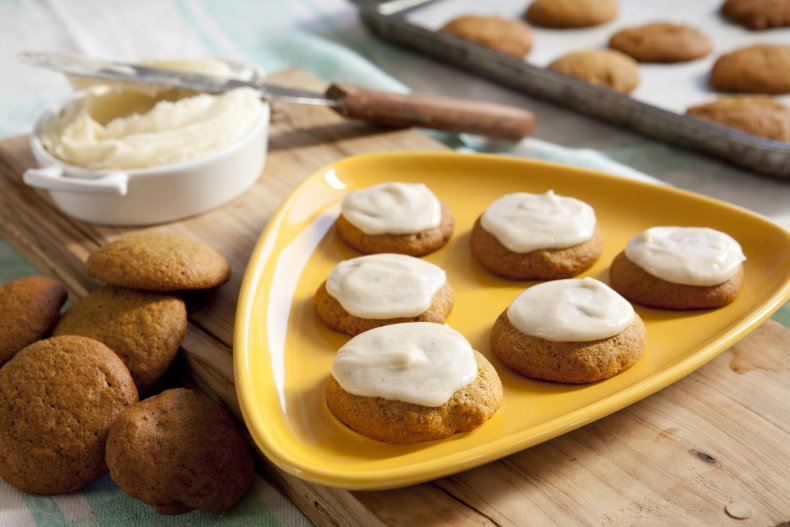 This classic American recipe by food blogger Laurel Evans, as featured in Fine Dining Lovers, is described as "an easy alternative for the classic pie but with the same flavors of the Thanksgiving holiday."
Method:
Preheat oven to 175°C/347°F and then combine 11oz flour, 1tsp baking powder, 1 tsp baking soda, 1.5 tsp cinnamon, a pinch of nutmeg, a pinch of ground cloves and 0.25 tsp salt and set it aside.
In a medium bowl, add 4oz butter and10.5oz sugar. To that mixture, then add 12oz pumpkin puree, 1 egg and 1 tsp vanilla extract and beat until creamy.
Mix together the dry and wet ingredients, then drop spoonfuls on a cookie sheet and flatten them slightly.
Bake for 15 to 20 minutes in the preheated oven, then cool the cookies.
To make the frosting, melt 4oz unsalted butter in a saucepan over medium-high heat until golden brown (about 10 minutes). Pour butter into a bowl, and add 8.5oz sifted icing sugar, 2 tsp pure vanilla extract, and 15ml milk; stir until smooth.
Tip: If the icing is too thick, add another tablespoon of milk, a little at a time, until the consistency is spreadable. Let it cool for five minutes and use immediately.
2. Blackberry & Jazz Apple Eve Cake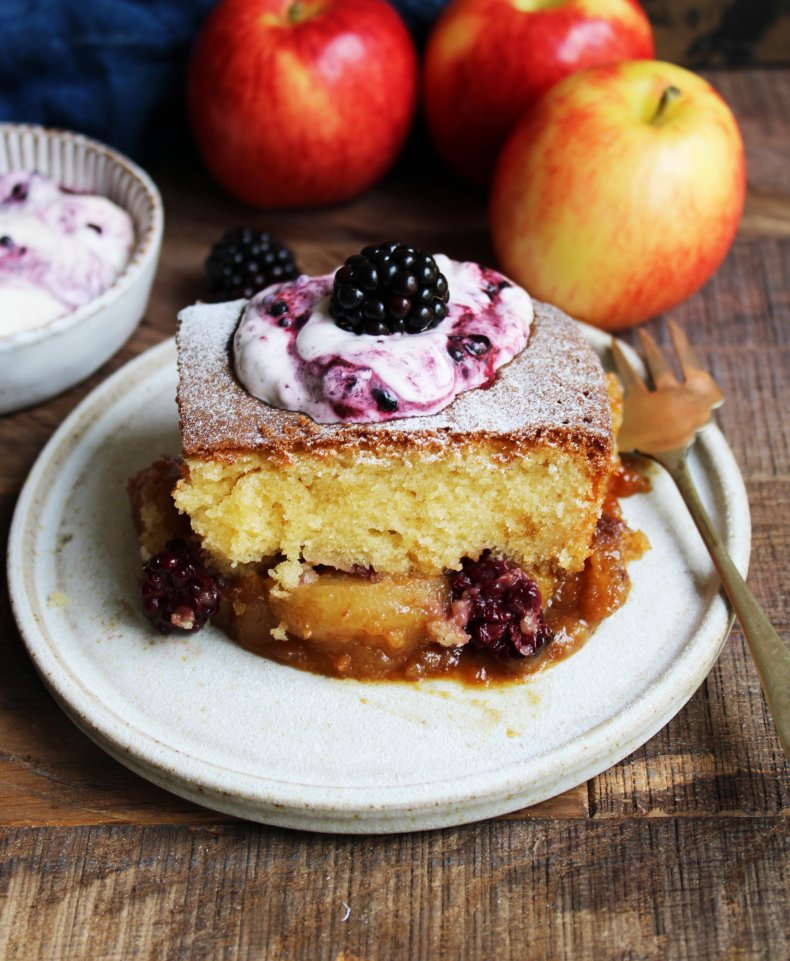 Jazz Apple has provided a super-fruity take on this classic festive dessert.
Ingredients:
500g Jazz Apples peeled, cored and sliced
50g blackberries
125g unsalted butter
125g caster sugar, 125g self-raising flour
50g soft brown sugar
2 eggs
A handful of blackberries and double cream to serve
Method:
Put the sliced Jazz Apples in a shallow ovenproof dish and sprinkle with the brown sugar. Cream the butter and caster sugar until fluffy. Add one egg and mix.
Add the other egg and half the flour and mix again. Add the rest of the flour and a tablespoon of warm water and mix until well combined.
Pour the mixture over the apples and bake for 40 minutes at 180°C until golden brown.
To serve, mash up a handful of blackberries in a bowl and add to the double cream. Mix in and drizzle on top of the cake.
3. Mr Organic's Pumpkin Pie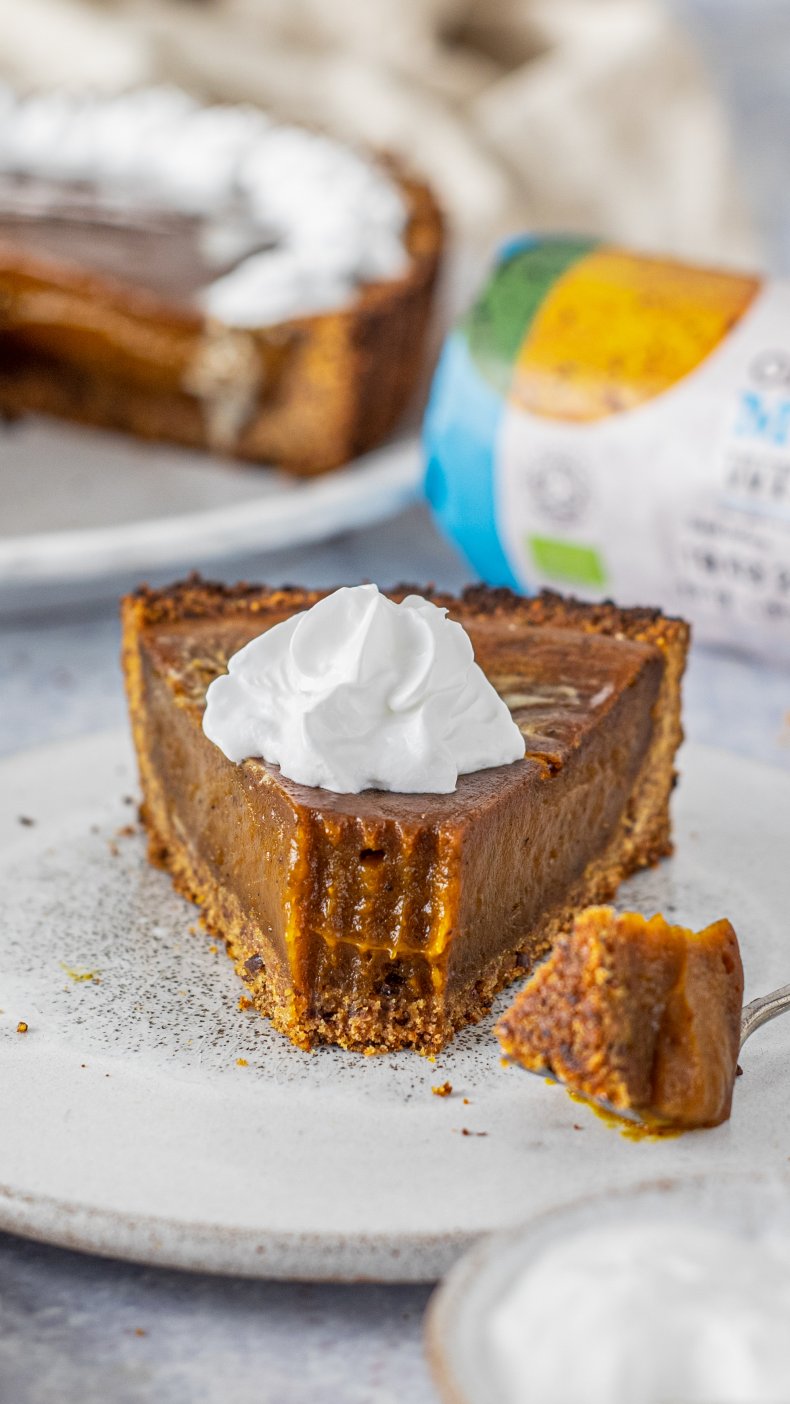 This fantastic Pumpkin recipe arrives courtesy of plant-based, store cupboard champions, Mr Organic.
Ingredients:
1 packet of Mr Organic Multigrain Biscuits
5 Medjool Dates, stones removed
2 tbsp maple syrup
1-2 tbsp water (optional)
425g pumpkin puree
225ml coconut milk
200g brown sugar
1tsp ground cinnamon
1tsp ground ginger
¼ tsp ground cloves
½ tsp ground nutmeg
A pinch of salt
4 tbsp corn starch
Method:
Preheat your oven to 175°C and place the biscuits into a food processor and pulse four to five times to break them down roughly.
Soak the dates in a little hot water to soften before adding them in. Pour in the maple syrup and process until you get a thick sticky mixture. If it's too dry, add in a little water.
Press the biscuit mix into a greased tart tin and set in the fridge.
In a saucepan whisk up all the ingredients for the filling over low/medium heat. Heat until the mixture begins to thicken, then cook for another minute whilst stirring and remove from the heat.
Pour the mix onto the cake base and bake at 175°C for 30 minutes. Allow the cake to cool down before slicing, and enjoy it with some whipped coconut cream.
4. Double Layer Chocolate-Pumpkin-Spice-Latte Cake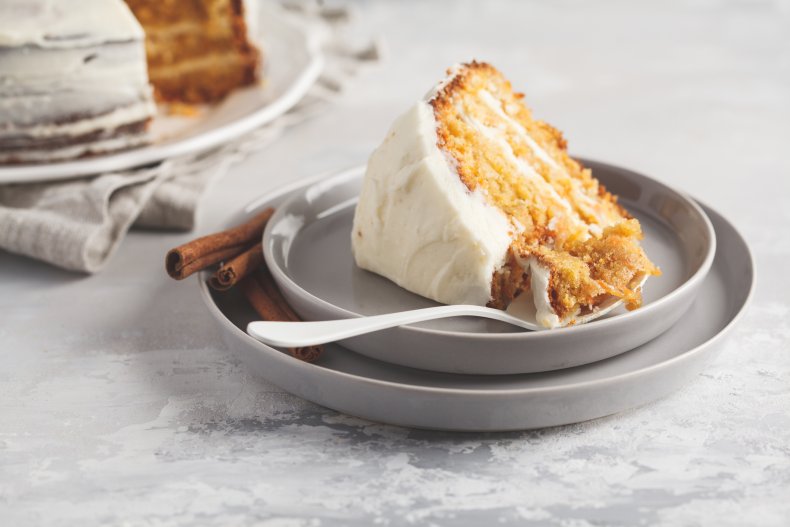 1 cup all-purpose flour
3/4 cup almond flour
2 cups granulated sugar
1/2 cup high-quality cocoa powder
1/4 cup pumpkin spice mix ( 1tbs each: ground nutmeg, ground cloves, ground allspice, and ground ginger)
2 tsp baking soda
1 tsp baking powder
1 tsp salt
1 cup buttermilk
½ cup vegetable or olive oil
3 medium eggs, at room temperature
1/2 tsp pure vanilla extract
1/2 tsp pumpkin extract
1 cup hot coffee
Method:
Food and drink stylist Alyssa LeAnne sifts the flours, sugar, cocoa, pumpkin spice mix, baking soda, baking powder, and salt into a bowl. Then whisk vigorously until well combined, or mix on low in an electric mixer.
In a separate bowl, combine buttermilk, oil, eggs, vanilla and pumpkin extract.
Slowly add the wet ingredients to the dry ones. Once combined with no lumps, add the coffee and stir.
Prepare two 8in round cake pans. Butter the inside, line with parchment paper, then butter the parchment paper.
Pour the batter evenly into each pan and bake at 350°F for 35 to 40 minutes, or until a knife poked into the center comes out clean. Cool in the pans for 10 minutes, then turn them out onto a cooling rack and cool completely.
Spread your favourite frosting (cream cheese, vanilla and chocolate all work well!) on the top of one of the cake rounds. Stack the other cake on top and frost on all sides.
5. Boozy Jazz Apple & Rum Cake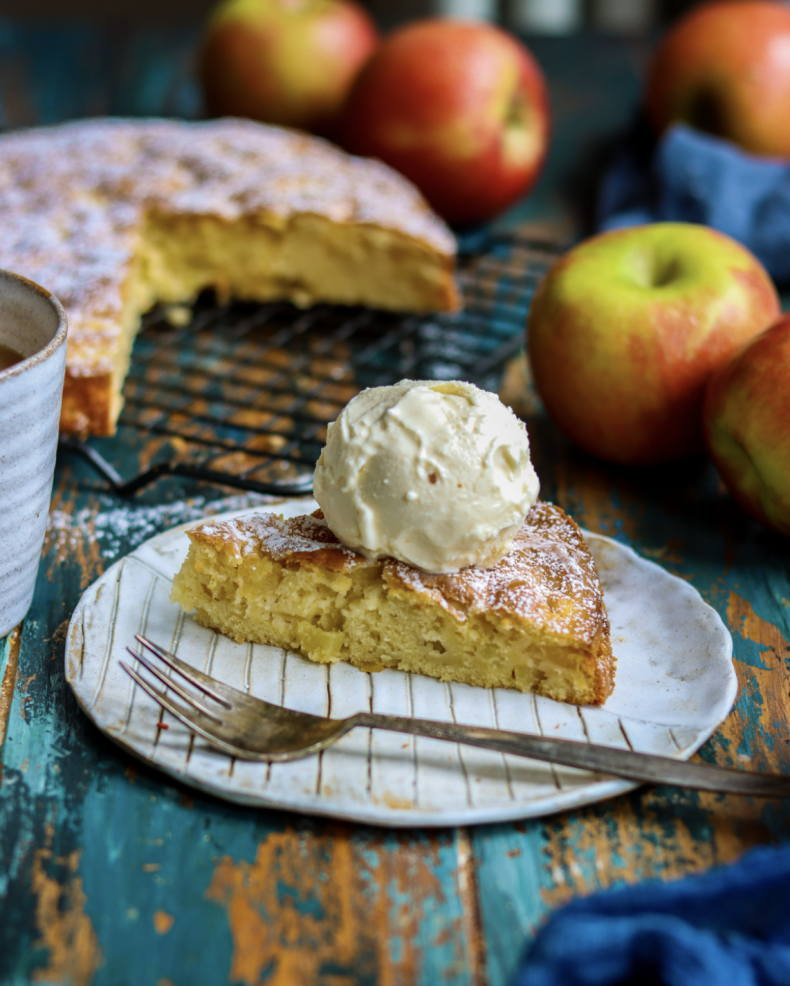 This delicious cake from Jazz Apples is certainly for adults only!
Ingredients:
130g all-purpose flour
1 tsp baking powder
1/4 tsp salt
65g cup unsalted butter, at room temperature
100g cup granulated sugar.
2 large eggs
1 tsp vanilla extract
3 tbsp Goslings Black Seal dark rum
2 Jazz apples, peeled, cored and cut into 1/2 inch cubes
Icing sugar for decoration
Method
Preheat the oven to 180°C and grease a 9-inch cake pan.
Mix together the flour, baking powder and salt.
Using a mixer or food processor, cream the butter and granulated sugar until light and fluffy before adding the eggs, one at a time. Make sure you scrape down the sides of the bowl so it is thoroughly mixed and combined.
Add the vanilla and rum and mix. Then add half the flour mixture and mix on a low speed until just combined. Scrape the sides and then add the other half and blitz again.
Gently fold the Jazz apples into the mixture. Scrape the batter into the prepared pan and even the top.
Bake for about 40 minutes, or until the cake is golden. Test with a toothpick to make sure it comes out clean.
Allow the cake to cool on a rack and give it a dusting of icing sugar. It can be served warm or at room temperature on its own or with a dollop of vanilla ice cream.
6. 'Trick Your Man' Pumpkin Pie
Cook Celeste Thomas claims her sugar and gluten-free pie is so delicious "even your man will love it."
She mixes 1.3 cups of cassava flour, I cup of sunflower oil, a quarter cup of butter, 4tbsp of water.
This paste is then rolled until it resembles a classic pastry, which is then pressed gently into a pie base.
Next, three eggs are beaten, into which are added a half tin of pumpkin puree, half a cup of monk fruit, a tsp of allspice, two tsps of cinnamon, a tsp of ginger and one cup of coconut cream.
This should then be stirred and poured into the pie tin. Bake at 425°F (200°C) for 15 minutes, then reduce the heat to 350°F (180°C) for 40 minutes.
7. Healthy Pecan Pie Bars
Cook Kayla Berman describes this sweet treat as the "ultimate Thanksgiving dessert."
She starts by mixing almond flour, melted coconut oil, coconut sugar, salt, vanilla extract and maple syrup.
This crumbly mix should then be pressed onto a parchment paper-lined baking tray and baked for 18 minutes at 350°F (180°C) or until it is a golden color.
While the crust is baking, the filling should be made by combining melted coconut oil, crushed pecans, coconut sugar, pure maple syrup, vanilla extract and eggs.
Once the crust is cooked, spoon the pecan filling into the middle and continue baking for approximately 15 minutes or until set.
Finally, allow it to cool for a short while, before placing in the fridge and then cut into bite-sized pieces.
8. Freycob's Jazz Apple Gingerbread Crumble Pie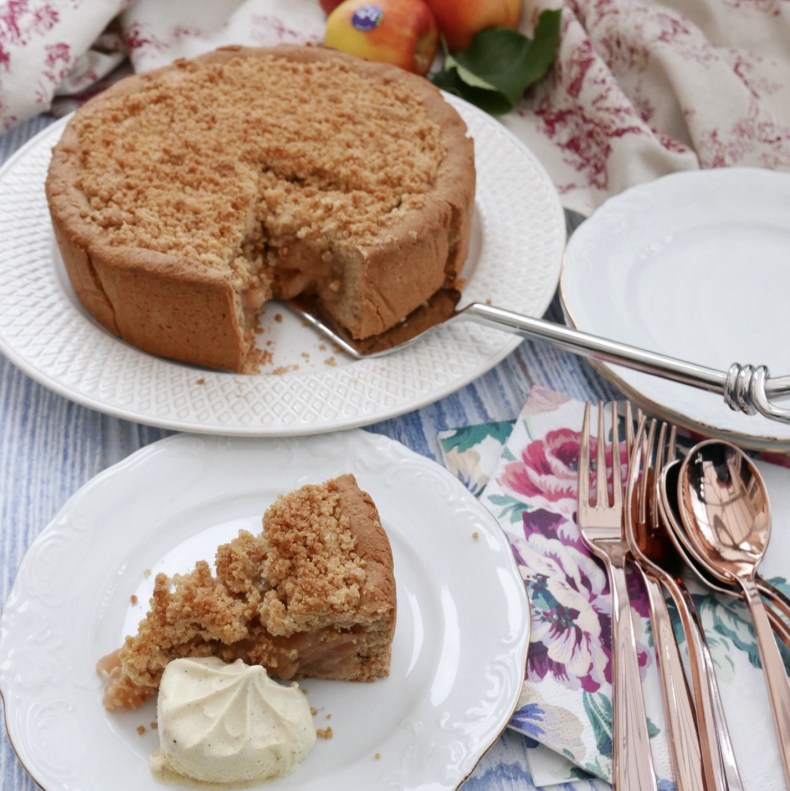 Jazz Apples revealed how to combine two classic dessert dishes this Thanksgiving: apple crumble and gingerbread.
Filling:
6 Jazz apples, cored and segmented into 8 pieces
3 tbsp honey
1½ tsp ground ginger
2 tsp cornflour
2 tsp cold water
Gingerbread Crust:
380g plain flour
½ tsp bicarbonate of soda
60g soft light brown sugar
2 tsp ground ginger
1 tsp ground cinnamon
100g cold butter, cubed
1 egg
1 egg yolk
30ml lemon juice
Crumble topping:
100g self-raising flour
50g ground almonds
75g cold butter, cubed
75g demerara sugar
2 tsp ground ginger
Method:
To make the filling, segment the Jazz Apples into 8 using an apple slicer. Discarding the core, place the apple segments into a heavy-bottomed saucepan with the honey and ginger.
Cook gently on a low heat for 15-20 minutes, with the lid on, until the apples are pulpy and cooked through.
Mix the cornflour with the cold water to a paste. Add the cornflour mix to the apples and stir continuously until thickened. Remove the apples from the heat and allow to cool completely.
Line a 20cm / 8" springform tin with baking parchment on the bottom and sides.
For the gingerbread crust, in a food processor, add the 380g plain flour, bicarbonate of soda, soft brown sugar, ginger and cinnamon to the cubes of cold butter and pulse until it resembles breadcrumbs. (You can use the rubbing in method by hand, if you prefer).
Add the egg, egg yolk and lemon juice and pulse/mix together until just combined. Tip the gingerbread mix into the springform tin and, using a spoon, ease the mixture up the sides of the tin to form an even crust.
The crust will be lovely and thick all round. Chill the gingerbread crust for 30 minutes.
Preheat the oven to 190°C / Fan 170°C / 375°F / Gas 5. Remove the gingerbread crust from the fridge and pour in the cooled apple mixture, and even out the surface.
For the crumble topping, blitz together (or rub in) the plain flour, ground almonds, cold butter, demerara sugar and ground ginger until it resembles breadcrumbs.
Pour the crumble topping on top of the apple mixture, spread out to an even layer. Bake for 55 minutes until the top is golden.
Carefully remove the sides of the springform tin and the baking parchment from the sides of the crust, and return the pie to the oven for a further 10 minutes to crisp up the outside.
Remove from the oven and allow it to cook for 5 to 10 minutes on the springform base, before carefully removing it to allow it to cool.
A generous slice can be served hot or cold. It's delicious served with cream, vanilla ice cream or custard.
9. Cheesecake Pumpkin Pieces
Homecook Social Sami describes these Thanksgiving-themed sweet treats as "so cute."
She takes a shop-bought ready-made raw pastry and uses a pumpkin cookie cutter to create the distinctive shape of a squash.
For the filling, she mixes together 4 ounces of cream cheese, half a cup of brown sugar, half a cup of pumpkin puree, half a teaspoon of pumpkin spice, plus a pinch of salt.
This mix is then sandwiched between two bits of pastry, which are then artistically slit and decorated with the back of a fork.
Finally, an egg wash is applied, then a little sugar and cinnamon is dusted on top, before baking.
10. Healthy Pumpkin Pie-Spiced Cake
Chef Rebecca Leigh claims her concoction is an easy way to impress your family over Thanksgiving.
She whisks together a half of cup of pumpkin purée, two eggs, a quarter cup of oil, a third of a cup of almond milk, a half-cup of coconut sugar, one tsp of vanilla essence, two cups of oat flour, "lots" of pumpkin pie spice, two tsps of baking powder and a pinch of salt.
This mixture should then be poured into a square baking tray and baked at 350°F (180°C) for approximately 20 minutes.
While this is baking, create the cake's cream cheese frosting by combining one cup of dairy-free cream cheese, a quarter cup of powdered sugar, and up to two tablespoons of almond milk to thin.
Finally, simply add the frosting to the top once the cake has sufficiently cooled.
11. Chocolate Peanut Butter Bars
Chef Gabriella Quille claims her recipe is designed for "all the chocolate peanut butter lovers" as "these are going to blow your mind."
She starts by mixing 1.5 sticks of butter in a bowl with half a cup of peanut butter.
Then add two eggs, three-quarters of a cup of brown sugar, a quarter cup of granulated sugar, plus a tsp of vanilla extract.
This should then be mixed, before two cups of all-purpose flour are folded in gently.
Now spread this uniformly gooey mixture into an oven-proof dish and bake for about 20 minutes.
For the frosting, she mixes cocoa powder, powdered sugar, another stick of butter and a little milk.
Once the cake is baked through, a generous amount of peanut butter is spooned on top and the residual heat then melts it.
Then, after this has cooled and set, the frosting is poured over the cake, which is then ready to be cut into bite-sized portions.
12. Pecan Pie Bars
Chef Kelly Senyei describes this dish as "my favourite Thanksgiving dessert."
For the crust, she mixes two sticks of softened unsalted butter with two-thirds of a cup of brown sugar, before adding in 2.3 cups of flour and a pinch of salt.
This crumbly result is then pressed into an oven-proof dish and baked at 350°F (180°C) for 20 minutes.
For the topping, she combines another stick of butter, brown sugar, honey and heavy cream in a pan and then adds pecan pieces.
Finally, once the crust is ready, add the filling and return to the oven for another 20 minutes or so.
Ensure the pie is given time to cool fully before cutting it into bite-sized bars.
13. Jazz Apple Crepe Cake With Meringue
Jazz Apples presented its hot take on a delicious crepe cake that will wow your guests this thanksgiving.
Ingredients:
3 eggs
250ml (1 cup) milk
160ml (⅔ cup) soda water
185g (1¼ cups) plain flour
½ tsp fine salt
1 tsp natural vanilla extract
430g (1½ cups) caster sugar
Cooking oil spray, for frying
9 Jazz apples (1½ kg), peeled and chopped
120g unsalted butter
250ml (1 cup) water
4 egg whites
½ tsp cream of tartar
Method:
Combine the eggs, milk, soda water, flour, salt, vanilla and 30g (2 tbsp) caster sugar in a
large bowl and whisk until smooth. Cover with cling film, then set aside for 1 hour. Strain through a fine sieve.
Set a large non-stick frying pan over a moderate heat and sprinkle with cooking oil spray.
Add a small ladle of the batter at a time, swirling to coat the bottom of the pan evenly, then cook gently for 2 minutes on each side, and set aside to cool. The batter will make 12 crepes.
Put the apples, butter and 110g (½ cup) sugar in a large saucepan and cook over moderate heat for 10 minutes. Add 125ml (½ cup) water, then simmer for 30 minutes, until well-softened, then mash roughly with a fork.
Pour the egg whites and cream of tartar into the bowl of an electric mixer fitted with the whisk attachment. Cook the remaining sugar and water in a saucepan over a high heat, brushing down the sides regularly with a damp brush until the syrup reaches 119°C.
At this point, a drop of the syrup will form a hard ball if placed in a glass of cold water.
When the syrup is nearly ready, begin beating the egg whites–they will need to have soft peaks with the syrup is hot.
With the motor running, add the syrup in a steady stream and beat until cold.
Place a crepe on a large plate then top with some of the apple mixture. Repeat until all the crepes and apple mixture are used up, finishing with a crepe. Pipe the meringue on top, then scorch lightly under a hot grill or with a kitchen blowtorch.