Thanksgiving Dinner Will Cost Less This Year as Turkeys Are Getting Cheaper
Thanksgiving dinner will cost American families less this year, with turkeys falling in price and taking the cost of the traditional meal down to a ten-year low.
With the annual holiday a week away and the coronavirus pandemic still raging across the United States, Thanksgiving celebrations are sure to look different this year, with gatherings likely to be socially distanced and fewer in number due to the coronavirus pandemic.
However, the average cost of tucking into a Thanksgiving feast for 10 this year is just $46.90, or less than $5 per person.
This is a $2.01 decrease from last year's average of $48.91, according to the American Farm Bureau Federation's annual Thanksgiving price survey.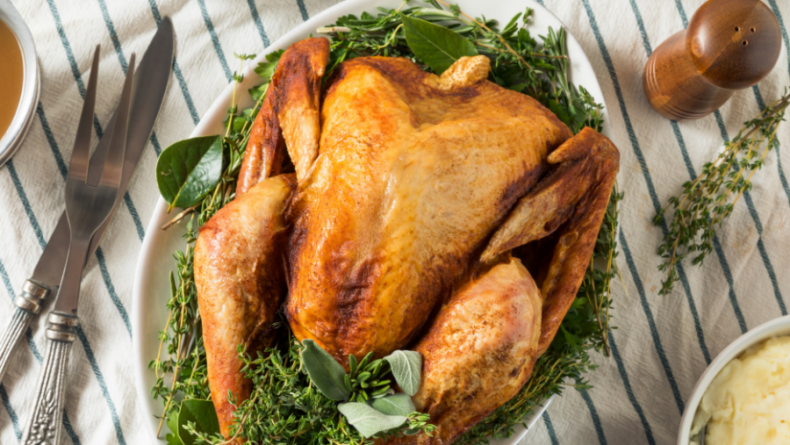 The survey, which looked at pricing data of classic Thanksgiving dinner table items from all 50 states, found the average cost of this year's Thanksgiving dinner to be the lowest since 2010.
The shopping list included turkey, stuffing, sweet potatoes, rolls with butter, peas, cranberries, a veggie tray, pumpkin pie with whipped cream, and coffee and milk, all in quantities sufficient to serve a family of 10 with plenty for leftovers.
Significantly, the centerpiece on most Thanksgiving tables – the turkey – costs less than last year, at $19.39 for a 16-pound bird. That's roughly $1.21 per pound, down 7 percent from last year and the lowest retail price of a turkey since 2010, the survey found.
"The average cost of this year's Thanksgiving dinner is the lowest since 2010," AFBF Chief Economist Dr. John Newton said. "Pricing whole turkeys as 'loss leaders' to entice shoppers and move product is a strategy we're seeing retailers use that's increasingly common the closer we get to the holiday," he explained.
In addition to turkey, foods that showed slight price declines included whipping cream and sweet potatoes.
Foods showing modest increases this year included dinner rolls, cubed bread stuffing and pumpkin pie mix. After adjusting for inflation, the cost of this year's Thanksgiving dinner came to $18.01, down slightly from last year.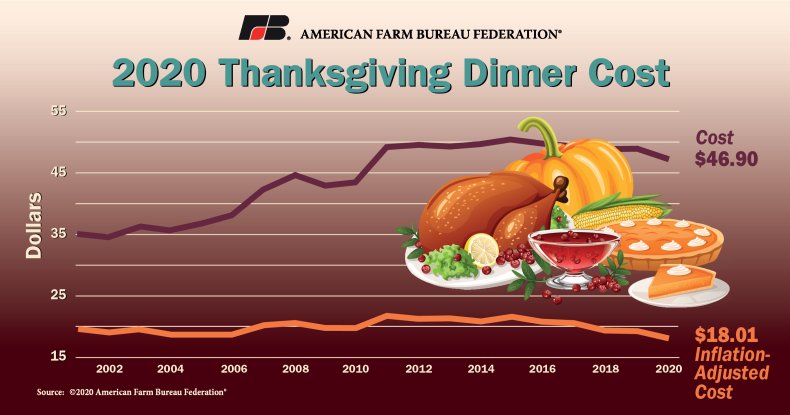 Also included in the price survey were ham, potatoes and frozen green beans to reflect recent changes in Thanksgiving dinner traditions.
Adding these foods to the classic Thanksgiving menu increased the overall cost by $13.21, to $60.11 but still saw a decrease in price of 4 percent compared to 2019.
"Turkeys – and other staples of the traditional Thanksgiving meal – are currently in ample supply at grocery stores in most areas of the country," Newton said.
This is good news for those concerned about panic purchasing due to the pandemic.
The national average Thanksgiving dinner cost was calculated using more than 230 surveys completed with pricing data from all 50 states, AFBF said. Prices were checked online using grocery store apps and websites and no special promotional coupons or purchase deals were used.
Public health officials are now providing information on how Americans can stay as safe as possible while seeing their families on November 26.
"The safest way to celebrate Thanksgiving this year is to celebrate with people in your household. If you do plan to spend Thanksgiving with people outside your household, take steps to make your celebration safer," the Centers for Disease Control and Prevention guidelines state.
The CDC recommends wearing a mask with two or more layers, which should be stored safely when eating and drinking.
Ensuring that you keep at least six feet from people you do not live with is also key, the CDC said. This is particularly important for people who are at high risk of getting severely sick from COVID-19.
In addition, the CDC urges Americans to wash their hands frequently with soap and water for at least 20 seconds. If you are unable to do so, use a hand sanitizer—with at least 60 percent alcohol.
For those attending a gathering, the CDC recommends bringing your own food, drinks, plates, cups and utensils.
If you are hosting a Thanksgiving gathering, the CDC recommends having a "small outdoor meal" if possible, with family or friends who live in your area while limiting the number of guests.
In regions where an outdoor meal isn't suitable, the agency says windows should be kept open if possible. Cleaning and disinfecting regularly touched surfaces and items is also recommended.
The agency advised against travel this Thanksgiving, saying: "Staying home is the best way to protect yourself and others." If you do travel, get a flu vaccination before you leave and adhere to the other guidelines.
Some states have also established Thanksgiving gathering restrictions in order to curb the spread of the coronavirus. Governor Andrew Cuomo of New York announced on Wednesday that folks cannot have more than 10 people inside their residences for the holiday. How this will be monitored and enforced, however, remains unclear.
Governor Gavin Newsom of California also established Thanksgiving guidelines amid the pandemic. People from more than three different households cannot gather, masks must stay on after folks are done eating and drinking, and singing and shouting are "strongly discouraged."