Thanksgiving Flight Cancellation Update: Winter Storms Delay or Cancel Hundreds of Holiday Flights
Already a stressful time to visit family and friends, Thanksgiving travel was made worse thanks to strong winds and heavy snow that canceled or delayed hundreds of flights in Minnesota and Illinois on Wednesday.
More than 31 million people will travel on United States airlines during Thanksgiving, an increase in travelers from last year, according to Airlines for America, an airline trade organization. Traveling around Thanksgiving always requires patience and this year, unwanted changes in flight itineraries caused additional frustrations for many passengers.
Two big storm systems were expected to impact large portions of the United States during the holiday week and on Wednesday, at least 1,189 international and domestic flights in the United States were delayed and 103 were canceled.
The greatest kinks in travel plans on Wednesday morning were at Minneapolis-St. Paul International Airport. More than 20 flights scheduled to arrive or depart from the Minnesota airport were canceled on Wednesday, according to Flight Aware, a global aviation software and data services company. At least 111 additional flights were delayed as well.
A storm descended on Minnesota on Tuesday evening, bringing up to 11 inches of snow to Waseca, Minnesota, about 70 miles from St. Paul. On Wednesday, the National Weather Service reported snowfall at Twin Cities, Minnesota, broke the annual precipitation record with 40.81 inches. The previous record was set in 2016 with 40.32 inches.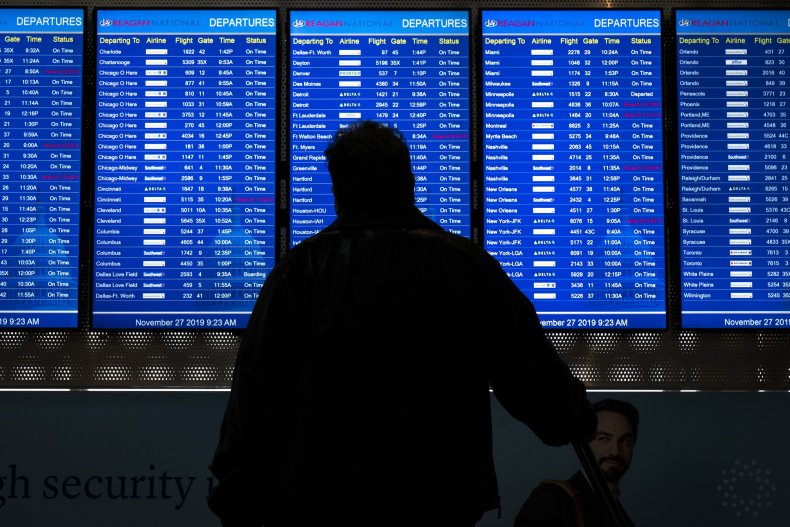 A winter storm warning remained in effect for most of central Minnesota on Wednesday morning. The area was likely to see additional snowfall of four to seven inches and gusty winds up to 40 miles per hour were expected to blow snow, severely impacting travel.
The airport had more than eight inches of snow, according to KCCO, and deployed snow plows on Tuesday night. The airport posted on Twitter that thanks to the clearing efforts, the airport's three main runways were up and running on Wednesday morning. However, heavy snowfall could force the airport to close runways, causing additional cancellations.
"It's usually tied to the rate of the snowfall," John Welbes, an airport spokesperson, told KSTP. "If it gets to one to two inches per hour, we can't keep up."
Regardless of whether the runways close, the airport will remain open for the estimated 42,000 thousand passengers that are expected to depart from it on Wednesday.
An estimated 18 flights were canceled at Chicago's O'Hare airport on Wednesday and an additional 91 were delayed. Other flights could be canceled or delayed throughout the day as winds were forecasted to reach up to 60 miles per hour in the Chicago area.
The National Weather Service placed Chicago under a High Wind Warning on Wednesday, advising people to avoid being outside and remaining inside away from windows during the storm. High winds had the potential to blow down trees and power lines, causing outages and making travel difficult.
Several airlines, including Southwest, American and United, issued flight waivers for customers because of the weather. Waivers varied based on the airline and airports advised travelers to check with their airline about the status of their flight and their ability to make itinerary changes.