Will It Snow on Thanksgiving? National Weather Service Releases Early Forecast
The Thanksgiving holiday is just under one week away but the earliest forecasts for the day are available already. The National Weather Service released a Thanksgiving Day outlook Friday for the continental United States that showed most of the country will be dry and there will be some chilly temperatures in store as well for many.
The NWS mapped out the lowest and highest temperatures expected for the day as well as the precipitation type and weather fronts expected. There were very few regions where rain or snow was expected though most people who see precipitation will only get rain.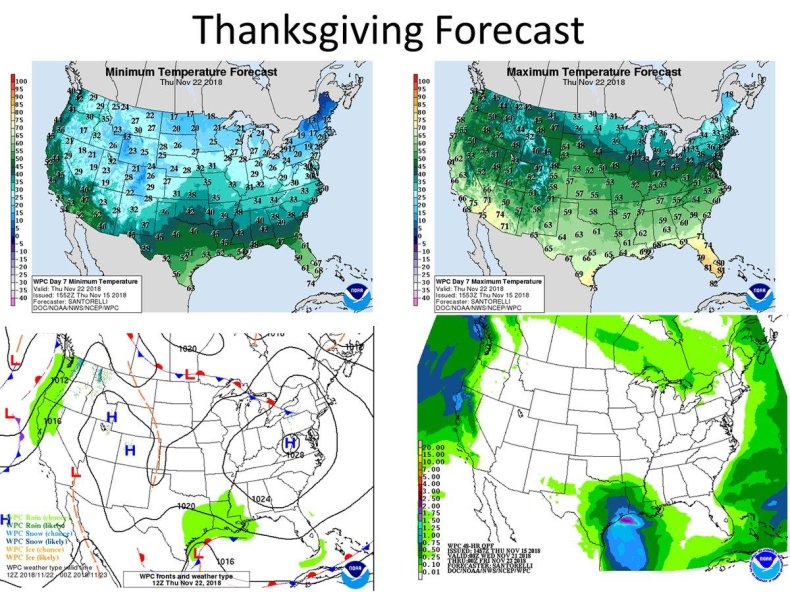 The forecast was predicting nearly a week into the future so it is subject to change and the precipitation especially could change in the days leading up to the holiday.
Northern California, as well as parts of Washington and Oregon, had rain in the forecast for Thursday. The Gulf Coast of Texas should also expect some rainfall as should Louisiana and Mississippi. Southern Florida might see cloudy conditions and some light rain but the system there will be off the coast for the most part. Other parts of the country might see light rain.
In terms of temperature, the usual seasonal chilly temperatures were expected in most of the northern part of the country.
The coldest temperatures will be near the border with Canada, towards the north east. The minimum temperatures were forecast to be in the high teens in some states and the 20s elsewhere. Most of Florida would likely see temperatures in the 50s and 60s with the Keys seeing some weather maybe even in the 70s as the lowest possible temperature.
The warmest temperatures likely were not that drastically warmer than the cool temperatures that were expected. In the Northeast, the highs that were expected would still only be in the 20s and 30s. Florida was expected to see the warmest temperatures with a possibly high of 82 in the Keys. Texas had predicted highs in the 60s while Arizona might see temperatures in the 70s.
The weather outlook is looking ideal for those walking in parades in cities across the country on Thanksgiving. The Macy's Thanksgiving Day Parade in New York City will likely have chilly temperatures and no precipitation to interrupt the parade of floats and balloons. Chicago will also likely have similar weather, though colder, for the parade there.