Thanksgiving Gatherings Could Be Banned in L.A. As Health Officials Warn of 'Overwhelming' COVID Surge
Health officials are reportedly considering a "targeted" stay-at-home order in Los Angeles, which would ban multiple households meeting up over Thanksgiving.
Current rules state that residents can gather with two other households if they meet outdoors with physical distancing and wear face coverings.
However, on Wednesday, Los Angeles County health officials are set to discuss a proposal to ban all gatherings of people not in the same household, ABC7 reports.
According to Deadline, the new order would include individuals remaining in their homes as much as possible, a ban on different households meeting—except for outdoor church and protests—and only essential retail allowed to stay open at 35 percent capacity.
It comes as the county and the state of California hit record daily case numbers. L.A. has also reported a sharp rise in the number of hospitalizations.
Although it is not clear when the restrictions might come into force, the county's public health director Dr. Barbara Ferrer has emphasized the need for urgency.
On Tuesday, she asked the L.A. County Board of Supervisors to approve the stricter restrictions, citing the surge in case numbers and hospitalizations.
"Our metrics are the most alarming metrics we have ever seen," she said. "The risk at this point is that overwhelming the healthcare system is now a very real possibility."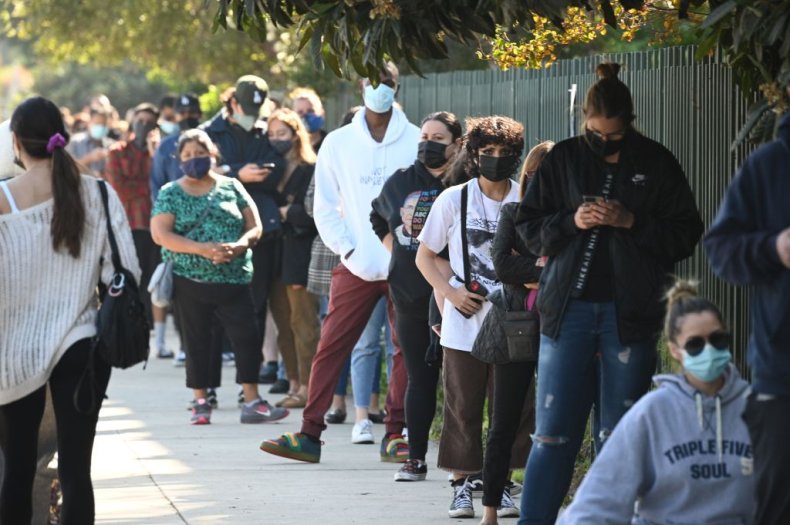 Ferrer's department issued a news release on Tuesday, stating that it "strongly recommends" people do "not gather with people from outside your household, even outdoors" over Thanksgiving.
"Please don't plan, host or attend holiday gatherings for multiple households. Instead connect virtually together," it added.
Los Angeles Board of Supervisors has been approached for comment.
New restaurant restrictions are set to come into force at 10 p.m. on Wednesday. The change means outdoor dining areas must close and restaurants are only allowed to offer takeout or delivery.
Strict curbs that called on Angelenos to stay at home unless it was absolutely necessary to leave were in place from March 19 until June 1. Earlier this month, L.A. Mayor Eric Garcetti urged people to "not do stupid things" as cases rose.
'Dire' situation in L.A.
L.A. County announced more than 6,000 new cases of coronavirus on Monday, a daily record. On Tuesday, state officials confirmed 51 new COVID deaths, the highest number since September 9.
There has also been a sharp uptick in the number of hospitalizations. On Monday, there were 1,473 people with COVID-19 in hospital, a 73 percent increase from November 7 when the figure stood at 849.
In a tweet last week, Los Angeles County Supervisor Janice Hahn warned: "Hospitalizations are rising and could overwhelm our system in a matter of weeks."
She added that the situation was "dire" and called on residents to abide by the county's public health order.
California also hit a record number of daily new coronavirus cases on Monday, with 20,654 infections. Total confirmed cases in California have surpassed 1.1 million, with more than 18,000 reported deaths, according to Johns Hopkins University.
The state's daily case count is projected to reach about 34,370 by Christmas and around 40,688 by New Year's Day, with "continued easing of social distancing mandate and if mandates are not reimposed," according to the Institute for Health Metrics and Evaluation at the University of Washington.
These predictions have led to the state implementing a 10 p.m. curfew in most areas. People are required to stay home until 5 a.m., apart from some exceptions such as shopping for groceries.
The map below, produced by Statista, shows which states have the highest number of confirmed cases, as of November 23.