4 Thanksgiving Gravy Recipes That Will Add Flavor to Even The Driest Turkey
Thanksgiving dinner is all about about the turkey. More importantly, it is or should be about what goes on top of the turkey.
The gobbler—once thought of as the crown jewel of a holiday dinner table—has in recent years, been overshadowed by its more creative side dishes. Why? Because, let's face it, turkey is dry. However, that can change with the right gravy recipe.
For instructions from four popular food bloggers on how to make the perfect gravy, read on. Your dinner guests will be gushing over the turkey this Thanksgiving.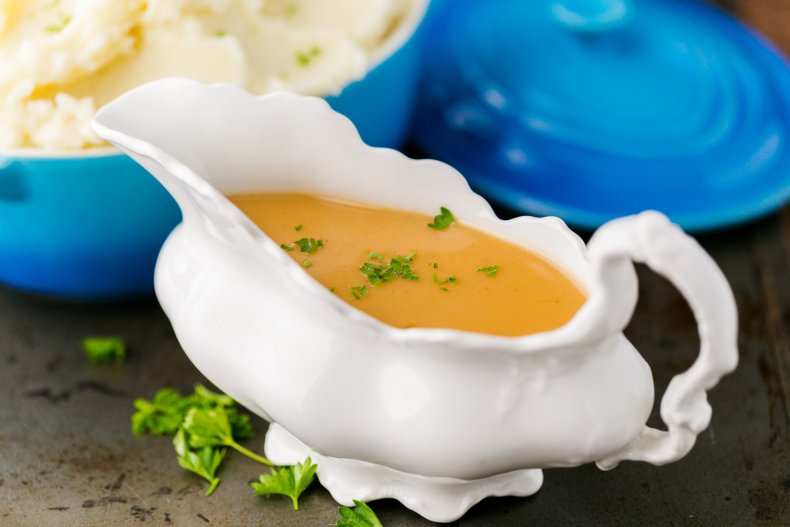 Natasha's Kitchen
"This turkey gravy is incredibly flavorful and the best I have ever tried (no exaggeration). The folks at your holiday table will remember it," wrote Natasha Kravchuck, the blogger behind Natasha's Kitchen. "It's also really easy to achieve if you're making a turkey!"
Ingredients:
3 tbsp. flour
3 tbsp. fat drippings from roasted turkey
2 cups turkey drippings, skimmed of fat (add water or broth if needed to make 2 cups)
¼ to ½ cup milk
Salt and pepper to taste
Steps:
Once your turkey has been transferred from the roasting pan and is resting, make your turkey gravy. Strain all drippings from the turkey pan through a fine mesh sieve into a large measuring cup. Discard anything you catch in the sieve. Let drippings in the measuring cup rest for a minute, the fat will float to the top and broth will sink to the bottom.
Skim off three tablespoons of fat and transfer into a medium sauce pan (skim off and discard excess fat left in the measuring cup, making sure to keep the broth underneath). Set sauce pan over medium heat. Once oil is starting to sizzle, whisk in three tablespoons flour and stir until well combined. Continue whisking until mixture is starting to turn a light golden brown.
Gradually pour remaining broth from drippings into your saucepan, whisking constantly. You should have about two cups of drippings left in the measuring cup after fat is removed. Add more water or broth if needed to make two cups (I had to add 1/3 cup water). Bring to a light boil, whisking constantly.
Add ¼ to ½ cup milk, or add it to taste and continue to simmer 5 min. Season with salt and pepper to taste if needed (mine was plenty flavorful without it). Remove from heat, cover with lid and keep warm until ready to serve, then transfer gravy to a gravy boat. It will thicken slightly as it cools. Pour over sliced turkey and mashed potatoes.
She Wears Many Hats
"As with most things in life, everyone seems to find their way to what works for them. This is how I make turkey gravy, wrote Amy Johnson, author of She Wears Many Hats. "The turkey, it's basic, so adjust seasonings to your liking. Begin with the drippings, celery and onion leftover from the roasted turkey. I make the gravy right in the roasting pan stovetop over two eyes. Transfer to a smaller pan for space if needed."
Ingredients:
drippings from 12–14 pound roasted turkey
¼ cup flour
¼ cup chicken broth or water
salt and pepper to taste
optional: other herbs, seasonings to taste
Steps:
Skim off most of the fat. Simmer for about 10 to 15 minutes on the stove top, stirring occasionally. Use a slotted spoon to remove celery, onion, and any large pieces of drippings. Continue to simmer.
Combine flour and broth or water in a small mason jar with a lid; shake it up to combine. Gradually whisk in the flour/liquid mixture into the drippings until smooth. Lower temperature.
Add salt and pepper, and any other seasonings to taste. Whisk well before transferring to serving dish.
Like Mother, Like Daughter
"The Thanksgiving gravy just might be my favorite part of the Thanksgiving feast," wrote Aimee Berrett, one half of the mother/daughter duo behind the foodie site, Like Mother, Like Daughter. "I like to pour it on top of the mashed potatoes, the turkey, the stuffing, and I like to dip my rolls in it too. Since the Thanksgiving gravy is such an important aspect of the meal—its important that its delicious right?"
Ingredients:
¼ cup butter (½ stick)
¼ cup flour
4 cups turkey*
salt (to taste)
pepper (to taste)
Steps:
Slice your butter into thin pieces and melt it in a large sauce pan over medium high heat.
Once your butter is melted add in your flour and stir it together with your butter till combined. Cook for about three to four minutes until nice and fragrant.
Slowly pour in your liquid while whisking to combine everything together.
Bring to a slow boil and allow everything to cook until gravy gets to desired thickness.
Season with salt and pepper to taste.
Brown Eyed Baker
"I LOVE gravy, but I don't love the headache and stress of whipping it up while everyone is waiting to eat," wrote Michelle Lettrich on her blog The Brown Eyed Baker. "This recipe is the perfect solution, and did I mention delicious?? Perfectly seasoned and a great accompaniment to the turkey and all the trimmings."
Ingredients:
½ cup unsalted butter
1½ cups finely chopped yellow onion
¼ cup all-purpose flour
1 teaspoon kosher salt
½ teaspoon freshly ground black pepper
2 cups turkey or chicken stock (heated)
1 tablespoon cognac or brandy (optional)
1 tablespoon heavy cream
Steps:
In a large (10- to 12-inch) saute pan, cook the butter and onions on medium-low heat for 12 to 15 minutes, until the onions are lightly browned. (Don't rush this step; it makes all the difference when the onions are well cooked.)
Sprinkle the flour into the pan, whisk in, then add the salt and pepper. Cook for two to three minutes. Add the hot chicken stock and Cognac, and cook uncovered for four to five minutes, until thickened. Add the cream and serve. (Alternatively, you can cool the gravy and transfer it to a freezer-safe container or bag. Thaw in the refrigerator overnight, and warm up over low heat before serving. Add a splash or two of chicken or turkey stock to thin out, if needed.)