The Perfect Thanksgiving Ham Recipe: How To Cook A Honey-Glazed Dinner In Three Easy Steps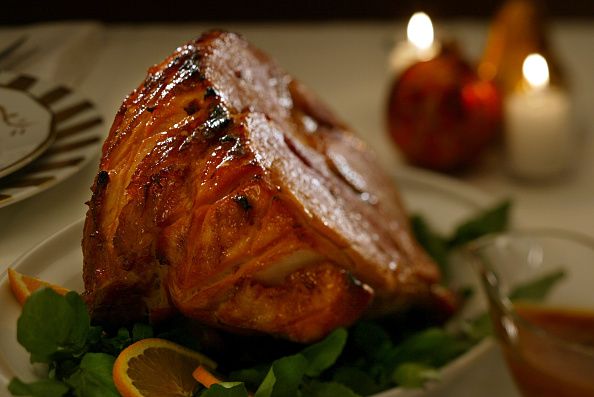 Thanksgiving wasn't all about the turkey at the first feast in 1621—though the Pilgrims of Plymouth did note consuming "wild fowl"—so why not go with a classic honey-glazed ham?
These three easy steps, adapted from Martha Stewart's "Baked Easter Ham" recipe, will have you ready for a family get-together in no time.
Baked Glazed Ham
(Adapted from Martha Stewart)
Serves 20
Ingredients
1 12- to 14-pound uncooked smoked ham
1/4 cup cognac
1 cup brown sugar
Parsley and watercress for garnish
Directions
1. Preheat oven to 325 degrees. Wrap ham with parchment-lined foil and place it on a rimmed baking sheet or roasting pan in oven. Bake for 1½ hours.
2. While ham is cooking, in a small bowl, mix together brown sugar and cognac—double quantities if you want lots of glaze.
3. When ham is done, remove from oven, unwrap and discard the parchment and foil. Score the fat in a diamond pattern, using a large sharp knife. The lines should be about ¾ inches apart. Place the ham back on the roasting pan and cover with glaze. Reduce heat to 300 and return ham to the oven for one hour. Add more glaze and roast it for a final 30 minutes. Transfer to a serving platter and garnish with watercress and parsley.