Thanksgiving Holiday Travel Problems: American Airlines System Down, Delays, Cancellation Reported, More
Traveling ahead of Thanksgiving Day has never been easy, but it was made slightly more difficult this year for some travelers flying with American Airlines on Wednesday. Passengers on more than a 1,000 flights within, into or out of the United States also experienced delays.
Several customers Tweeted on Wednesday that they had encountered issues on the airline's website, app and at check in. DownDetector noted that American Airlines had been having issues since 11:20 a.m. EST.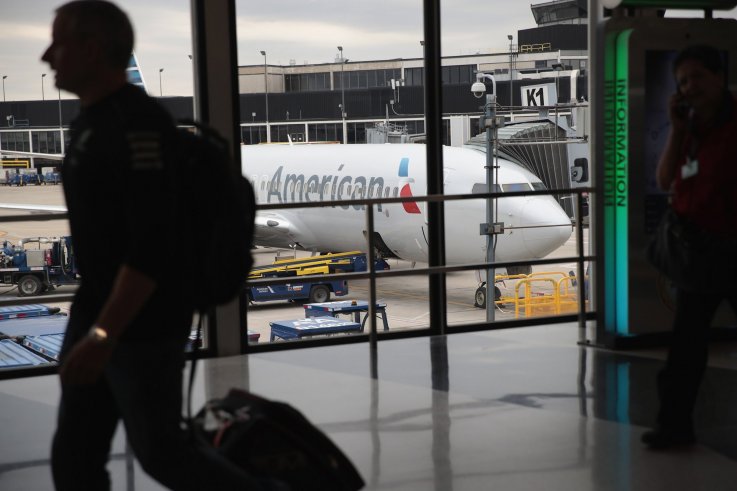 Travelers in Phoenix experienced longer than expected ticketing lines at Sky Harbor International Airport following a computer glitch. Fox10 Phoenix reporter Marcy Jones reported that American Airlines passengers were encouraged to print out proof of their tickets before heading to the airport.
Jones later tweeted that the computer glitch at the airport was fixed. "App, kiosks, and computers all 1000% now! ITS A THANKSGIVING MIRACLE!" she tweeted.
Phoenix Sky Harbor told KTAR News reporter Jim Cross that the American Airlines system was "slowly coming back online" and that the airline was working to process passengers.
However, issues were also reported in Los Angeles and Dallas-Fort Worth. In an emailed statement to Newsweek, American Airlines said the "brief issue was quickly resolved."
"American Airlines experienced a brief connectivity issue with one of its data centers today that has now been resolved. There was no impact to flight operations," the airline said.
The statement continued, "We are grateful for our team members in our airports who acted quickly to help our customers check in for their flights at our ticket counters to get them on their way for their Thanksgiving travels. We apologize to our customers for the inconvenience and all operations are returning back to normal."
Despite the issues, American Airlines did not appear to have cancelled any flights on Wednesday, according to flight tracker FlightAware.
Passengers flying out of and into San Francisco International Airport experienced the worst cancelations and delays in the U.S., FlightAware revealed. By 12 p.m. EST, at least 20 flights had been cancelled and 39 flights delayed leaving San Francisco. Another 21 flights into the California airport had been cancelled and 99 flights delayed.
Flights into Seattle-Tacoma International Airport also experienced some issues, with seven flights canceled and another 15 delayed.
According to FlightAware, Alaska Airlines and Southwest were the top U.S.-based airlines experiencing issues on Wednesday. Alaska Airlines canceled at least 22 flights and delayed another 47, while Southwest saw four cancelations and 87 flight delays.
In total, 69 flights were canceled within, into or out of the United States and at least 1,000 were delayed.
A record number 30.6 million passengers are expected to travel within the 12-day Thanksgiving holiday air travel period, according to Airlines for America. The industry trade organization said that Thanksgiving Day itself is expected to be the lightest travel day, MarketWatch reported. The three busiest days are expected to be Sunday, Wednesday and Friday.
This story has been updated to include a statement from American Airlines.
Thanksgiving Holiday Travel Problems: American Airlines System Down, Delays, Cancellation Reported, More | U.S.