Thanksgiving Leftovers Recipes: Ideas to Use Extra Turkey, Stuffing, Side Dishes for 2018 Holiday
So, once again, you've made too much food for Thanksgiving. No worries!
Here's a little secret, for a lot of people—this writer included—Thanksgiving leftovers are the best part about the feast. Part of the fun can be doing a little more than just microwaving what's leftover. That in mind, we've collected a few different ideas and recipes that'll spruce up your leftovers and help reimagine the delicious food you made for Thanksgiving.
Turkey Bolognese
This recipe comes courtesy of Food Network's Giada De Laurentiis. It's a totally different flavor profile than Thanksgiving but still makes use of the piles of turkey often leftover. It's pretty much a simple red sauce with turkey that'll take no time at all.
Fried mashed potato bites
Basically, this recipe calls for you to ball up mashed potatoes and cheese—if you're feeling adventurous you can chuck in some turkey too—then fry it up. You'll probably get a better result if the mashed potatoes are cooled in the fridge before frying.
The classic leftover sandwich
Everyone has their favorite leftover sandwich, but Delish has a nice recipe here that calls for the addition of a little spinach to a sando piled high with turkey, mashed potatoes, stuffing and cranberry sauce. It reminds this Delaware-born writer of the classic Bobbie sandwich sold nationally by Capriotti's, a chain founded in the first state.
Tortilla turkey soup
This Southern Living recipe calls for pops of freshness with avocado and cilantro, while taking just about 40 minutes to whip up.
The elevated leftover sandwich
This turkey-brie-apple butter-arugula grilled cheese recipe from Tyler Florence is very easy to make but requires having somewhat random ingredients on-hand. But it might be a nice recipe to make if you need an excuse to get out of the house (away from family) to buy ingredients.
Thanksgiving egg rolls
This Delish recipe effectively takes the classic leftover sandwich, shoves it into a egg roll wrapper and deep fries it. Can't be bad.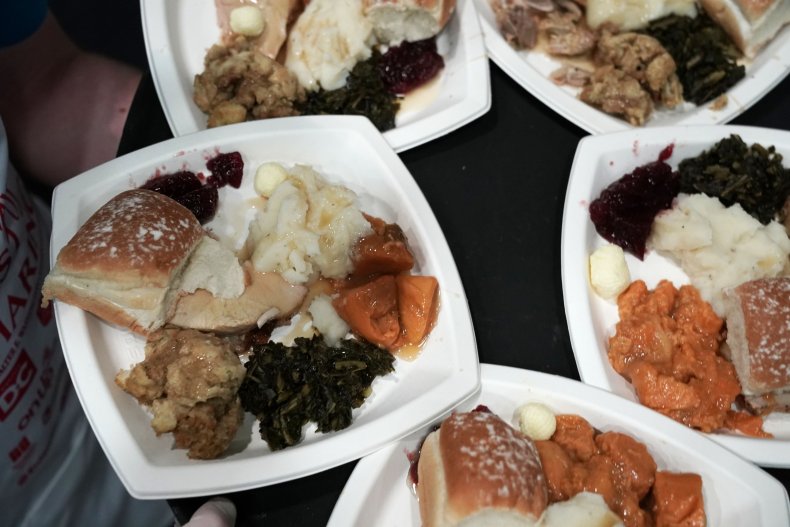 Stuffed shells
This recipe from All Recipes has you whip up a turkey, cream cheese and parmesan mixture that goes inside big pasta shells. The filled, cooked pasta is baked off soaking in gravy and mozzarella.
Fried stuffing cubes with cranberry pesto dipping sauce
I mean, the name of this Food Network recipe from Sunny Anderson pretty much says it all.
Breakfast tacos
This Martha Stewart creation basically gussies up leftover turkey, places it on a tortilla then tops it with your favorite taco fixings, including eggs.
Leftover casserole
If you're in the mood for a big, easy leftover dinner, then this Thrillist recipe might be your best bet. It effectively layers leftovers in a casserole dish and bakes it off into something new.