Thanksgiving Leftovers Recipes: Ideas to Use Extra Turkey, Stuffing, Side Dishes for 2019 Holiday
It's the day after Thanksgiving and there's still an abundance of holiday food stockpiled in the refrigerator. What on Earth are you going to do with all of it?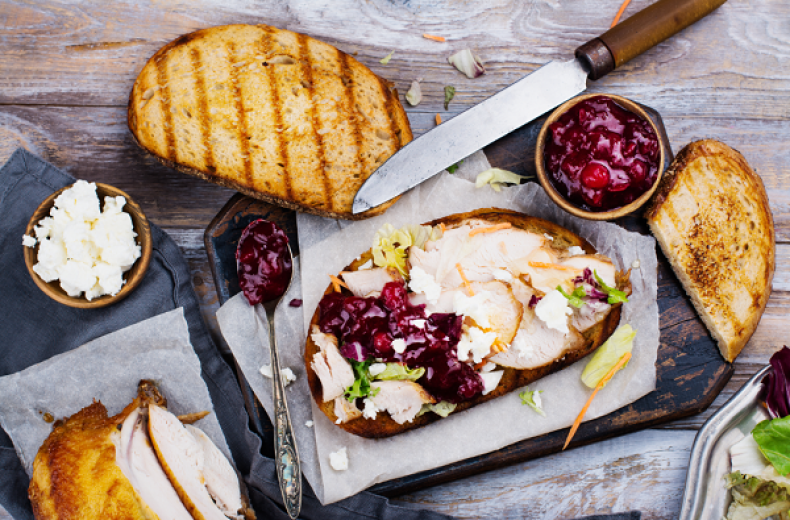 Well, the obvious answer is to eat it. There are plenty of ways to enjoy holiday leftovers that don't require microwaving a plate full of turkey, stuffing and cranberry sauce. Get creative with your Thanksgiving leftovers and check out a list of tasty recipes below.
The classic Thanksgiving turkey sandwich
If it's simplicity you're looking for the day after Thanksgiving, look no further than Delish's take on a holiday sandwich that not only incorporates multiple leftover items like turkey, stuffing, mashed potatoes, cranberry sauce and spinach but requires no cooking—other than, maybe, toasting two slices of bread and warming up a bit of gravy.
The upgraded Thanksgiving turkey sandwich
So maybe you're over the same old leftover Thanksgiving sandwich? Maybe you want a sandwich that's not so basic, one with a different flavor, one with some real crunch? Delish has it covered with this Thanksgiving Crunchwrap recipe. You'll need a few large flour tortillas and a cup or two of shredded white cheddar cheese, but just about everything else needed to fill the wrap you likely already have leftover from the holiday.
Fried mashed potatoes
Think fried mozzarella sticks, except with this recipe, all your leftover mashed potatoes serve as the base.
Thanksgiving, but make it soup
One of the best aspects of Thanksgiving is that it arrives at the top of soup season. So it's only right to put those leftovers to use with soup good enough to warm your heart and your tummy. Baked by Rachel has concocted an incredibly filling recipe, loaded with holiday leftovers like turkey, green beans and potatoes.
Thanksgiving Pot Pie
If you want all the qualities of a rich and decadent Thanksgiving soup but topped with pie crust, then this holiday pot pie recipe—compliments of the Food Network Kitchen—gets the job done just fine.
Pizza Fridays by Thanksgiving
You're likely to work up an appetite after braving the swarms of holiday shoppers taking advantage of Black Friday sales. So why not whip up something that is equally easy and satisfying like, perhaps, a pizza. Skip the delivery and use your Thanksgiving leftovers to compile a pie that is both delicious and cost-effective. Thank Epicurious for this untraditional take on holiday leftovers that you'll surely turn to time and time again.
Sweet potato casserole...pancakes?
If you're lucky enough to have leftover scoops of sweet potato casserole, CookingLight has a deliciously sweet and good way to put them to use with everyone's favorite breakfast food—pancakes.
Forget the pancakes, where are the waffles?
Here they are, and you can use all the leftover stuffing to make them. Even day-old mashed potatoes and gravy gets used in this filling brunch recipe. Don't forget the cranberry sauce, either. You'll need it for topping.
Poultry for long after Thanksgiving
There's a whole bird carcass sitting in the fridge. Instead of tossing it, how about using the leftover turkey remains to create a delicious poultry-based stock? It can come in handy for soups, stews and all sorts of dishes and the best part—you can freeze the stock for up to three months.