Thanksgiving Marks 24th Consecutive Day the U.S. Surpasses 100,000 Daily COVID Cases
The U.S. reported another 110,611 new confirmed cases of COVID-19 on Thanksgiving Day, according to data from Johns Hopkins University.
This marks the 24th straight day that the country has reported over 100,000 new daily infections.
An additional 1,232 deaths were also reported on Thursday.
A week ago, the U.S. hit an all-time high of 196,004 new cases on November 20.
Despite the massive surge in cases from a so-called third-wave of the coronavirus pandemic, millions of Americans travelled home for the Thanksgiving holidays — a decision many health experts and local officials cautioned against doing.
The Centers for Disease Control and Prevention issued a warning last week "recommending against travel during the Thanksgiving period" but nearly 3 million people passed through airport security checkpoints the Friday, Saturday and Sunday before the long weekend, according to the Transportation Security Administration.
Sunday marked the busiest day for airport checkpoints since the pandemic first hit the U.S. in March.
Even elected officials faced backlash ahead of the weekend for failing to follow their own travel guidance. On Wednesday, Denver Mayor Michael Hancock issued an apology for flying to Mississippi to spend Thanksgiving with his daughter. Earlier in the week, New York Governor Andrew Cuomo cancelled his holiday plans after revealing his 89-year-old mother and two daughters were travelling to his Albany home.
Americans have also been advised to refrain from gathering for large family dinners with some states capping indoor gatherings to a maximum of 10 people ahead of Thanksgiving.
Top infectious disease expert Dr. Anthony Fauci said scrapping celebrations may continue into the new year.
"If the surge takes a turn of continuing to go up and you have the sustained greater than 100,000 infections a day and 1,300 deaths per day and the count keeps going up and up ... I don't see it being any different during the Christmas and New Year's holidays than during Thanksgiving," Fauci told USA Today.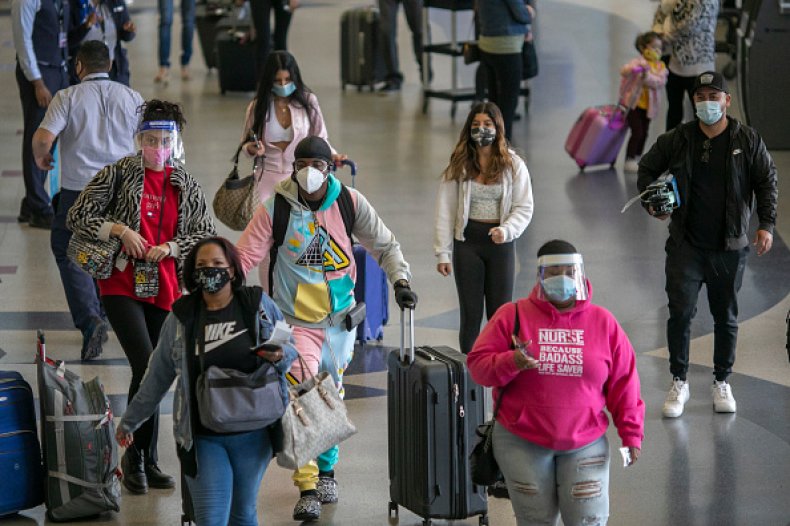 Thanksgiving also marked the 17th consecutive day that hospitalizations in the U.S. hit a new record, according to the COVID Tracking Project.
With more than 90,481 coronavirus patients overwhelming hospital systems, many are desperate for one of the top three vaccine candidates, being developed by Moderna, Pfizer and AstraZeneca, to be approved by the U.S. Food and Drug Administration.
However, concerns for the AstraZeneca candidate emerged this week after analysts in the U.S. raised questions about data from the trials. On Thursday, the company said it will likely conduct a new global trial.
As of November 26, the U.S. has reported over 12 million coronavirus cases and over 260,000 deaths.
Newsweek reached out to CDC for comment but did not hear back before publication.