Thanksgiving is typically a time for family and friends to gather together for a large feast followed by dozing off in front of the TV while watching football. But 2020 is no typical year, and with COVID-19 infections and hospitalizations hitting new highs, Thanksgiving will look different for most of the country. That includes those in New York.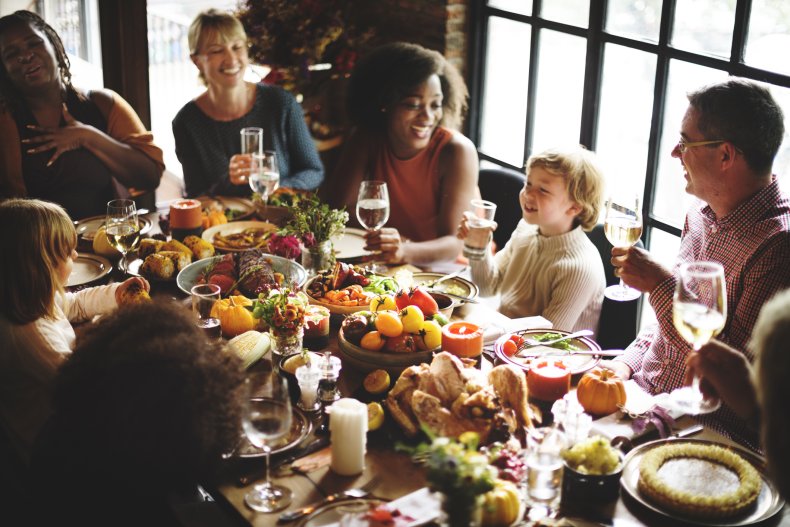 With COVID-19 rates increasing, and with the looming threat of an even greater second surge expected to hit the state during the cooler months and holidays, Governor Andrew Cuomo announced that going into effect Friday will be a new curfew for bars, restaurants, and gyms to close by 10:00 p.m. and a limit of 10 people for indoor gatherings. Yes, that means you cannot have more than 10 loved ones together at the same residency, even for Thanksgiving.
How such a rule could be enforced is unclear, as is what the punishment would be. This summer, New York City imposed penalties of up to $15,000 a day for violations of mass gathering rules when the last max capacity was imposed. During that time, fines of up to $1,000 were applicable to social-distancing and mask-wearing infractions, though most people received only warnings in those instances.
While the state and the boroughs of New York City have not seen a dramatic spike in cases, there has been an upward trend nonetheless. The Empire State reported a 2.9 percent coronavirus positive case count on Tuesday, and the city's count grew to 2.52 percent positivity over a seven-day average—the highest since June. The new restrictions were also likely influenced by neighboring states New Jersey and Pennsylvania currently going through particularly high surges of new infections and hospitalizations.
One person who says he will not abide by Cuomo's new restrictions is a politician in his very state. Staten Island Councilman Joe Borelli declared nothing will change for him and his family this holiday.
"I'll be having more than 10 ppl at my house on Thanksgiving. My address is public record. Some family will come from (gasp!) New Jersey," Borelli, a Republican, tweeted, following Cuomo's announcement about the new restrictions.
He added: "Kids will see their grandparents, cousins will play in the yard, sis in law will bring strawberry rhubarb pie, & a turkey will be overcooked."
Staten Island currently has a higher COVID-19 positive test rate than any other borough in the city, and is home to the neighborhood with the absolute highest rate in the Big Apple—Tottenville, which tracked upwards of 6 percent positivity over last weekend.
"If these measures are not sufficient to slow the spread, we will reduce—we will turn the valve more, and part of that would be reducing the number of people in indoor dining," Gov. Cuomo said yesterday during a conference call announcing the restrictions. "If that doesn't work, if these numbers keep going crazy—you have some scientists who believe we'll go back to a closedown. I'm praying that doesn't happen."