Thanksgiving NYC Forecast Could be Among Coldest on Record, Could Wind Cancel Macy's Parade?
Thanksgiving in the Northeast could be among the coldest on record due to a waft of cold air sweeping down from the Arctic Circle, Weather.com reported.
A high pressure area will be moving south through Canada and onto the East Coast, leading to declining temperatures that will cause near-record lows in a number of cities across the Northeast. Low temperatures on Thanksgiving and Black Friday are expected to sink 15 to 25 degrees below the late-November average.
Those attending the Macy's Day Parade in New York City will face temperatures in the low- to mid-20s. With wind chill, attendees crowding into Manhattan to watch the iconic floats travel past central park and further downtown could feel like the temperature is in the mid-teens.
The wind, which AccuWeather projected could reach up to 20 miles per hour. If wind projections increase, the parade could be forced to cancel.
"Macy's Parade spokesman Orlando Veras previously told AccuWeather that when sustained wind speeds exceed 23 mph and gusts surpass 34 mph, giant balloons cannot be operated due to city regulations," AccuWeather reported.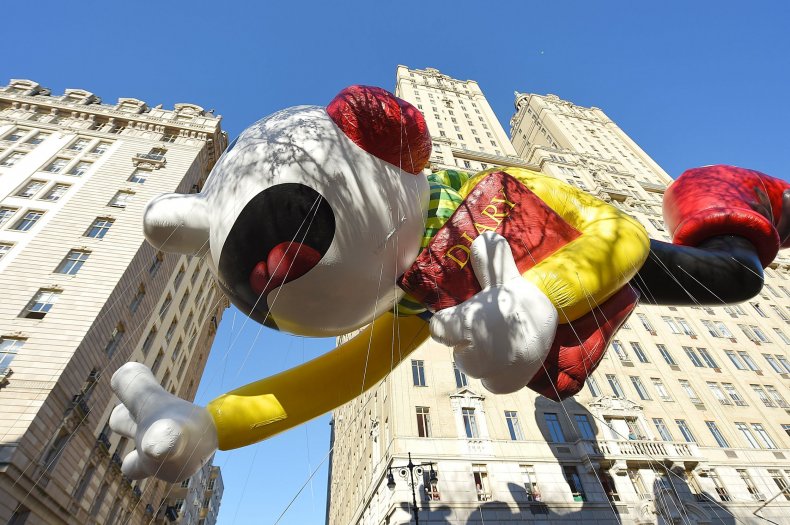 The Big Apple is among the cities that could witness historic temperatures; on Thanksgiving in 1901, the high temperature notched a record low of 26 degrees, according to government readings taken at Central Park. The projected high for Thanksgiving is 26 degrees.
The morning low in Boston is expected to be 16 degrees and Friday. Cities farther north are expected to be even chillier, with Albany witnessing a low of nine degrees on Thursday and just four on Friday, Portland, Maine, experiencing a morning low of eight degrees on Friday and Burlington, Vermont, observing a morning low of eight degrees on Friday.
Philadelphia and Pittsburgh, further south, will likely be a bit warmer. The former is expected to witness morning lows of 20 degrees, with the latter hitting 19.
Temperatures will increase into the weekend, with northern locales rising to the mid- to- high teens. Pittsburgh is projected to reach 31 degrees on Saturday.
Despite the sweeping cold temperatures, there's some good news for the more than 54 million people the American Automobile Association expects to travel 50 or more miles for Thanksgiving. The cold spell will be dry, with no snowfall projected.
Across the country, a few other weather patterns could disrupt travel in the days around Thanksgiving, Weather.com reported.
While the Northeast will be embalmed in an early freeze, the country's overall weather forecast is positive, with only minor disruptions expected. "No major storm systems are expected east of the Rockies into Thanksgiving Day," according to Weather.com. The absence of eastern storm fronts portends relatively easy travel.
Rain, turning to snow in the mountains, could impact those traveling along the West Coast. In the center of the country, snow could fall in northern Minnesota and Michigan on Tuesday, and the southwest Louisiana Gulf Coast might experience rain on Wednesday.