Thanksgiving Prayers 2019: Prayers From Christianity, Judaism, Islam and Other Religions
Thanksgiving is one of the few major American holidays that cannot be traced back to a particular religious tradition. However, the values Thanksgiving celebrates—the importance of family and friends, the comfort of home and a spirit of gratitude—are shared across most of the world's major faiths.
Here are prayers from several of the world's largest religious traditions for the holiday.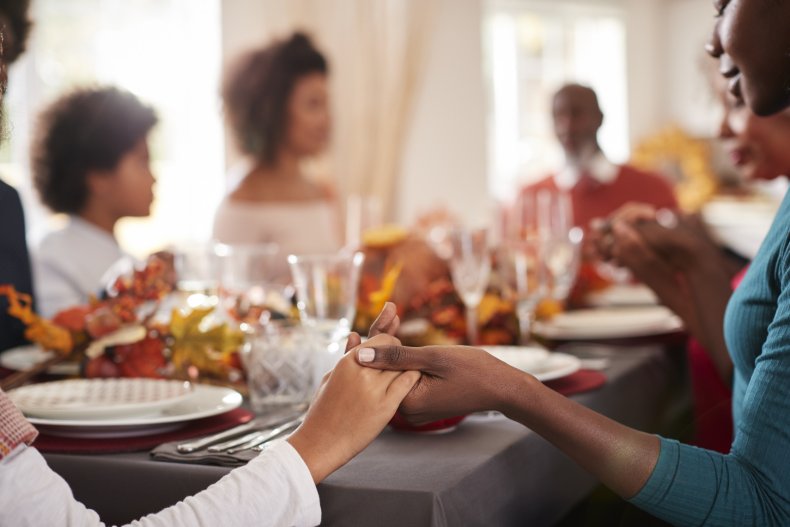 Buddhism
The following prayer, whose author is unknown, comes from the Buddhist tradition, according to the Jesuit Resource's multi-faith Prayer Index. While not explicitly connected to the secular holiday, the sentiments expressed make it an appropriate reflection for Thanksgiving.
Meal Time Prayer
This food is the gift of the whole universe,
Each morsel is a sacrifice of life,
May I be worthy to receive it.
May the energy in this food,
Give me the strength,
To transform my unwholesome qualities
into wholesome ones.
I am grateful for this food,
May I realize the Path of Awakening,
For the sake of all beings.
The joys and pains of all beings
are present in the gift of this food.
Let us receive it in love
and gratitude...
And in mindfulness of our sisters and brothers
among living beings of every kind
who are hungry or homeless,
sick or injured,
or suffering in any way.
Christianity
The Christian faith, the largest religion in the United States and the world, encourages expressing thanks to God for all life's fortunes. Here is one Christian Thanksgiving prayer, attributed to Brian F. King.
A Thanksgiving Day Prayer
O Lord, with humble hearts we pray
thy blessing this Thanksgiving Day
and ask that at table place,
where grateful folk say words of grace,
that Thou will come to share the yield
thy bounty gave to farm and field.
We pray thy love will bless, O Lord,
each hearth, each home, each festive board;
and that Thy peace will come to stay
where candles glow, Thanksgiving Day.
Hinduism
Hinduism, the world's third-largest religion, draws from a variety of traditions originating in the Indian subcontinent. One prayer of thanks said before a meal in this practice comes from the Bhagavad Gita, Chapter IV, Verse 24, as translated by the Sathya Sai International Organisation.
Significance of Food Prayer
Becoming the life-fire in the bodies of living beings, mingling with the subtle breaths, I digest the four kinds of food.
Islam
Approximately 3.45 million Americans adhere to the world's second-largest religious tradition, Islam. The faith teaches that all good things come from God, as described in this prayer from the Ahlul Bayt Digital Islamic Library Project. Further, one of the foundational "pillars" of the Islamic faith is the principle of Zakāt, or giving alms, which requires Muslims to donate to charity. This emphasis on generosity may also resonate with people of other faiths during the holiday season.
Thanksgiving – A Prayer
Thank You, Allah T'aala
Is all that I can say
For who knows whether we'll make it
With grit, come what may
And without Allah's Mercy
We may try all night and day
Forgetting what we're worth
A clot of blood, just clay
However, with His Mercy
A mountain can we move
With ease and no great effort
Just hope in Him, just love
So, Thank You Allah T'aala
Is all that I can say
Just help me share this blessing
With all who come my way
Bless Muhammad and his sacred Household
inconsequential me
Judaism
The Rabbinical Assembly website provides a number of resources for celebrating Thanksgiving prayerfully, including this prayer by Rabbi Naomi Levy. Judaism is the second-most practiced religion in the United States. Over 5 million Americans identify as Jewish, according to data from the Pew Research Center.
A Prayer for the Thanksgiving Feast
For the laughter of the children,
For my own life breath,
For the abundance of food on this table,
For the ones who prepared this sumptuous feast,
For the roof over our heads,
The clothes on our backs,
For our health,
And our wealth of blessings,
For this opportunity to celebrate with family and friends,
For the freedom to pray these words
Without fear,
In any language,
In any faith,
In this great country,
Whose landscape is as vast and beautiful as her inhabitants.
Thank You, God, for giving us all these. Amen.
Christianity, Judaism and Islam
Judaism and Christianity, whose adherents all trace their theological roots to the biblical figure Abraham, also share a volume of scripture. This psalm of thanksgiving can be found in the Old Testament's Book of Psalms, also known as the Tehillim in Hebrew. The collection of prayers is also referenced three times in the Qu'ran as Zabur, a set of writings dictated by God to King David.
Psalm 100 (New International Version)
A psalm. For giving grateful praise.
1 Shout for joy to the Lord, all the earth.
2 Worship the Lord with gladness; come before him with joyful songs.
3 Know that the Lord is God. It is he who made us, and we are his; we are his people, the sheep of his pasture.
4 Enter his gates with thanksgiving and his courts with praise; give thanks to him and praise his name.
5 For the Lord is good and his love endures forever; his faithfulness continues through all generations.