How to Cook a Turkey For Thanksgiving: Best Recipes For Your Holiday Dinner
When many people think of Thanksgiving they picture a nicely browned turkey resting on a plate in the center of the table. But, creating the often integral part of the Thanksgiving meal isn't as easy as just popping a casserole in the oven.
Over the years, hundreds if not thousands of chefs have perfected the art of cooking a turkey and new methods and tricks are constantly being discovered. When it comes to cooking the Thanksgiving bird, it comes down to choices. Are you cooking indoors or outdoors? What resources do you have available? How much time do you have on your hands?
Oven-Roasted
Not to mix holidays, but if you've ever watched Ralphie's dad in A Christmas Story get scolded for picking at the turkey before it's ready, you know turkeys can carry bacteria that are harmful to humans. So, it's important that you fully cook your bird before serving it to your guests.
If you're opting for a traditional oven-roasted turkey, set your rack to the lowest position in the oven, according to the Butterball. While your oven preheats to 325 degrees Fahrenheit, drain juices from the turkey and pat it dry with clean paper towels. Your turkey might also come with its giblets in a bag, stuffed in the cavity. Make sure to remove the bag before cooking.
The turkey should be placed breast side up on a flat rack in a shallow roasting pan. For a better-looking bird, spray with vegetable or cooking oil before cooking. This helps to brown and crisp the skin.
Once the oven is preheated you're ready to pop your bird in and let the waiting game begin. You'll know your turkey is done when you stick a meat thermometer in it and it reads 180 degrees Fahrenheit in the thigh and 170 degrees in the breast. Cooking times depend on the size of the bird, which Butterball identified for unstuffed birds as being:
6-7 lbs.: 2-2½ hours
7-10 lbs.: 2½-3 hours
10-18 lbs.: 3-3½ hours
18-22 lbs.: 3½-4 hours
22-24 lbs.: 4-4½ hours
24-30 lbs.: 4½-5 hours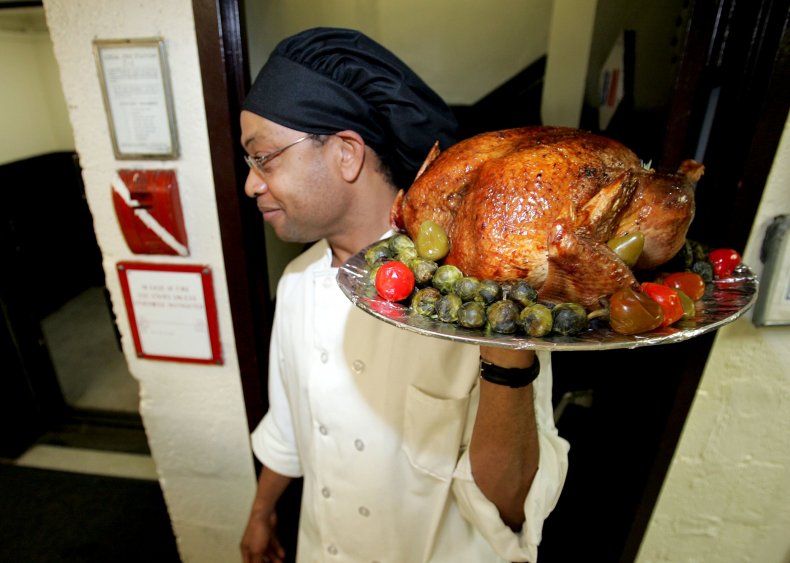 Barbeque
The oven isn't the only option Thanksgiving chefs have for their bird, though. If you live in a warmer climate or are willing to venture out in the cold for the sake of your meal, you can try barbequing your bird.
The outdoor grill should have a medium-high fire for both direct and indirect grilling, according to the Food Network. Place a drip pan under the grate on the indirect side of the grill and place the turkey breast-side up over the drip pan.
Food Network recommended adding one cup of soaked wood chips onto the coals before covering the grill, wood chips can be added throughout cooking to maintain grill heat. Rotate the turkey every 45 minutes to prevent overcooking. Basting should be done every 20 or 30 minutes after the turkey has been cooking for one hour.
The bird is finished cooking when an instant-read thermometer that is inserted into the thigh registers at 165 degrees Fahrenheit. This will require a cooking time of about two and a half hours to three hours.
All About Those Herbs
It's not enough to just cook a turkey to perfection, you must have the right spices to bring the best flavors onto your guests' forks. Each recipe offers its own variation of herbs and spices to coat your bird in, but many recipes agree on a few dried herbs to rub on the outside of your bird before cooking. Appearing frequently on the list of ingredients is rosemary, thyme, sage, garlic and salt and pepper.
To Brine or Not To Brine?
Brining a turkey takes time and preparation, two things that many people do not have around the holiday season. Simply put, brining a turkey means it's been soaked in salt water. But, chefs like Rachel Ray and Guy Fieri don't just plop their Thanksgiving bird in a pot of water and dump some Morton's salt in.
Rachel Ray recommends combining salt, brown sugar, black peppercorns in a large pot of cold water and refrigerating overnight or up to 18 hours. Guy Fieri offered a similar variation of brining but recommended salt, brown sugar, molasses, sage leaves and black peppercorns. For Fieri's recipe, the turkey should sit in the brine overnight, as well.
Brining a turkey keeps the meat moist during cooking, according to The New York Times, but not everyone is a fan of the method. Author Harold McGee wrote that he preferred the taste of turkey meat that wasn't brined and pointed out that brined turkeys don't yield the juices necessary for gravy.
Cooking a turkey can be an intimidating task, especially for a first timer. But, in the wise words of famous Chef Julia Child, you "just have to have the courage of your convictions."