Thanksgiving Scenes in TV Ads Anger NY Gov Andrew Cuomo Amid COVID Spikes
New York Governor Andrew Cuomo on Tuesday expressed frustration over Thanksgiving scenes in TV ads, saying that "this is not a normal Thanksgiving" amid surging COVID cases.
"This is not a normal Thanksgiving. It's just not a normal Thanksgiving, despite the commercialization," Cuomo said during a press conference. "I'm sitting there last night, I'm watching television, all these commercials, 'Thanksgiving is coming...here's Thanksgiving.' Twenty people around a table, everybody drinking, passing turkey, laughing, kissing, hugging. All beautiful pictures of Thanksgiving in the storybook setting, the way we wish it could be."
He continued, "Those commercials have nothing to do with what this Thanksgiving should be, because those commercials are selling cranberry sauce and they're selling liquor and they're selling turkey stuffing. So they're trying to say, 'This should be a normal Thanksgiving, buy our product.'"
"This is not a normal Thanksgiving," the New York governor said again.
Cuomo's comments come amid an increasing number of COVID-19 cases in New York and the U.S. as a whole.
According to the New York State Department of Health there have been more than 8,000 new COVID-19 cases in the past week, as well as at least 57 deaths. Across New York there are now over 281,000 confirmed cases of the novel coronavirus and at least 19,549 deaths.
New York has also seen an increase in the number of COVID-19 patients hospitalized over the past few weeks. According to the state's health department, as of Monday the state was reporting a seven-day average number of hospitalizations of 92, a large increase from previous months where the number did not surpass 60.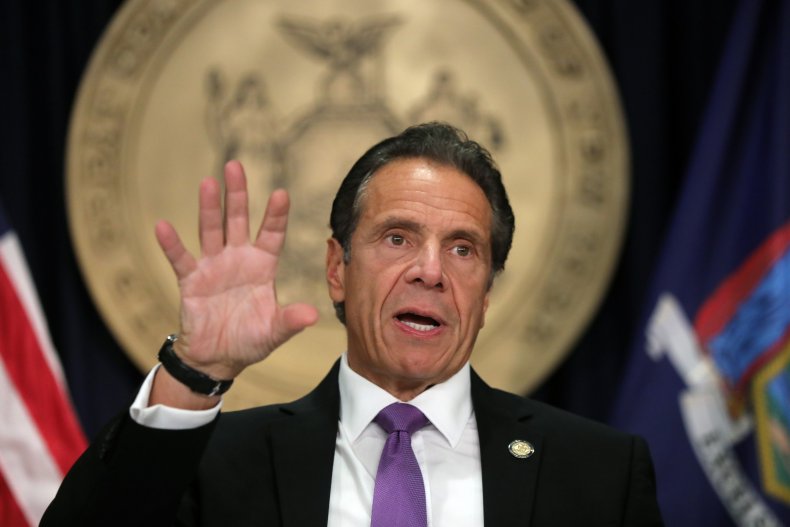 In an effort to slow the spread of COVID ahead of Thanksgiving, Cuomo has issued several new mandates, such as limiting gatherings on the upcoming holiday to 10 people or less.
During the press conference on Tuesday, Cuomo urged New Yorkers to "be on high alert" amid the increasing case, death and hospitalization counts.
"We have to be on high alert. We have to be on high caution about the COVID increase," he said. "By the current rate of increase in COVID we're going to see a major spike."
In addition to his press conference, Cuomo also spoke about Thanksgiving amid COVID while appearing at a food pantry in Harlem.
"I know it's hard. It's all been hard, every day of COVID has been hard and Thanksgiving is especially hard. I feel it. For me, Thanksgiving was the goal that I was looking forward to," Cuomo said, according to the New York Post. "It's so much easier to just say we'll do it the way we normally do it, 'Come over, we'll be careful.' It's a mistake."
Newsweek reached out to Cuomo's office for comment but did not receive a response in time for publication.