Thanksgiving Side Dishes 2019: Easy Recipes for Stuffing, Salad, Green Beans and More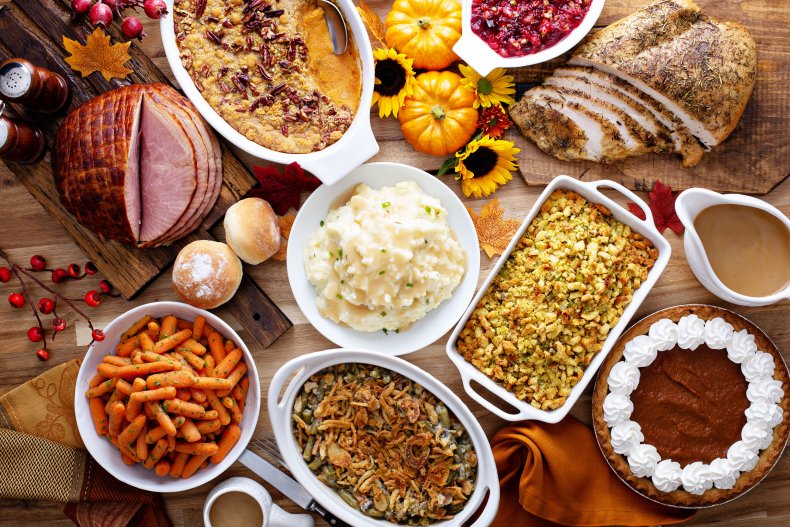 While turkey may take center stage, there is far more to a Thanksgiving feast than the bird—in fact, some say it's the least important part of the meal.
Earlier this month, a study by OnePoll and restaurant chain Hardee's found that 64 percent of Americans were open to deviating from traditional "Turkey Day" fare, opting not to feature the gobbler as the main dish. The shifting focus has provided a chance for side dishes to take center stage on the Thanksgiving table.
Read on for tips to create five classic Thanksgiving sides that are sure to please modern guests.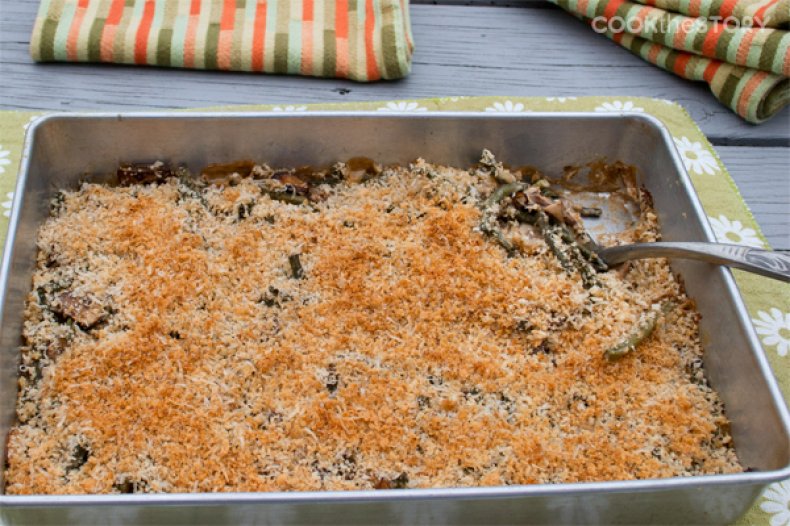 Green Bean Casserole
"Classic green bean casserole was invented in the '50s—1955 to be exact," cookbook author Christine Pittman wrote in a post for her recipe blog, Cook the Story.
While the traditional version of green bean casserole featured canned soup and boasted a 10-minute prep time, Pittman's take on the dish has updated the humble side with a new emphasis on fresh ingredients.
Ingredients:
1 cup panko breadcrumbs
1/2 cup finely grated Parmesan cheese
Salt
Black pepper
Olive oil
1.5 lbs green beans, trimmed and cut into 2 inch lengths
8 ounces mushrooms, thinly sliced
1 medium onion, thinly sliced
3 Tbsp flour
1 can of 2 percent evaporated milk or whole milk
Steps:
Preheat the oven to 425ºF.
In a small bowl, combine the breadcrumbs, Parmesan cheese, 1/2 teaspoon of salt, 1/4 teaspoon of pepper and 1 tablespoon of olive oil. Set aside.
In a 13 by 9-inch cake pan, combine the beans, 1 tablespoon olive oil, 1/4 teaspoon of salt and 1/4 teaspoon of pepper.
Roast for 10 minutes and then shake the pan. Continue to roast until beans are fork tender, for 10-15 more minutes.
Meanwhile, warm 1 tablespoon of olive oil in a large skillet over medium-high heat. Add the mushrooms and onions and cook, stirring occasionally, until well-browned, 7-9 minutes.
Reduce heat to medium. Add 1/4 teaspoon of salt and the flour. Stir well to coat all the mushrooms in flour. Stir in the evaporated milk. Heat while stirring continuously until the liquid is bubbling and thick.
Taste and add more salt and pepper if needed (I add about another 1/4 teaspoon of each).
Pour the creamy mushrooms over the beans and stir to combine. Sprinkle with the breadcrumb mixture and bake until browned on top, 18-22 minutes.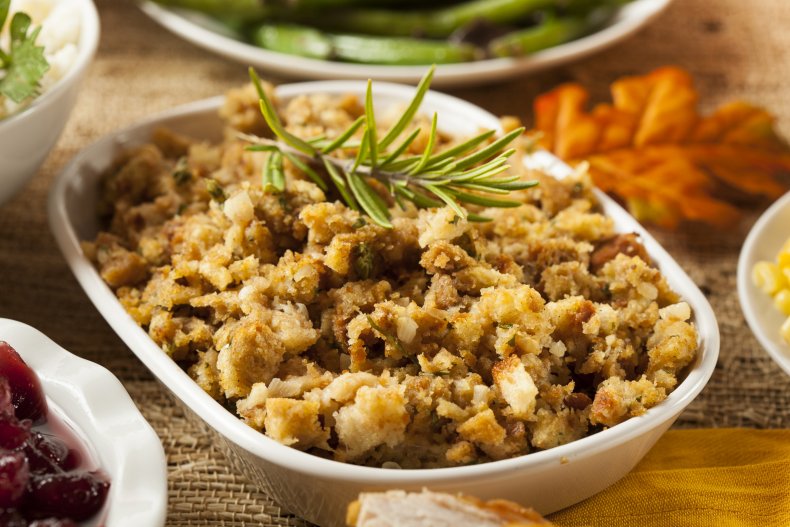 Simple Stuffing
The first known record of stuffing, that casserole-like combination of starches, vegetables, and flavorful kicks selected to taste, dates back to the Roman Empire. Meanwhile, the debate over whether to call the dish stuffing or "dressing," began in the Victorian era, when prevailing etiquette ruled the term "stuffing" too crass for polite dinner table conversation.
According to recipe site Epicurious, "simple is best" when it comes to stuffing. Their recipe focuses on bread and onions, flavored with butter and herbs.
Ingredients:
1 and 1/2 sticks of unsalted butter
1 lb of day-old white bread, torn into 1-inch pieces
2 and 1/2 cups of chopped yellow onions
1 and 1/2 cups of chopped flat-leaf parsley
2 tablespoons chopped fresh sage
1 tablespoon chopped fresh rosemary
1 tablespoon chopped fresh thyme
2 teaspoons of kosher salt
1 teaspoon freshly ground black pepper
2 and 1/2 cups low-sodium chicken broth and two large eggs
Additional ingredients, such as cranberries and walnuts can also be added to taste.
Steps:
Preheat oven to 250 degrees Fahrenheit.
Butter a 13 by 9 by 2 inch baking dish and set aside. Place bread on a rimmed baking sheet. Bake for about 1 hour, taking out to stir occasionally. Let cool; transfer to a large bowl.
Melt 3/4 cup butter in a large skillet over medium-high heat; add onions and celery. Stir often until just beginning to brown, about 10 minutes. Add to bowl with bread; stir in herbs, salt, and pepper. Drizzle in 1 1/4 cups broth and toss gently. Let cool.
Preheat oven to 350°F. Whisk 1 1/4 cups broth and eggs in a small bowl. Add to bread mixture; fold gently until thoroughly combined. Transfer to prepared dish, cover with foil, and bake until an instant-read thermometer inserted into the center of dressing registers 160 degrees Fahrenheit, about 40 minutes.
Bake stuffing for around 45 minutes, or until top is browned and crisp.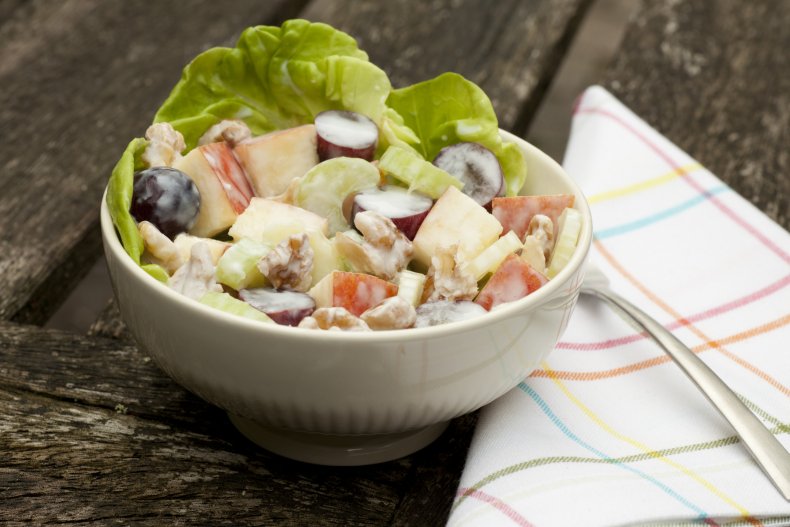 Waldorf Salad
This fall salad was created by chef Oscar Tschirky, a Swiss immigrant to the United States, at New York's famed Waldorf Astoria hotel in 1893. The original version was a simple combination of red apples and celery with a mayonnaise dressing, but today's cooks usually dress it up with grapes and nuts.
Ingredients:
3 sweet apples (Honeycrisp recommended) cored and cut into 1-inch cubes
2-3 stalks celery, thinly sliced
1/3 cup mayonnaise
1/4 cup walnuts
1/4 cup raisins or 1/2 cup red seedless grapes
1 cup lettuce leaves, washed, for serving
Steps:
Combine the apples, celery, mayonnaise, walnuts and raisins in a large bowl. Toss until the ingredients are evenly coated with mayonnaise.
Serve individual portions on a bed of lettuce.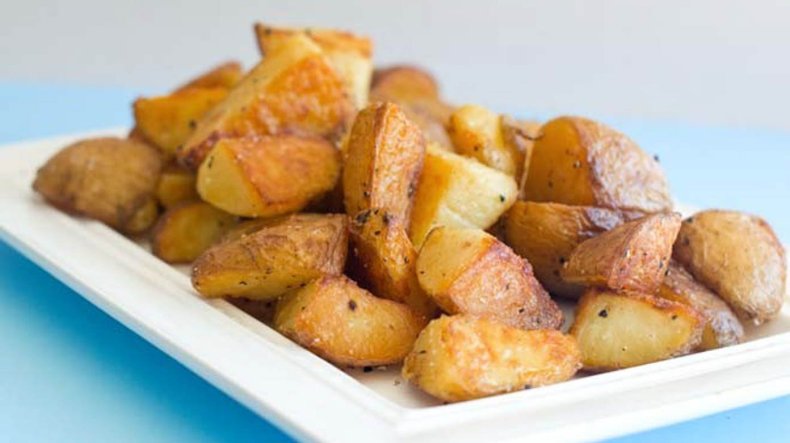 Roasted Potatoes
What good is any meal (let alone a Thanksgiving dinner) without the comforting taste and heartiness of a potato? On Cook the Story, Pittman offers directions that will have you "on your way to amazing roasted potatoes."
Ingredients:
2 lbs. Yukon gold potatoes
1 tsp. table salt
1/4 cup vegetable or grapeseed oil
1 tsp. kosher salt, divided
1/4 tsp. coarse black pepper
Steps:
Get out your potatoes and wash them. Use a waxy potato like Yukon gold. You want one medium potato or about 1/3 of a pound per person. Cut smaller potatoes into quarters. Cut larger ones in half and then each half into 4-6 pieces.
Put potatoes in a pot big enough to leave room for stirring, but not too big since extra space will increase cooking time. Sprinkle with salt and stir. And add enough water just to cover the potatoes. Partially cover the pot and put it over high heat until it reaches a simmer. Don't go far away since potatoes have a tendency to boil over and make a big mess.
Once the pot reaches a simmer, uncover. Preheat the oven to 450ºF. Simmer until potatoes are fork-tender, 8-10 minutes. Drain potatoes. Put the potatoes back into the pot you cooked them in.
Put a nice layer of oil into a rimmed pan that is big enough to fit the potatoes in a single layer. Put the pan into the preheated oven until the oil is smoking hot, about five minutes does the trick. While the oil heats, put the lid on the potato pot and give it one good shake. That roughs up the edges of the potatoes a bit making them brown better (because edges brown more than flat smooth pieces).
Take the pan of oil out of the oven and add the potatoes. Give them a stir to coat them in oil. Add 1/2 teaspoon of the kosher salt and the coarse black pepper. Put them in the oven until undersides are well-browned, about 30 minutes.
Use tongs to flip potatoes so that an unbrowned side of each potato is in contact with the pan. Return to the oven until new undersides are brown, about 15 minutes.
Line a large plate with kitchen towel and transfer the potatoes onto it. This is to blot off any excess oil. You can shimmy the plate around a bit so that the potatoes get blotted on all sides. Add a bit of kosher salt and serve.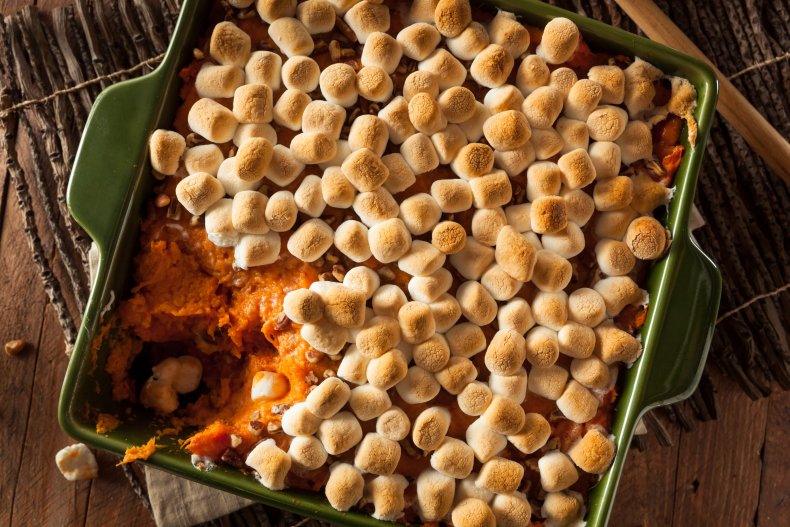 Sweet Potato Casserole
This dish checks a lot of boxes. It's a good choice for those who would like a serving of potatoes with a little less of the starchiness. It may also satisfy those craving something sweet during their holiday meals and can't wait for dessert. No matter the case, a sweet potato casserole is a guaranteed crowd-pleaser, and even better: It's impossible to mess up!
Ingredients:
2 1/2 pounds sweet potatoes, peeled and cut into 1-inch cubes
Brown sugar to taste (optional)
Butter to taste
Milk to taste
Salt to taste
1/2 teaspoon vanilla extract (optional)
1/2 cup chopped pecans
2 cups marshmallows
Steps:
Preheat oven to 325 degrees F.
Put sweet potatoes in a medium saucepan with water to cover. Cook over medium high heat until tender; drain and mash.
In a large bowl, mix together the sweet potatoes, salt, butter, milk, sugar and vanilla extract (if using) until smooth. Transfer to a 9x13-inch baking dish.
Sprinkle the marshmallows and pecans over the sweet potato mixture.
Bake in the preheated oven 30 minutes, or until the topping is golden brown.