Thanksgiving Sports TV Guide: Egg Bowl, College Basketball, NHL and More Alternatives to the NFL
Football is as quintessential a component of Thanksgiving as turkey, pumpkin pie and political arguments around the dinner table.
As is tradition, the NFL will take center stage again on Thursday, with a three-game festive bonanza that begins at 12:30 p.m. ET when the Detroit Lions make their 80th consecutive appearance on Thanksgiving as they host the Chicago Bears.
The Dallas Cowboys play for the 42nd consecutive year on the national holiday as they welcome the Buffalo Bills at 4:30 p.m. ET, before the New Orleans Saints take on the Atlanta Falcons in a rematch of last year's Thanksgiving game at 8:20 p.m.
While the NFL dominates the landscape on the fourth Thursday of November, the three Thanksgiving games aren't the only sporting events on the calendar.
In fact, they aren't even the only football games scheduled for Thursday.
At 7:30 p.m., Mississippi State hosts Ole Miss in the Egg Bowl as part of college football Rivalry Week.
While the two programs have struggled this season—the Bulldogs are 5-6 and the Rebels are 4-7—the rivalry remains one of college football's most storied.
Watching football on Thanksgiving is a family tradition, but non-football fans can easily avoid an indigestion from gridiron.
College basketball features a busy schedule on Thursday, with a number of early-season tournaments on tap.
North Carolina—ranked No. 6 in the Associated Press Top 25 poll—takes on Michigan in the semifinal of Battle 4 Atlantis in Nassau, Bahamas.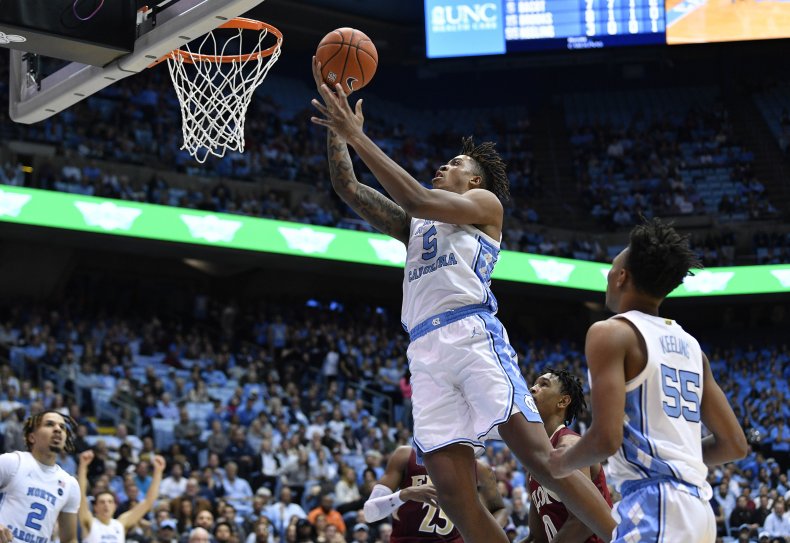 No. 11 Oregon and No. 8 Gonzaga meet in the other semifinal, while in the consolation tournament Iowa State takes on Alabama and Southern Mississippi faces No. 13 Seton Hall.
Elsewhere, the Orlando Invitational kicks off on Thursday morning, with No. 5 Maryland taking on Temple, while Texas A&M plays Harvard.
On the other side of the draw, USC faces Fairfield and Davidson takes on Marquette.
Meanwhile, No. 16 Memphis plays North Carolina State in the Barclays Center Classic in Brooklyn, New York.
Elsewhere, the Las Vegas Invitational features No. 12 Texas Tech against Iowa and Creighton against San Diego.
Finally, there's one NHL game on tap for Thursday, as the Montreal Canadiens look to snap a five-game losing streak when they host the New Jersey Devils.
Thanksgiving TV schedule (all times ET)
NFL
Chicago Bears @ Detroit Lions—12:30 p.m., FOX
Buffalo Bills @ Dallas Cowboys—4:30 p.m., CBS
New Orleans Saints @ Atlanta Falcons—8:20 p.m., NBC
College football
Ole Miss @ Mississippi State—7:30 p.m., ESPN Player
College basketball
Maryland vs. Temple—11 a.m., ESPN Player
Michigan vs. North Carolina—1:30 p.m., ESPN
Providence vs. Long Beach State—2 p.m., ESPN Player
Gonzaga vs. Oregon—4 p.m., ESPN
North Carolina State vs. Memphis—4 p.m., ESPN Player
USC vs. Fairfield—4 p.m., ESPN Player
Wake Forest vs. Charleston—4:30 p.m., ESPN Player
Davidson vs. Marquette—6 p.m., ESPN Player
Iowa State vs. Alabama—6:30 p.m., ESPNU
Southern Miss vs. Seton Hall—9 p.m., ESPN2
NHL
New Jersey Devils @ Montreal Canadiens—7:30 p.m., NHL Network