Taco Bell Thanksgiving: New Party Packs for the Holiday Season, Plus Recipes for Friendsgiving
Taco Bell will launch a party pack for Thanksgiving which features six Rolled Chicken Tacos and six Crunchy Tacos. The American-Mexican fast-food chain has also released a recipe for a Rolled Chicken Taco Bisque, made from blending the rolled chicken tacos.
Taco Bell's Rolled Chicken Tacos Party Packs will be available for $10.99 at participating restaurants for a limited time. Taco Bell has also partnered with GrubHub to give customers free delivery on their first Taco Bell order, as long as the order is $12 or more, available from November 21.
Additionally, if customers order only or through the app, they can get 15 percent of their party pack orders, until December 31.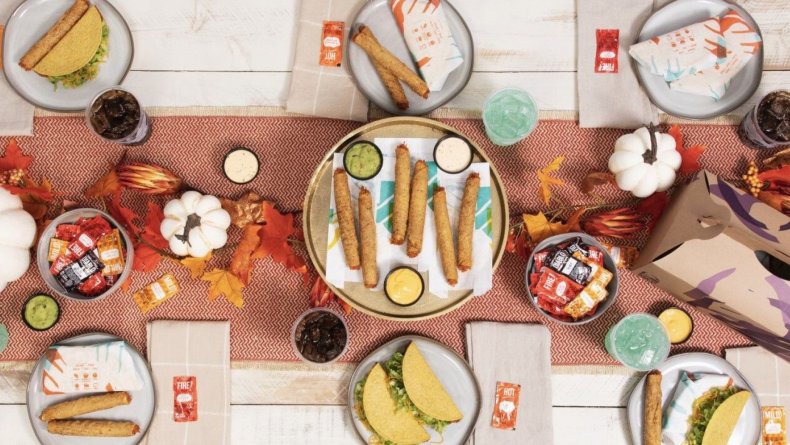 Melissa Friebe, Senior Vice President, Brand Marketing and Consumer Insights at Taco Bell, said in a statement: "The holidays are filled with all types of gatherings, which is why we are excited to give fans a delicious, crave-able and shareable solution delivered straight to their door with the Rolled Chicken Tacos Party Pack.
"Whether fans are getting together for a holiday party, to cheer on their favorite sports team, or even a movie night, this new party pack is the perfect reason to stay in and celebrate a love for tacos."
Every year, Taco Bell comes out with a "Friendsgiving" menu which includes recipes inspired by Taco Bell food. This year, the menu features a Rolled Chicken Taco Bisque. Taco Bell published the recipe for their Rolled Chicken Taco Bisque on their blog and the bisque is made from blending the rolled chicken tacos. Other items on the menu this year include Nacho Fries Au Gratin, Mexican Rice Arancini, and Sauce Packet Flavored Compound Butter.
Taco Bell isn't the only fast-food chain serving an alternative Thanksgiving Day dinner. Denny's has launched a new festive menu with dishes like a Bourbon Chicken & Garlic Peppercorn Sirloin Dinner and a Cinnamon Roll Pancake Breakfast.
Additionally, Denny's will have a Turkey and Dressing dinner available for carryout on Thanksgiving and Christmas and orders can be placed from between 8.30 a.m. on November 22 through 6 p.m. on November 27.
Hardee's is launching a Thanksgiving Box that includes Stuffing Breaded Tenders, sweet potato waffle fries, Toasted Onion Coated Green Beans, that will be available between November 13 and December 3, in Jacksonville, Florida.
If you feel like sourcing your entire Thanksgiving dinner from fast-food places, Baskin Robbins is celebrating Thanksgiving and the holiday season with a Thanksgiving dessert, Caramel Delight Ice Cream Cookie Torte. Plus, Baskin Robbins is serving seasonal flavors like Pumpkin Pie and Egg Nog.