Thanksgiving Travel Forecast 2020: Winter Storm to Hit Midwest, Rockies With Snow and Rain
A winter storm is expected to hit the Midwest and Rockies days ahead of Thanksgiving.
Snow is expected to fall over the central Rockies in Colorado on Monday as the storm system takes shape, according to a November 23 report from AccuWeather.
Denver is projected to get between 1 and 3 inches of snow, while areas west of the city are expected to see 6 to 12 inches of snow Monday night. Snow will also spread into areas of eastern Colorado, western Nebraska and western Kansas late Monday night into Tuesday.
As the storm moves east across the Great Plains, 1 to 3 inches of snow and slushy rain are projected for broad areas of eastern Minnesota to Wisconsin, northern Illinois, central and northern Michigan on Tuesday, according to AccuWeather.
Most of the precipitation is expected to change from snow and slushy rain to just rain by Tuesday evening. However, 3 to 6 inches of snow may develop in areas of southern Minnesota to central Wisconsin and the northern parts of Michigan's Lower Peninsula.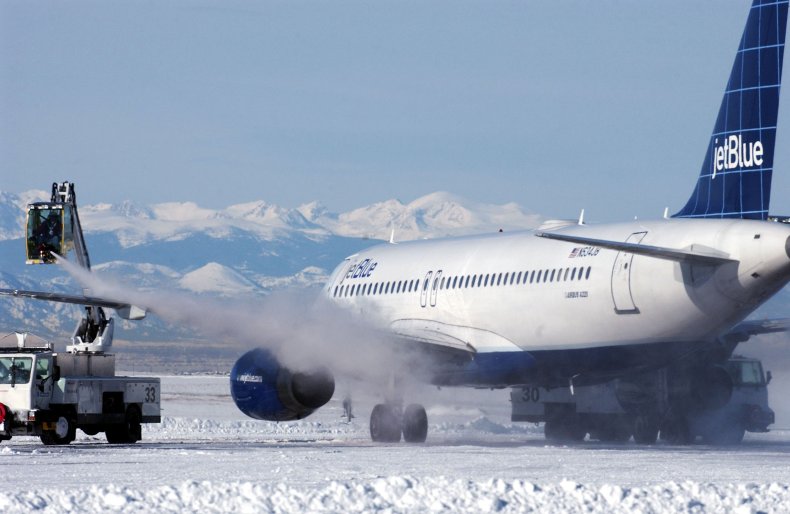 Cold air in the area may also prevent some parts of northern Wisconsin and Michigan from seeing the changeover to rain, according to AccuWeather.
"Good news for some of the ski resorts out this way, but not so good news for those that are going to be traveling on some of the roads," said AccuWeather meteorologist Jessica Storm in a Monday weather report.
An estimated 50 million Americans were expected to travel for Thanksgiving, according to a November 12 forecast by AAA Travel
However, because of the nationwide surge in coronavirus cases and the Centers for Disease Control and Prevention's (CDC) recommendation to not travel for the holidays, AAA anticipates at least a 10 percent drop in travel this year. That would be the largest one-year decline since the Great Recession in 2008.
For those who do choose to travel, AAA anticipates that the majority, 95 percent, will do so by road. However, automobile travel is projected to drop 4.3 percent, compared with 2019. Air travel will fare much worse, dropping nearly 50 percent, and travel by other methods, including buses, trains and cruises, is projected to decrease 76 percent.
Regardless of the mode of transportation, any travel poses a risk this year.
"Travel may increase your chance of getting and spreading COVID-19," the CDC warns on its website. "Postponing travel and staying home is the best way to protect yourself and others this year."