Winter storms with heavy snow, wind and rain are forecast for several parts of the country, including California, the Northeast, the Midwest, Central Rockies and the Great Lakes area through Wednesday (the peak period for Thanksgiving holiday travel) and the rest of the week, the National Weather Service warns.
"A significant winter storm will take shape over the Rockies and produce heavy snow and dangerous travel conditions through Monday. Heavy snow will expand into the northern Plains and upper Midwest Tuesday into Wednesday," the NWS said on its official Twitter account.
"A coastal storm will continue to impact New England into Monday. Areas near the coast will see rain and wind. Interior sections will see a wintry mix which may cause locally hazardous travel conditions," it adds.
Another storm is expected to affect the Sacramento area of California, with heavy snowfall likely by Tuesday afternoon into Wednesday morning.
"Snow combined with strong winds will lead to significantly reduced visibility. Accumulating snow is likely down into the foothill elevations, and hazardous travel with significant delays is likely. Travel is highly discouraged Tuesday night through the Thanksgiving holiday. Snow showers will continue in the Sierra through Thanksgiving Day," the NWS warns.
A winter storm warning is in effect across parts of the Sacramento area in California from 10 a.m (PST) Tuesday to 4 p.m. (PST) Thursday, including the Burney Basin / Eastern Shasta County, Mountains Southwestern Shasta County to Northern Lake County, Clear Lake/Southern Lake County, Northeast Foothills/Sacramento Valley and Western Plumas County/Lassen Park.
Around 1 to 2 feet of snow is forecast for elevation levels above 2,000 feet, between 18 and 30 inches above 3,000 feet and up to 4 feet of snow at higher peaks, NWS Sacramento reports.
"Be prepared for significant reductions in visibility at times. Downed trees and power outages possible," the NWS said.
There is also an elevated risk of fire weather across parts of northern and central California throughout Monday, with an "unusually deep storm to impact the Northwest and California with high wind, snow, and rain by Tuesday evening," the NWS Weather Prediction Center (WPS) reports.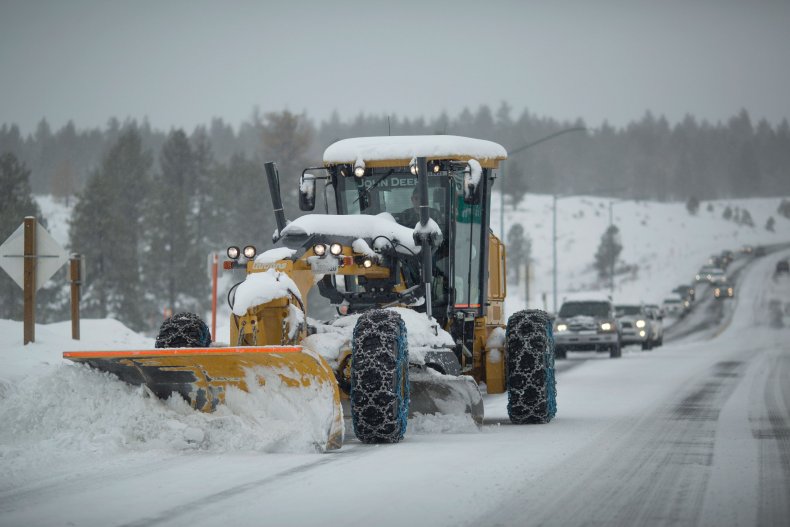 A winter weather advisory in effect from 4 p.m. (PST) Tuesday to 4 a.m. (PST) Friday in the West Side Hills area of California including Highway 46 Cottonwood Canyon and Highway 152 Pacheco Pass, with snow expected above 2,000 feet, accumulating up to 3 inches and with wind gusts of up to 35 miles per hour.
Locals are advised to "plan on slippery road conditions" and to "slow down and use caution while traveling," the NWS warned. "The hazardous conditions could impact the morning or evening commute.Significant reductions in visibilities are possible. Downed trees and power outages possible," it added.
The higher elevation snow produced by the storm system moving in from the New England coast towards Eastern Canada is expected to fade out by Monday afternoon, according to the NWS WPS.
More than 55 million people will be traveling for Thanksgiving this year and Wednesday afternoon is expected to be the "the worst travel period nationally, with trips taking as much at four times longer than normal in major metros," according to a report by INRIX, a global transportation analytics company.
"Although travel times will peak on Wednesday afternoon nationally, travelers should expect much heavier than normal congestion throughout the week," noted, Trevor Reed, transportation analyst at INRIX.