Thanksgiving is always a bit of a TV wasteland, with the usual network shows getting pushed off the schedules for sports and/or reruns to watch while digesting one portion of turkey too many. However, all of the main TV networks are offering some Turkey Day celebration specials this year, from the tradition that is the Macy's parade to the casts of shows like The Masked Singer, Gilmore Girls as well as the Disney family giving thanks.
While other networks give up the day to movies (BBC America, for example, is offering a Godfather marathon), here are all the major specials airing on network TV this Thanksgiving, in the order that they air.
Macy's Thanksgiving Parade, NBC, 9 a.m. ET / 8 a.m. CT and 2 p.m. ET / 1 p.m. CT
The Macy's Thanksgiving parade will be very different for New Yorkers, but TV viewers may not notice that much of a difference, as the aired portion will be shot the same as it has been for decades in front of the New York store.
The NBC special will also have performances from people like Dolly Parton, Keke Palmer and Matthew Morrison, as well as the casts of Hamilton, Mean Girls and Jagged Little Pill. Savannah Guthrie, Hoda Kotb and Al Roker, meanwhile, will be hosting.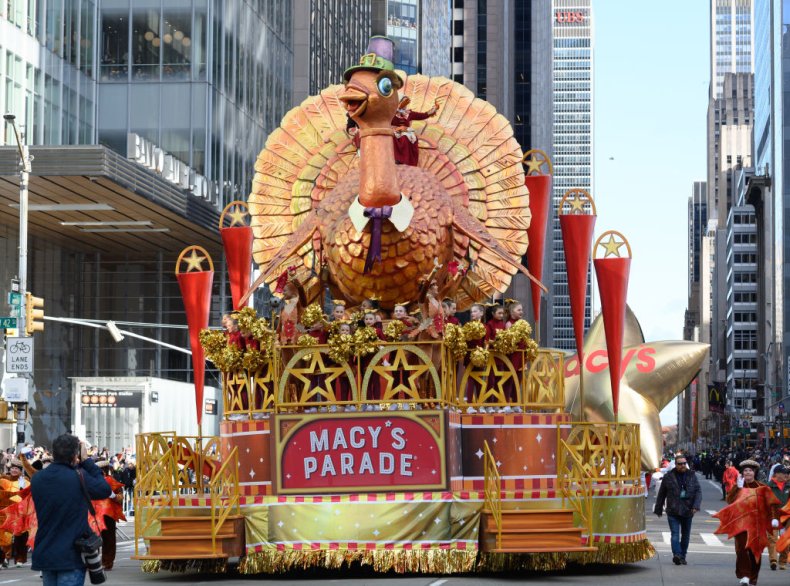 The CBS Thanksgiving Day Celebration, 9 a.m. ET / 8 a.m. CT
CBS will not have a new parade this year, but will instead be airing highlights from past Thanksgiving alongside new performances from Maddie & Tae and Mickey Guyton, as well as the casts of Dear Evan Hansen and Come From Away. Entertainment Tonight's Kevin Frazier and Keltie Knight, meanwhile, will be hosting.
Arthur Thanksgiving, PBS, 4 p.m. ET / 3 p.m. CT
Parents looking to chill out after lunch by sticking their kids in front of the TV should turn over to PBS, which is repeating the new Arthur Thanksgiving special that first aired a few weeks ago and sees the animal kids of Lakeland getting ready for a parade of their own.
The Masked Singer: The Masks Give Thanks, Fox, 8 p.m. ET / 7 p.m. CT
Giant broccoli, mushrooms and jellyfish celebrating the holidays may feel like the stuff of a particularly surreal post-turkey lunch dream, but it is also the cast of the Fox hit's Thanksgiving special. It may be Thanksgiving, but a Masked Singer contestant is still going home tonight as three singers compete for two places in the semis.
Gilmore Girls: A Year in the Life: "Fall," The CW, 8 p.m. ET / 7 p.m. CT
The residents of Stars Hollow are celebrating Thanksgiving in a simpler pre-COVID time as The CW concludes its four-day airing of Netflix's 2016 Gilmore Girls revival in the fall.
The Wonderful World of Disney Magical Holiday Celebration, ABC, 9 p.m. ET / 8 p.m. CT
If you want to be part of that (Disney) world on the holidays, then join Derek and Julianne Hough on ABC as they perform their own medley of Mouse House hits before replaying some classic holiday favorites from artists like Idina Menzel, Boyz II Men and Kelly Clarkson.