Thanksgiving Travel Weather 2019: Coast to Coast Storms, Wind, Rain and Snow Expected to Cause Delays
Meteorologists are predicting coast-to-coast storms through the weekend, likely delaying Wednesday travel to Thanksgiving destinations across the country.
Pesky rain showers and wind should visit the Northeastern U.S., threatening delays on one of the busiest travel days of the year in Connecticut, Delaware, Maine, Massachusetts and other New England states. A record 31.6 million people are expected to travel this year, industry analysts said.
Balloons in famed Thanksgiving parades in both New York and Philadelphia could be grounded due to the wind, AccuWeather meteorologists said Tuesday. At the same time, the Northeast should remain mostly rain and snow-free Thursday except for light snow in northern New England, AccuWeather reported.
Strong winds should also visit the Great Lakes region, likely delivering travel delays to Chicago airports. The same system could create "dangerous travel conditions" in the upper Mississippi Valley, spreading into Ohio and the southern Great Lakes region, meteorologists said.
Snowstorms will visit parts of Nevada, California and Oregon, possibly causing both air and road-travel delays as roads grow icy. Nearby, flash flooding and mudslides may batter the lower elevations in California and other parts of the Southwest, while Las Vegas, Phoenix and San Diego are due for cold rain, AccuWeather reported.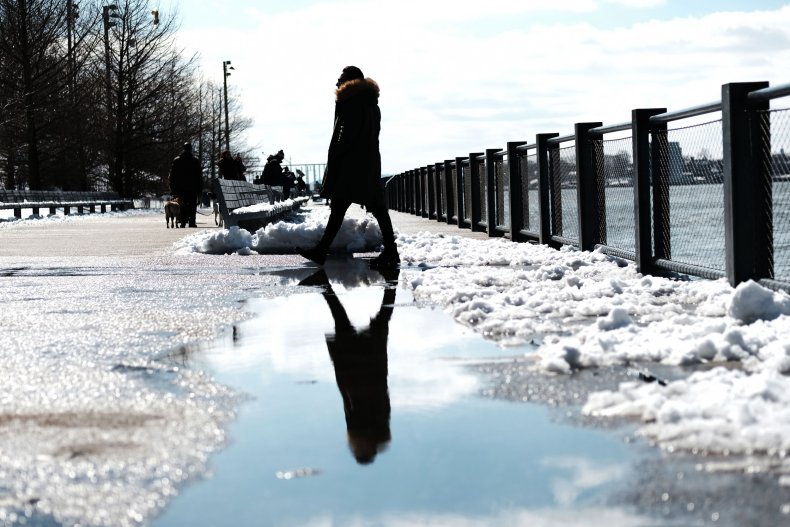 Those traveling south may find the most luck, though rainfall Wednesday morning could cause some air-travel delays in Atlanta, The Weather Channel said. For Thanksgiving, AccuWeather predicted near-perfect weather in the warmest weather across the Southeast region.
Conditions don't improve much over the weekend. Though New England, southern states and much of California could stay dry, the Midwest won't be rid of its slushy snow. Kansas, Oklahoma and parts of Texas could see hail storms and even a few tornadoes, according to The Weather Channel.
The Federal Aviation Administration offers general airport conditions on its site, and travelers can find their flight status information on sites for major airports, including Hartsfield-Jackson Atlanta International Airport, Los Angeles International Airport, Chicago O'Hare International Airport and Dallas/Fort Worth International Airport.
Last year, thousands of flights were canceled while more than 50 million Americans traveled over the holidays. This year, airlines including American, Alaska, Delta, JetBlue, Frontier, Southwest, Spirit and United have already issued travel waivers to affected passengers, allowing them to change their flights without fees, according to Business Insider.
Usually, when airlines delay their flights due to weather, they are not responsible for providing meal vouchers, hotels or compensation. Still, passengers can often reschedule their flights for earlier without additional cost, or they can purchase trip insurance.