Thanksgiving Weekend TV Schedule 2017: More Than 90 Christmas Movies and Shows to Watch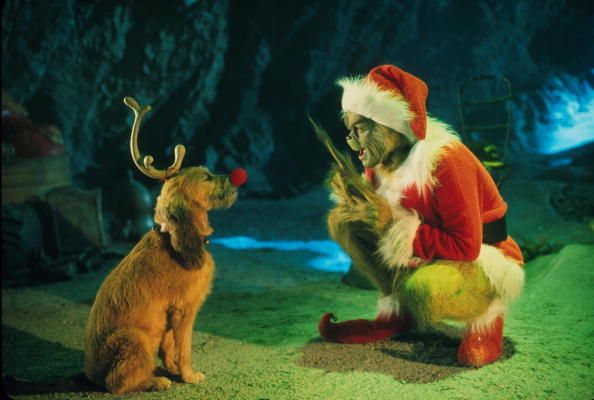 It's impressive just how many times words like "Christmas," "love," "marry," "merry," "mistletoe," "Santa," "family," "home"—even "'tis" and "yuletide"—have been strung together into holiday movie titles. It's like the Hollywood version of popcorn tinsel. Things get really crazy when you factor in the saccharine made-for-TV movies that dominate channels like Hallmark and Lifetime in November and December.
But everyone has a sweet tooth, especially this time of year, and especially when it comes to holiday films. Here's a long list of Christmas movies airing on TV this Thanksgiving weekend, starting Thursday morning at 6 a.m. and continuing through Sunday night (all times in ET, check your local listings for the most up-to-date information in your time zone).
Thursday, November 23
6 a.m. — Best Christmas Party Ever (Hallmark)
6:30 a.m. — Little Women (TCM)
6:52 a.m. — Home Alone 2: Lost in New York (Starz)
7 a.m. — Home Alone (Freeform)
7 a.m. — Once Upon a Sesame Street Christmas (PBS/THIRTEEN)
8 a.m. — Ice Sculpture Christmas (Hallmark)
8 a.m. — Christmas on the Bayou (Lifetime)
8:13 a.m. — Jingle All the Way (Starz Comedy)
10 a.m. — A Bride for Christmas (Hallmark)
10 a.m. — Heaven Sent (Lifetime)
11:30 a.m. — National Lampoon's Christmas Vacation (Freeform)
11:30 a.m. — Once Upon a Sesame Street Christmas (PBS/THIRTEEN)
12 p.m. — Miss Christmas (Hallmark)
12 p.m. — A Christmas Wedding Date (Lifetime)
1:30 p.m. — Curious George: A Very Monkey Christmas (PBS/THIRTEEN)
2 p.m. — Love You Like Christmas (Hallmark)
2 p.m. — All I Want for Christmas (Lifetime)
4 p.m. — Christmas List (Hallmark)
4 p.m. — The Christmas Gift (Lifetime)
4:10 p.m. — Home Alone (Freeform)
6 p.m. — The Sweetest Christmas (Hallmark)
6 p.m. — Dear Santa (Lifetime)
6:28 p.m. — Jingle All the Way (Starz Comedy)
6:40 p.m. — Elf (Freeform)
8 p.m. — The Mistletoe Inn (Hallmark)
8 p.m. — Christmas With the Kranks (Lifetime)
8:50 p.m. — National Lampoon's Christmas Vacation (Freeform)
10 p.m. — A Gift to Remember (Hallmark)
10:02 p.m. — The Flight Before Christmas (Lifetime)
Friday, November 24
12 a.m. — Arthur Christmas (Freeform)
12 a.m. — A Dream of Christmas (Hallmark)
12:02 a.m. — Christmas With the Kranks (Lifetime)
2 a.m. — A Boyfriend for Christmas (Hallmark)
2:04 a.m. — The Flight Before Christmas (Lifetime)
4 a.m. — Help for the Holidays (Hallmark)
6 a.m. — Christmas Incorporated (Hallmark)
7:30 a.m. — Arthur Christmas (Freeform)
8 a.m. — Christmas in Homestead (Hallmark)
10 a.m. — A Christmas Melody (Hallmark)
12 p.m. — Enchanted Christmas (Hallmark)
2 p.m. — Crown for Christmas (Hallmark)
4 p.m. — A December Bride (Hallmark)
6 p.m. — With Love, Christmas (Hallmark)
8 p.m. — Santa Claus Is Comin' to Town (ABC)
8 p.m. — How the Grinch Stole Christmas (TV Short) (NBC)
8 p.m. — Frosty the Snowman (CBS)
8 p.m. — Finding Santa (Hallmark)
8:30 p.m. — Frosty Returns (CBS)
8:30 p.m. — DreamWorks Trolls Holiday (NBC)
10 p.m. — A Christmas Detour (Hallmark)
Saturday, November 25
12 a.m. — Jack Frost (Freeform)
12 a.m. — Just in Time for Christmas (Hallmark)
2 a.m. — Matchmaker Santa (Hallmark)
4 a.m. — A Very Merry Mix-Up (Hallmark)
6 a.m. — A Wish for Christmas (Hallmark)
8 a.m. — Christmas Festival of Ice (Hallmark)
10 a.m. — A Wish for Christmas (Hallmark)
12 p.m. — The Mistletoe Promise (Hallmark)
12 p.m. — Christmas in the City (Lifetime)
2 p.m. — The Sweetest Christmas (Hallmark)
2 p.m. — Wish Upon a Christmas (Lifetime)
4 p.m. — Coming Home for Christmas (Hallmark)
4 p.m. — Dear Secret Santa (Lifetime)
6 p.m. — A Gift to Remember (Hallmark)
6 p.m. — Christmas With the Kranks (Lifetime)
8 p.m. — Robbie the Reindeer: Hooves of Fire (CBS)
8 p.m. — The Christmas Train (Hallmark)
8 p.m. — Wrapped Up in Christmas (Lifetime)
8:30 p.m. — Robbie the Reindeer: Legends of the Lost Tribe (CBS)
9 p.m. — The Story of Santa Claus (CBS)
10 p.m. — The Mistletoe Inn (Hallmark)
10:02 p.m. — A Family for the Holidays (Lifetime)
10:14 p.m — A Gift Wrapped Christmas (Lifetime)
Sunday, November 26
12 a.m. — Miss Christmas (Hallmark)
12:02 a.m. — Wrapped Up in Christmas (Lifetime)
2 a.m. — Merry Matrimony (Hallmark)
2:04 a.m. — A Family for the Holidays (Lifetime)
2:16 a.m. — A Gift Wrapped Christmas (Lifetime)
4 a.m. — On the Twelfth Day of Christmas (Hallmark)
6 a.m. — 12 Gifts of Christmas (Hallmark)
8 a.m. — Love You Like Christmas (Hallmark)
10 a.m. — Marry Me at Christmas (Hallmark)
10 a.m. — Christmas With the Kranks (Lifetime)
12 p.m. — With Love, Christmas (Hallmark)
12 p.m. — Crazy for Christmas (Lifetime)
2 p.m. — The Christmas Train (Hallmark)
2 p.m. — All About Christmas Eve (Lifetime)
4 p.m. — My Christmas Dream (Hallmark)
4 p.m. — The Christmas Gift (Lifetime)
6 p.m. — Christmas Under Wraps (Hallmark)
6 p.m. — Dear Santa (Lifetime)
8 p.m. — Switched for Christmas (Hallmark)
8 p.m. — A Very Merry Toy Store (Lifetime)
10 p.m. — Finding Santa (Hallmark)
10:02 p.m. — The Christmas Snowman (Lifetime)
10:15 p.m. — 12 Men of Christmas (Lifetime)